For years, Microsoft Excel was considered the best spreadsheet software for business and personal use. However, mastering it required math, memorization and organization skills, so it was far from user-friendly. Google Sheets flipped the script in this regard. Not only is it easy to use, but it offers a host of other benefits that makes it superior to Excel.
Top Key Differences between Excel and Google Sheets
Some of the top reasons why more and more people are shifting to Google Sheets and abandoning Excel include the following:
1. Free to Use

When it comes to costs, Google Sheets comes out as being more accessible compared to Excel. The former is free to use, while an account on Microsoft Office 365 costs almost $100 per year for one to six users and approximately $70 for a single user.
2. Ease of Collaboration
One of the best benefits that Google Sheets offers compared to Excel is ease of collaboration. For instance, if you are working on the former and need a teammate's aid, send the Google Sheet link to them so they can easily join and share their input in real-time.
In other words, you can keep track of changes as they appear and ensure all team members are on the same page simultaneously. Plus, not only can you make comments, but you can also edit, reply and have a chat with collaborators while working on a sheet. This way, you can ensure everyone on your team has the information you have while you are typing it out on a sheet.
That is not the case with Excel –while you can track changes, you cannot edit them at the same time. Plus, while it does have a comment feature for collaborative purposes, these are static unless saved to OneDrive.
You can also edit, reply and resolve comments on an Excel sheet, but if your collaborators have different versions, they may not see them on their end until it is too late. This can lead to miscommunication which can be costly for your business and reputation.
3. Highly Accessible
While Google Sheets has no desktop option like Microsoft Excel, the web-based application is accessible on almost all devices. All of the sheets you create are saved automatically on Google Drive, so you don't have to hit the 'Save' button each time.
While web-based Excel is free to use for basic use, you need to pay for the feature-rich business version. The tool saves sheets and workbooks on OneDrive if you auto-save them.
4. Never Lose Important Data Again!
You can happily forget about manually saving sheets in Google Sheets – the tool automatically saves all content at frequent intervals, so you don't have to! So whether you are running late or forgot to save your work and shut down your system, all your work will be saved and available when you access it again.
Only the latest version of Microsoft Excel has this option. If you are connected to OneDrive, the tool will keep saving your work to the cloud. Otherwise, you must click the save icon whenever you want to save your work.
In the end, Google Sheets comes out as the clear winner compared to Excel due to its user-friendly features and superior accessibility. Add the fact that it accommodates templates, and you have a spreadsheet tool that can create workbooks quickly and easily.
Downloadable Google Sheets Templates Examples
Google Sheets Templates allows Google Sheets users to personalize spreadsheets as per their brand look and requirements. Available from cloudHQ, each is professionally designed and can be copied and shared easily across platforms. You just need to install the Chrome extension, find the templates you like, make a copy, and edit it per your needs.
Use the downloadable Google Sheets templates from a variety of categories like:
All templates have royalty-free images, pictures and illustrations. Use them for commercial and personal purposes without worry.
5 Easy Steps to Get Downloadable Google Sheets Templates
In order to get free access to the Google Sheets templates, there are 5 simple steps to follow, as outlined below in our step-by-step guide.
1. Install the Google Sheets Templates Extension
First, download the Google Chrome extension:

2. Access Google Sheets Templates from Google Drive
Access the templates in Google Drive by clicking on 'New' and hover over Google Sheets and click the arrow next to it and click on 'From a cloudHQ template.'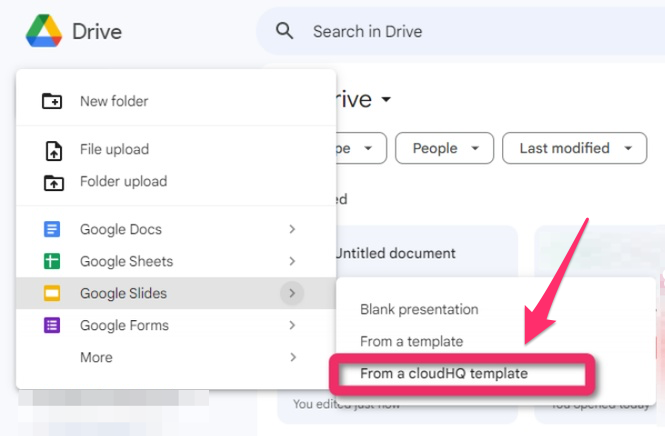 3. Scroll to Select Your Template
Scroll until you find the template you like. Then, just click on it.

4. Make a Copy of the Document
Click on 'Make a copy.'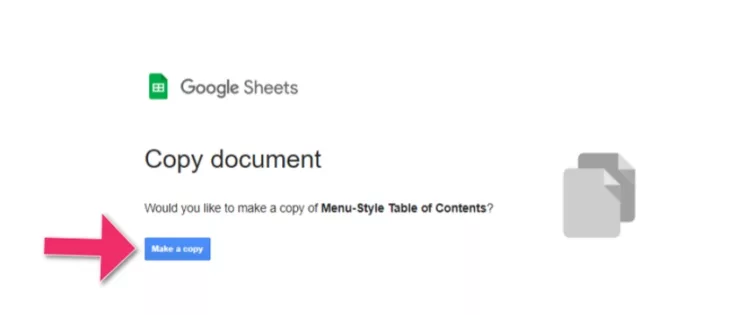 5. Edit and Rename
You will get an editable copy of your chosen template which you can customize as per your needs.