Table of Contents
Forgetting your Google and Gmail address or password can be very frustrating. This feeling is only amplified when you are in the middle of a time crunch trying to send an important message or file to someone.
In this article we will be going over how to recover your Gmail account in minutes, so the next time you get locked out you waste no time recovering your credentials.
Recover Your Gmail Account Without Password
Step 1: On your device, visit Google's account recovery web page and enter your email address.

Step 2: Google will require you to enter the last password you remember using with that Google account. If you don't remember or are unsure, simply, click the hyperlink embedded in the words, "try another way" at the bottom of the screen.
Step 3: This is where the phone number you signed up with comes in handy. Google will send a verification code to it and you can choose to receive it via call or text.
Step 4: After receiving the verification code, enter it into the query box on Google's Account Recovery Page and click Next.
Step 5: You'll be asked to reset your password, after which you'll have access to your Gmail account like usual.
However, if you don't have a phone number connected to your Gmail, click try another way to sign in and follow the steps given.
Recover Your Google Account Without Email or Password
What happens if you forget both your email address and password? There's still a way to recover your Google account. Here's how:
Step 1: Visit Google's Account Recovery Help Page and select Find Your Username. You'll find it beneath the heading: Forgot the email address you use to sign in. You'll need to know the phone number or the recovery email address for the account and also the full name on your account.
Step 2: Enter the phone number or recovery email address and await Google's verification code.
Step 3: Google will present you with a list of accounts that it suspects belong to you. Choose your account, and follow the steps on the screen. You'll be able to reset your password, just like we described in the section above.
Note: Sometimes, to verify you're the true owner of the account, Google will request answers to several questions, and you'll have to answer them correctly to be able to reset your password.
Recover Your Google Account When You Can't Sign In
If you're still unable to sign in to your Google or Gmail account or can't sign in at all after the methods above, don't panic. Google has a support page that can help.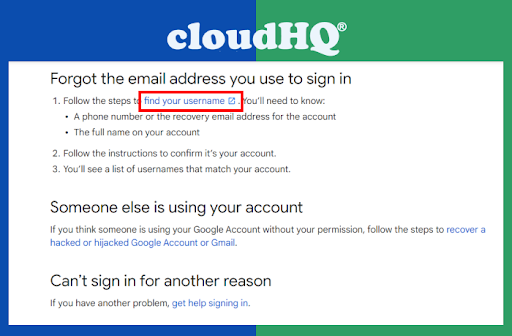 Step 1: Visit Can't sign in to your Google Account page and select the issue you're facing from the many issues listed.
Step 2: Each issue has specific directions from Google that will solve the problem.
Note: You might have additional steps to take. Most of them involve verifying your identity with your phone number or answering questions.
If this article wasn't able to help, check out Google's support page. There you can connect directly with someone who can help.