Over 333.2 billion emails are sent daily, and most contain an email signature to ensure easier communication. Professionals worldwide need the best email generator to make crafting the perfect email sign-off quick, easy, and painless.
Email signatures should look eye-catching and engaging, and they should be more than a dull text-only area to include your name and title. There are so many opportunities to utilize valuable real estate in your email, and a signature is one of the last things your client or prospect will see before deciding to respond or not.
Professional Email Signature Essentials
A professional email signature should have a few key things. These essentials should be in every email and convey important, basic information.
Your name
Job title
Website link
Headshot
Company logo
Think about your email signature as a professional business card you leave at the end of a meeting. You would never leave a presentation or business lunch without exchanging a business card, and email communication should be the same.
But in 2022, email signatures need more than just the basics. A few easy add-ons and tweaks will take your email signature to the next level, creating a more professional tone, capturing your reader's attention, and driving them to complete an action like book a meeting, shop a sale, or attend a webinar.
Professional Email Signature Extras
Encourage Calls With a Meeting Link
An easy way to encourage clients or leads to contact you for new business or upsell information is to have a meeting link directly embedded in your email signature. This easy access helps people get in contact with you quickly, accelerating the sales cycle and providing a positive customer experience. Encourage people to book a meeting without having a ton of communication back and forth. Instead, use a call-to-action like "Book a meeting with me here" or "Schedule a call."
Include a Video
There's nothing like a video to make people feel more comfortable with you and your business. Research shows video fosters authentic, human connection — especially over online interactions and communication. Video makes you likable and trustworthy, which is a great impression on a client or prospect. Record a quick introduction video, sharing your title, experience, and what people can expect from working with you. Share a little about your business's mission and values and why customers should choose you over a competitor.
Catch Attention With a Banner
Use a banner in your email signature to call out an important event, webinar, a new blog post, or thought leadership piece from company executives. A banner can help drive traffic to a lead magnet, sign-up page, demo request form, or any other marketing material you want to highlight.
Utilize Branded Team Signatures
You want all your employees and team members to showcase proper brand identity by having a consistent, cohesive email signature. Repetition is a powerful tool for creating connections with your brand, and a branded email signature consistently reminds your reader of who they're working with. An email signature generator makes creating branded signatures across teams and departments easy, so no one has to do it themselves. cloudHQ's best email signature generator integrates with Google Workspace, so admins can easily maintain and control all email signatures.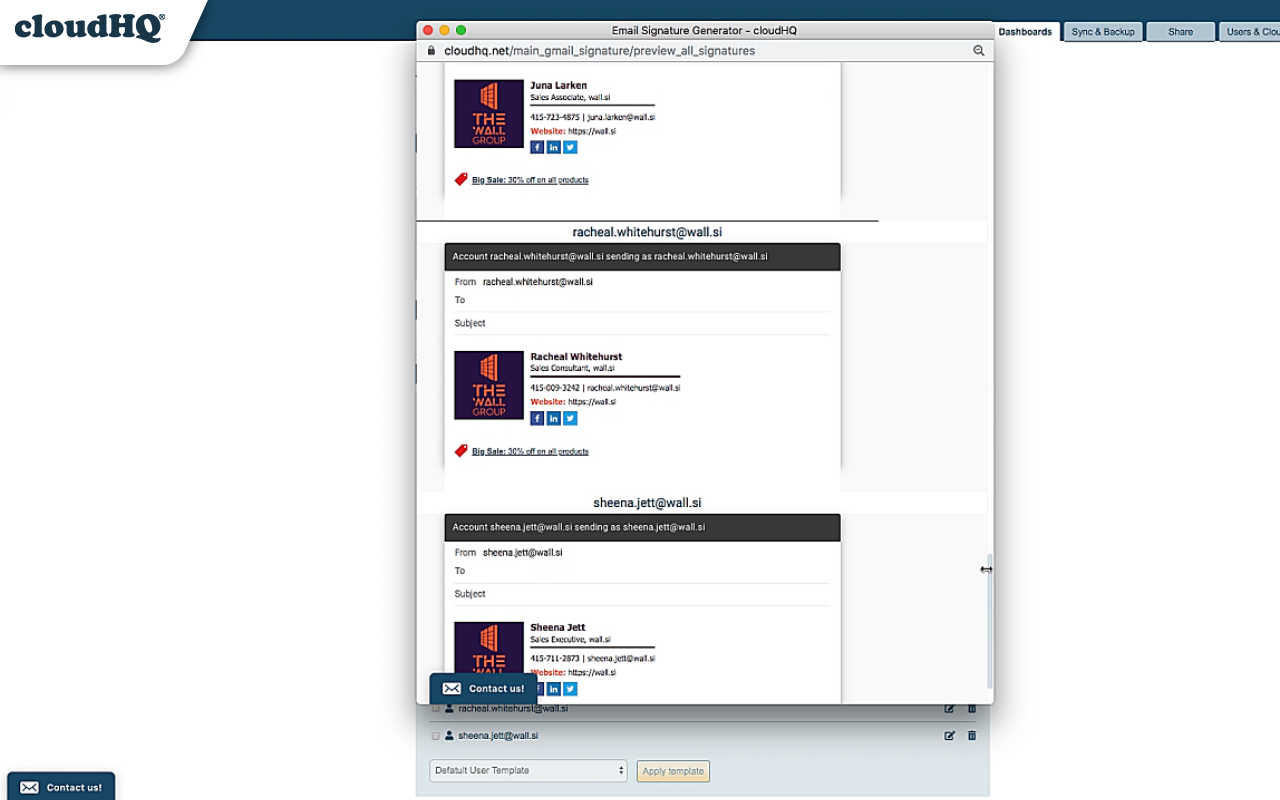 Include a Confidentiality Clause
A confidentiality clause can be time-consuming to copy and paste to each email, so it's best just to include it in your professional email signature. A confidentiality clause helps protect you from liability if someone printed or shared your email with someone it wasn't intended for. This snippet of legal text can quickly be inserted into an email signature generator and appear on every new message. You could also include a "save the planet" disclaimer, encouraging recipients not to print the email and waste paper.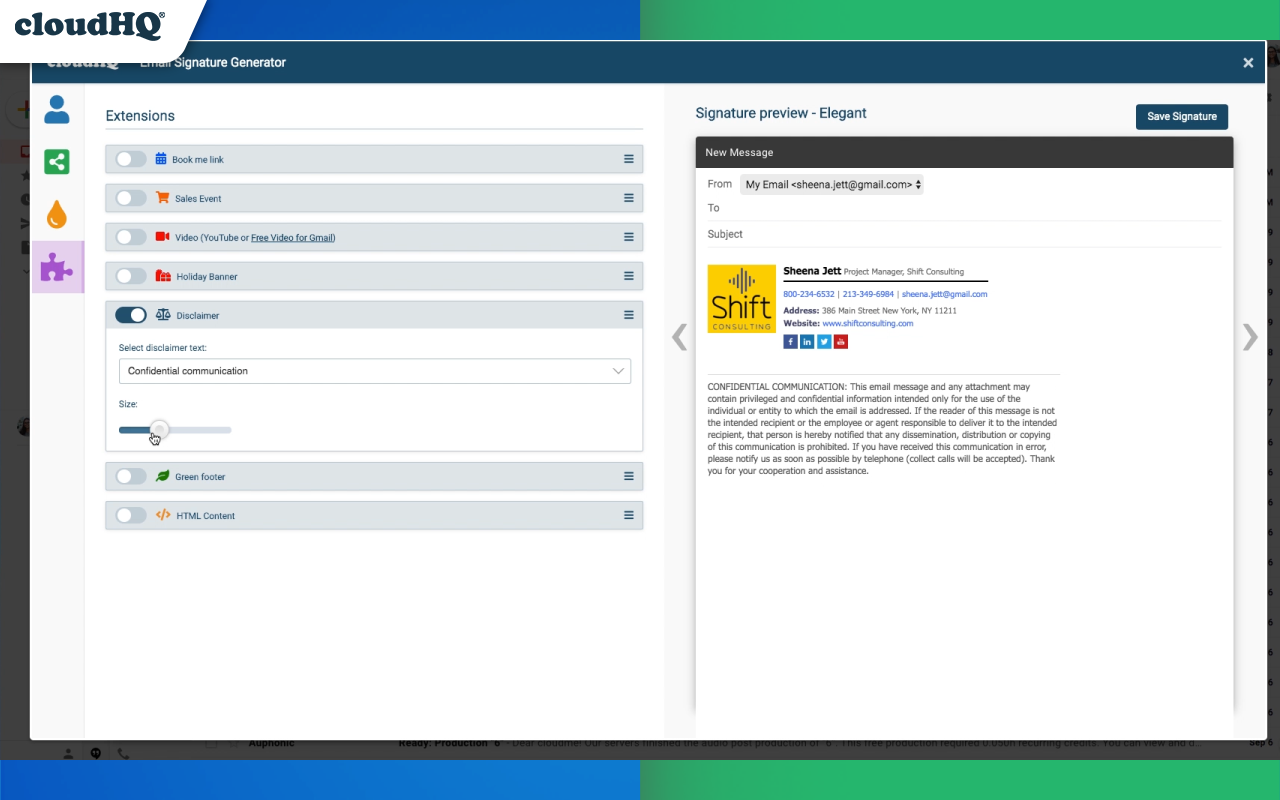 Use the Best Email Signature Generator
With cloudHQ's Free Email Signature Generator as the best email signature generator on the market, you can easily design your own professional email signature. It's fully integrated into Gmail, downloads in seconds, and requires no setup. Simply click on the "Manage Gmail Signature" icon to start customizing your email signature. Free Email Signature Generator helps streamline your email communication, increase productivity, and make the most of every message.
Download the free Chrome extension for an amazing tool that takes your email sign-offs to the next level.