Email signature marketing or email signature advertising is the method of using your email signature for marketing purposes instead of simply signing it with your name or that of your company's. Email signature marketing can help you upgrade each email you send to prospective customers and turn an ordinary interaction into a quality lead. Email signature marketing (ESM) allows you to turn your email signature block into a business offer by adding a button, banner, text link, or CTA. Some of the most common CTA examples talk about scheduling a job offer, signing up for the company's newsletter, following your brand on social media, promoting a sale, etc.
Contrary to what you might believe, email signature marketing is quite popular. A whopping 45% of marketers regularly use email signatures for brand awareness and marketing purposes. It can automatically turn any email into an ad placement for your company and allow you to measure your campaign or ad performance. To ensure you can track your email signature performance properly and learn about analytical insights, you need to keep an eye on the main email signature marketing metrics.
How to Measure the Success of Email Signature Marketing
Although you can set up your own metrics for success according to your business needs, there are a few key metrics that you need to keep an eye on to measure email signature campaign contribution.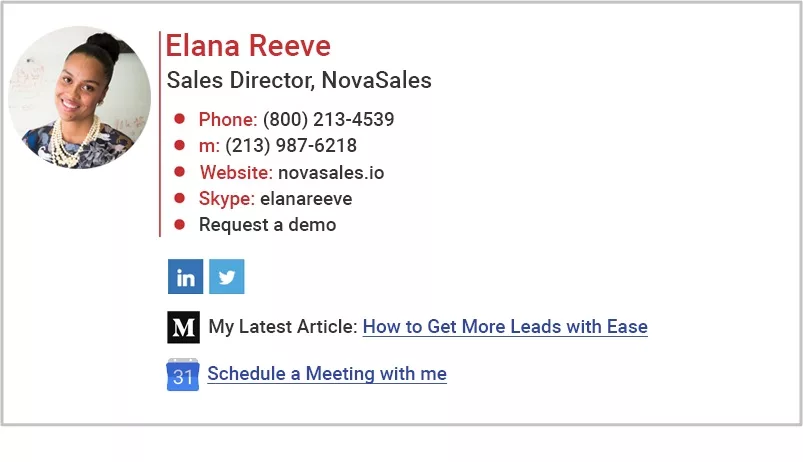 Email Signature Impressions
Email signature impressions represent the number of people that have viewed your email signatures across the brand's emails. Impressions only include the number of times a signature appears in an email viewport. If you are using email signature marketing for branding purposes or brand awareness, the email signature impressions metric matters a lot. A company that regularly sends emails to customers every month will have thousands of email signature impressions over 30 days. Email signature impressions are also important metrics that can be used for internal company purposes. If a brand wants to assess how often employees view their brand logo, it can use email signature impressions to calculate the degree of frequency.
Email Signature Clicks
The email signature clicks metric is quite straightforward and includes the number of times an email signature has been clicked or interacted with. Email signatures can include quite a few links, even with the tiny space they take up. If an email signature block has emails, links, or clickable phone numbers, you can apply separate tracking for each of them to collect data. If your email marketing signature includes a number for the Sales department and another for the Support team, customers can easily be redirected to their chosen business unit. This can also allow the company to measure and collect data for future use by the corresponding business department.
Email Signature Click-Through Rate
Email signature CTR can be calculated by dividing the number of clicks by the number of impressions of a brand's email signature. The metric for email signature click-through rate can be measured by an email signature manager tool, but marketers can also calculate it manually if need be. The only thing you need to ensure is that you have collected reliable click-through and impression data.
3 Types of Email Signature Marketing Campaigns
Email signature marketing campaigns can be run for a variety of reasons. They can be used for brand awareness, connect customers to Sales and Support teams, or run successful email signature marketing (ESM) ads. Since there are many types of email signature marketing campaigns, it is best to segment email signatures according to different departments or groups with unique roles.
1. Sales
Make sales directly with email signature marketing (ESM)
Schedule meetings with prospects
Initiate sales video calls
2. Marketing
Build a newsletter email list
Grow your social media following
Inform about webinars
Promote product onboarding
Offers discounts and offers
3. Customer Support & Customer Success
Offer support
Ask for feedback or reviews
Wrapping Up!
If you want to track your email signature metrics and make the most of your marketing emails to customers, you must check out the Email Signature Generator by cloudHQ. With this chrome extension, you can include banners, add videos, schedule meetings, and accomplish so much more. Test this chrome extension today for your company and develop your email marketing campaigns.