Here's how to find, create, and use Christmas email templates from your regular Gmail account.
Are you looking for Christmas email templates to create that perfect message for friends, family, or coworkers this year?
We're here to help.
Instead of sending a generic text email, use well-designed Christmas email templates to create and send a beautiful holiday wishes in just minutes!
We recently released an all-new look and feel for Gmail Email Templates, our free tool to help you create beautifully designed emails in minutes.
With Christmas and New Year's upon us, now is the perfect time to create a professionally-designed email using your Gmail account.
Note: While this service is free, you can save 15% this Christmas when you sign up for any of cloudHQ's 75 premium productivity tools! Use the code Christmas2020 at checkout.

How to Use Christmas Email Templates in Gmail
The easiest way to use Christmas Email templates is by installing cloudHQ's Gmail Email Templates Chrome extension from the Chrome Web Store.
The extension is free and installs in sections.
As soon as you have it installed, you'll see a new button in the top of your Gmail:
This is where you can access beautifully designed templates in just a click.
4 Ways to Use an Email Template
Gmail Email Templates gives you a variety of ways to select or create email templates in Gmail.
You can:
Choose from our library of 500+ pre-made templates
Create a custom template from scratch using our drag-and-drop builder
Import existing email templates from MailChimp
Copy the look and feel of any email that you receive to create your own template (most popular)
This gives you a variety of options you can use to create and use email templates.
1. Use a Pre-designed Christmas Template
To select from our existing library of 500+ email templates, click the "Free Templates" tab, then enter "Christmas" in the search box: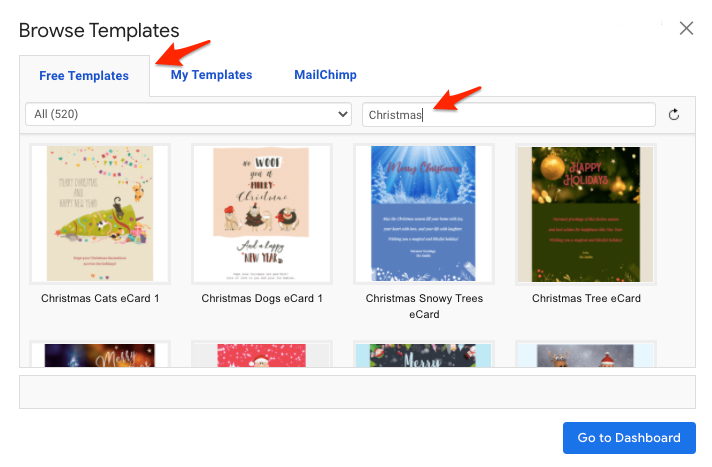 You'll see a selection of Christmas templates you can use for your email. Just click on it, edit it as you see fit, and it's ready to send!
2. Create an Entirely New Email Template
To create custom Christmas email templates:
Go to the "My templates" tab on top, and then select "New Template"
Click the "My Templates" tab, then choose "New Template."
This will open a drag-and-drop editor you can use to create a new template. It's recently been revamped, so expect it to be super quick to design something incredibly beautiful.
3. Import an Existing Template from MailChimp
To import an existing template from your MailChimp account, click the "MailChimp" tab, then choose "Authorize MailChimp.":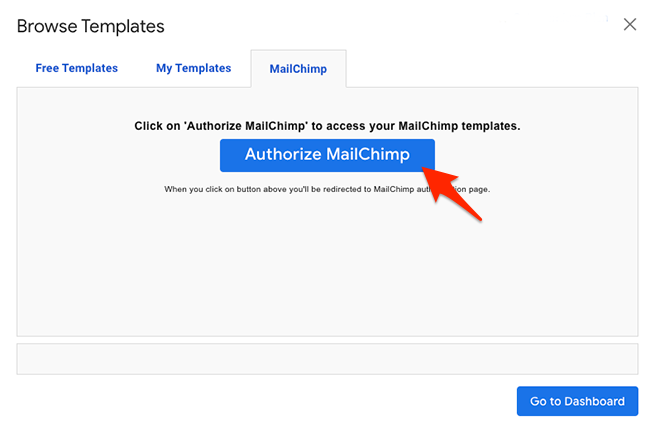 This will take you to your MailChimp account, where you'll be able to authorize and import your existing templates into your Gmail account, including your Christmas email templates.
4. Copy the Look and Feel of an Email in 1 Click
Finally, if you receive an email with a design you like, you can copy it, customize the colors, fonts, and sections, then save it as a new template for your own use!
To do this:
Open the email you want to copy.
Highlight the entire email, then click Ctrl+A, then Ctrl+C to copy the message to your clipboard.
Open a new Compose window, then click Ctrl+V to paste the message into an email draft.
Click the "Save Draft as Template" button to save the draft as a template.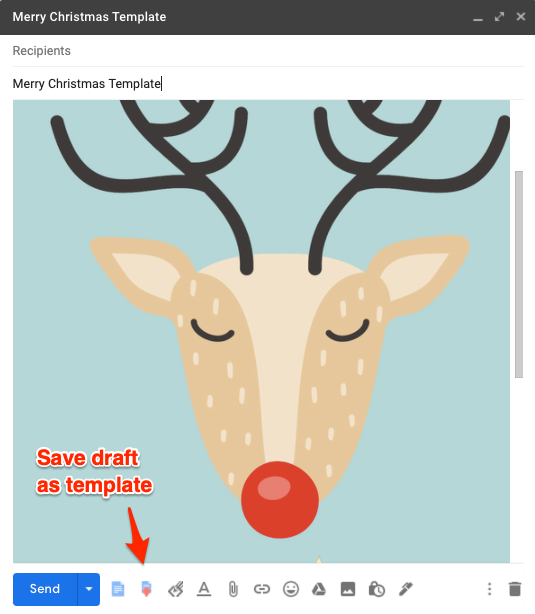 How to Send Your LinkedIn Network a Holiday Email
One easy way to use Gmail Email Templates this year is to send a holiday email to your LinkedIn connections and Christmas email templates!
This is easier than it might seem.
According to LinkedIn, you can download a list of emails for anyone in your network who has allowed their connections to receive their email address.
To do this, go to your account and follow LinkedIn's instructions:
Click the Me icon at the top of your LinkedIn homepage.
Select Settings & Privacy from the dropdown.
Click Data privacy on the left rail.
Under the How LinkedIn uses your data section, click Change next to Get a copy of your data.
Select Want something in particular? Choose the data files you're most interested in.
Select Connections.
Click Request archive.
Enter your password and click Done.
You'll receive an email to your Primary Email address, which will include a link where you can download your list of connections.
Use the email list to send personalized messages one by one.
*Tip: Or you can use MailKing to create a personalized email campaign for everyone to receive at once.
Build an Email List from Your Gmail Contacts
Finally, another easy way to send a Christmas message is to pull together the email addresses of everyone you've had a conversation with this year.
Whether for work or for personal use, cloudHQ's Email List Builder will pull together a list of everyone you've interacted with by email, including their name, email address, and your message history—all in just minutes.
For example, if you're a real estate agent, you can use your Gmail message history to create a list of everyone who you worked with this year.
Then, you can create an holiday email to send them using Gmail Email Templates.
Reminder: You can save 15% this Christmas on any of cloudHQ's premium productivity tools! Use the code Christmas2020 at checkout.