Get ready for a new, artificial-intelligence powered feature called Email Parsing for Export Emails to Excel, CSV, or Google Sheets.
It analyzes your email messages, finds the data you're seeking, then — with artificial intelligence — exports and organizes your data into a nicely formatted spreadsheet.
This short video is the best way to see how it works:

How to Use Artificial Intelligence for Email Parsing
Email parsing is now a built-in feature of Export Emails to Excel, CSV, or Google Sheets. To use it, first install the extension from the Google Chrome Web Store.
Select every email in a specific Gmail label by hovering over the label and selecting the three dot icon that appears.
After you click on the 3 dots, you'll get an additional choice about where to export these emails to. Select "Save label to Google Sheets …"
3 Data Inputs for Your Google Sheets Report
In your new popup after selecting "Save label to Google Sheets," you'll see this handy settings window where you'll now be able to define the columns in your Google Sheet "Orders" report:
1. Google Sheet Name
This is the folder where you'll be able to find your spreadsheet in Google Drive. If you're a small business, or just really organized, you're going to want to revisit this report, so knowing its file name is important. We're naming this one "Order Receipts" (but you can name it anything you want).
2. Save Settings
We LOVE this option because this means that any new emails that you'll get in your "Orders" Gmail label will automatically get updated into your Google Sheet as an orders report.
3. Default Columns & Custom Columns
Default columns are what all emails have in common, and you can select which ones you want to keep — or not. Just check the ones you want, and uncheck the ones you don't.
Custom columns showcase a really incredible artificial intelligence feature that you get to manipulate. These custom columns are specifically tailored to your own specific emails. You could use this for orders, resumes, inquiries — the list is endless. This section is completely powered by the common data points our AI system finds in your specific emails.
The lower portion of custom columns are for specific email tags that get picked up when you use a CRM software like Salesforce, Zoho, or Yesware. If you're using any of those, you can go ahead and select the ones you want. The AI will give you these options automatically based on the information in your emails.
The data export will begin immediately, and you'll receive an email notification with the process is complete.
When we're done creating your report, you'll get an email with a link to your report, which will look something like this: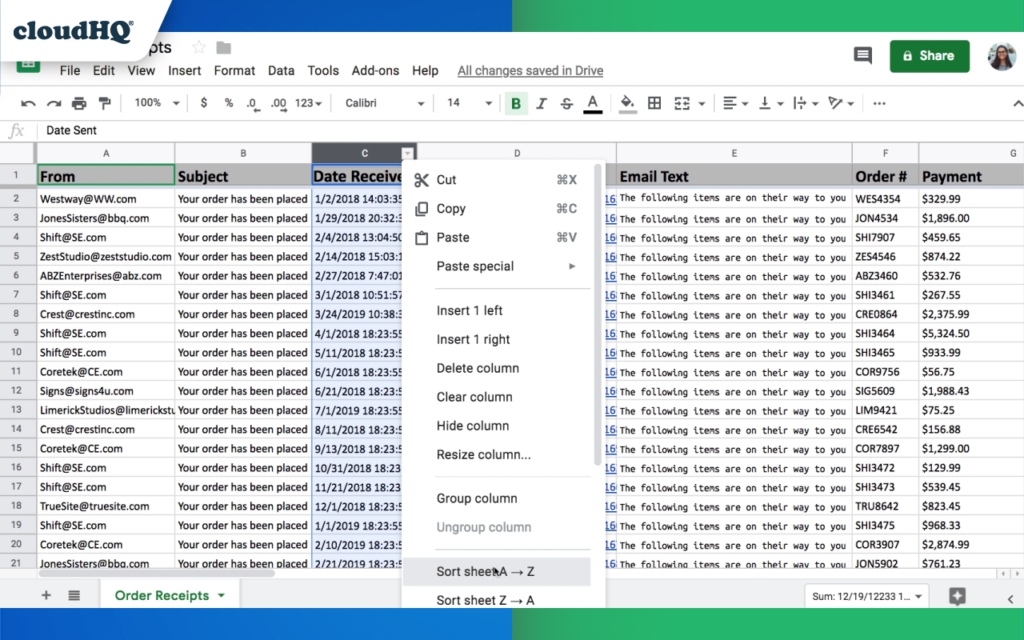 When Should You Use Email Parsing?
Email parsing is an extremely flexible tool that can be used for a host of applications aside for just orders, like:
1. Sales leads
The AI technology can identify every lead form entry that hits your inbox, then export that lead directly to a Google Sheet so you have them all in one place.
2. Human resources
Pull every applicants' contact information, past positions, role they're applying for, etc., into a single spreadsheet.
3. Event registrations
Keep a running spreadsheet of all registrations for event planners. Use it for planning, food orders, communication, or to keep track of tickets sold.
4. Concierge reservations
Keep track of bookings for your concierge service. In a single sheet, you can have an always-up-to-date list of everyone who has made a reservation, arrival time, restaurant bookings, etc.
5. Real estate inquiries
Working in real estate? Keep track of all inquiries — by property — using our AI-powered parser. You'll have a running list of everyone who's shown interest.
6. Signups
Holding a webinar or an event? Keep track of everyone who's signed up in one easy-to-organized spreadsheet.
7. Live chat transcripts
Easily export transcripts of your live-chat conversations in an always-updated Google Sheet.
Export Emails to Google Sheets, Excel, or CSVs is free to install from the Chrome Web Store.
Give it a try and see how it works for you!