When you already have a heavy workload, simple text message reminders can help both teachers and managers keep projects on track, and on time. Because it's a new school year, students aren't paying attention to deadlines, and are still "summer drunk."
It would be helpful if you could send a text message reminder to your students to do a homework assignment, or to remind them that there's an upcoming test.
There's probably a school platform where students need to sign in to see what's due, but as you already know, they're likely not going to sign in on time, and show up to class unprepared. This unnecessarily sets your lesson plan, and your students' confidence levels back, starting off the school year with a rather negative experience for everyone.
It doesn't have to be that way. You could try MailKing to send out your text message reminders. This provides an easy way to keep students–and parents alike–in the loop, and your lesson plan on track. Project managing your students is a brilliant way to ensure success.
Get MailKing
Using MailKing, you can:
Personalize text messages
Send bulk text messages like: "Get your free COVID shot at the cafeteria tomorrow at 8am"
Use any combination of the above two, like we did in our movie where we combined a personalized message about a student's progress, along with a bulk message about class homework that's due.
Using text messaging in this way simplifies communication and lets you send out much needed text message reminders to your students. Don't delay trying how easy this is to use. You can save time, and be a top teacher in your entire school with just a few simple tricks offered to you by cloudHQ.
How to Personalize Your Text Message Reminders
Instead of reinventing the wheel, we see that most people use Google Sheets with ease. That's why you can easily create your own spreadsheet, and keep track of your students or teammates there. It's easy, and it lets you take advantage of tools you're already  using.
Step 1. Create a Google Sheet
Simply create a spreadsheet with any merge tags you need. For teachers, we suggest using the the following column classifications:
Parent names
Phone numbers
Student names
Personal message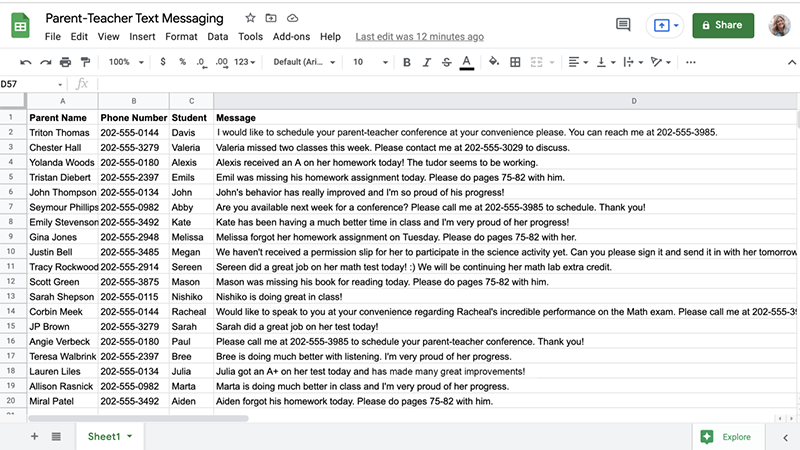 You may want to consider sending out student text message reminders whenever you assign homework or have an upcoming test. Any column you use, will become available to you as a merge tag in your text message campaign. Let's take a closer look at how that works.
Step 2. Understanding Merge Tags and How They Save You Time
Merge tags aren't a complicated notion, so don't worry if the words throw you off for a minute. All it means is that you can include a unique data point to your student that's associated with your column.
For example, if you clicked on "Student" from your merge tags drop down menu,  you can write a bulk message saying:
Hi *|Student|*
However, when a student named "Marta" opens your text message,  she'll actually read:
Hi Marta
You created all your merge tags when you created your columns in your Google Sheet. After you upload your Google Sheet, you'll notice that those columns are reflected as headers in MailKing.
For example, you can see how each of our four column names are uploaded into MailKing as column headers.
Those column headers automatically populates your merge tag selection.  When you're writing your text message and want to use a merge tag, simply click on that button to get a drop down menu of your merge tags.

Once you access your drop down menu, you'll be able to select any of the available merge tags created from your Google Sheets column names. Select the one you want and insert it into your text with just a click.
You can click on preview to see what each of your text messages look like.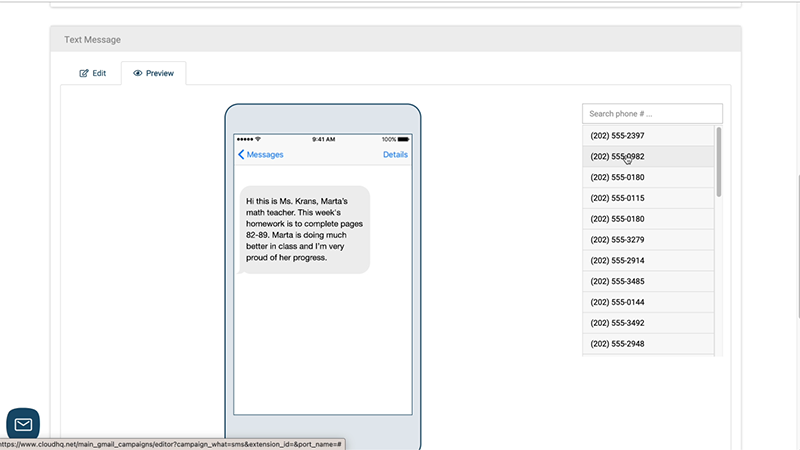 Once you like what your message says, simply hit send and your text message reminders are sent!
Give it a try today by clicking on the blue button below.
Get MailKing