There are dozens of reasons to use email tracking.
Maybe you're:
A salesperson tracking emails to prospects
A freelancer looking for new clients
A head hunter hoping to hire a new candidate
Whatever your reason, you can now use our new free tool—Free Email Tracker—to track opened emails sent from your Gmail account.
Free Email Tracker includes:
Real-time notifications when your email is read
One-click "turn off" of the tracking when needed
Link and attachment tracking within your emails
A real-time dashboard showing the status of all your tracked emails
How to Install and Email Tracking
Free Email Tracker is simple to use and installs in just seconds.
Here's how to set it up:
1. Install Free Email Tracker from the Chrome Web Store
Free Email Tracker is free to install from the Chrome Web Store.
Once installed, you'll see a tracking icon at the bottom of the "Compose" window. You'll also see a new icon in your "Sent Mail" label.
2. Change Nothing! Send, Reply or Forward Emails As You Did Before
There is no need to actively "turn on" tracking for individual messages.
By default, the tool will automatically install a tracking pixel for every message you send from Gmail.
To turn off tracking for an individual email, simply click the icon in the bottom of the compose message so it turns light gray: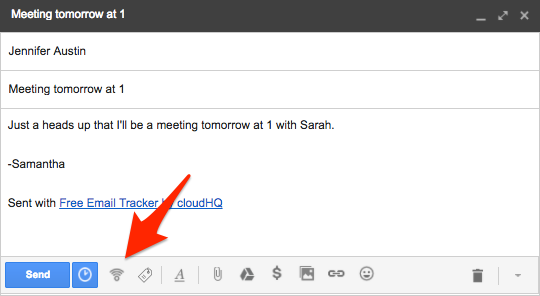 3. Check the Status of Tracked Emails
There are three ways you can monitor the status of your tracked emails:
Real-time notifications
An icon in "Sent" mail
Your real-time dashboard
a. Real-time notifications will display in Chrome as soon as your recipient opens a tracked email: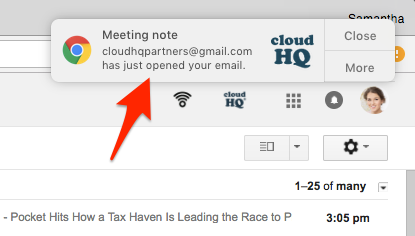 b. The icon in your "Sent" label will show you the status of all emails you've sent since installing the tool, including opened, unopened, and not tracked emails:
c. Your real-time dashboard includes a full report of all emails you've tracked using the tool:
How to Keep People From Knowing You're Tracking Their Response
By default, we'll include a link at the bottom of all tracked emails that lets people know you're using our tracker.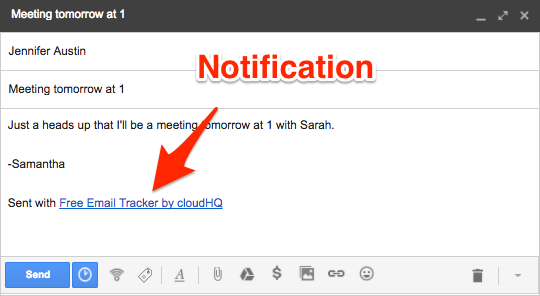 If you prefer to remove the notification, you can simply delete the notification before sending.
Or for just $4.90/mo, you can upgrade to the premium version of the tool and we'll remove the link by default.
Know What's Happening
There's nothing worse than sending an important email and then wondering what happened to it.
Free Email Tracker will tell you:
If your email was opened by the recipient
The time the email was opened
If your contact opened any links or attachments
Free Email Tracker is free for anyone using Gmail or an email account hosted by G Suite.