How many times have you felt the urge to add some sauce to your email with an eCard, but felt that your ecard would get lost in someone's spam folder? Well, it usually does, so you would be right.
Because of ads, spam folders catching your eCard, and the lack of truly free ecards, we believe that the eCard industry is broken. So we decided to fix it.
Introducing Free Gmail eCards by cloudHQ, a free Google Chrome extension that gives you access to hundreds of eCards, without ever leaving Gmail. And your eCard recipient will receive your eCard directly in their email's inbox too.

Main Features of Free Gmail eCards by cloudHQ
1. Send Directly From Gmail
Unlike many other eCard providers, this Chrome extension allows you to select, edit and send your eCard directly from Gmail without redirecting you to another website. The thought of being redirected to another website is first of all undesirable and also time consuming. Also worth mentioning is that we're improved the deliverability of your eCard so it doesn't end up in the spam folder like most other ecard solutions because it's not being sent by a company—it's being sent directly by you.
2. Capture Emotions and Current Trends
Living in a time when communication might sometimes be expressed in emojis and gifs, cloudHQ provides you with eCards that tap into delivering your emotions in a sentimental, or funny way.
It is true that people may forget what you said, but they sure will not forget how you made them feel. Our eCards allow you to easily express your emotions and feelings to whoever you are writing. I think we can agree that we could all stand to share our emotions and feelings with each other a little more openly, right?
At the same time, there are eCards that relate to whatever is happening around us. That is, world events, occasions, and holidays. For instance, Christmas is fast approaching and therefore, you can browse for a Christmas eCard, edit it and send it to your loved ones, saving you a lot of time and thoughts on how to go about it.
3. GIF eCards
Who doesn't love GIFs? Research shows that at least 63% of the population use  GIFs and emojis to communicate. To take care of your needs, we also provide you with a large selection of eCards with GIFs. You can simply select am eCards with the GIF that speaks to you, edit it, and send it off to make someone feel special.
4. 100s of eCards and New Ones Added Each Week
Free Gmail eCards by cloudHQ offers a wide selection of eCards to choose from. Adding icing to the cake the selection is updated every week. You can always find an eCard that you are looking for and that relates to the subject matter you are intending to communicate.
How Free Gmail eCards by cloudHQ Works
1. Install the extension
Go here in the Chrome web store and download and install to your Google Chrome browser.Then go to the Chrome settings and double check that the extension is enabled.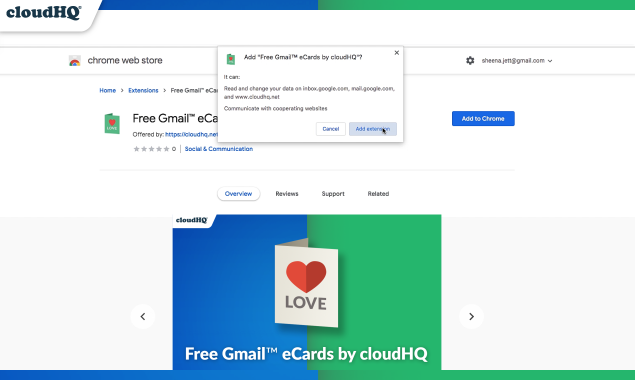 2. Compose Email
Log into your Gmail account and click the 'Compose' button on the top right of your page to start writing your email. At the bottom of your email composing page you'll see a new "Manage eCards" icon button which allows you to access of our free eCard library. This will take you to a window where you can select your eCard design from the wide variety available.
3. Select eCard
You'll now have access to hundreds of free eCards.  You can use the search bar at the top to find the category you want, or just scroll through the alphabetically-organized eCard selection to find the one that's perfect for you!
4. Edit eCard
Once you have selected an eCard, go ahead and edit the message to your preference ready to send as part of your email.
Free eCards for Gmail extension makes it simple to create, and simple to receive eCards. Say goodbye to traditional eCard issues as we usher in and embrace this new and easy way to let someone know just how you feel about them.