Sending your contacts a New Years greeting is more than just about holiday wishes, it's about creating and growing positive customer experiences. The more you have of them, the more those contacts will trust you and want to expand opportunities with you.
A great reason you might want to foster positive experiences with your contacts is this fun fact: "A positive customer experience encounter can increase customer spending by up to 140%." (Source: Deloitte)
Sounding professional, yet fun, is a thin line that can be nerve wracking to try to figure out, but there's no need to fret. Let us do the work for you with cleverly written email templates for New Year's greetings that you can send to your contacts so that you can keep creating those positive customer experiences.
Installing Free Email Templates takes just 1 click and is done in seconds. Below is a step-by-step instruction list to show how easy it is for you to follow up with your contacts for New Years.
There are just 4 steps to complete.
Step 1. Install Gmail Email Templates
Go to the Chrome web store and click on "Add to Chrome".
Step 2. Click on Your New "Gmail Email Templates" Icon
New Years 2022 email templates are accessible simply by clicking on your new icon that you can find in the top right hand corner of your Gmail inbox.
Step 3. Find an Email Template You Like
A pop up will appear with 4 tabs:
Free templates
My templates
MailChimp templates
Gmail Drafts
Select the "Free templates" tab and type "New Year" in the search box. All the New Year email templates will be ready for you to scroll through. If you hover over the email template you like, you'll see 4 boxes appear on top of it. Simply select the box to the left to download it into your Gmail email.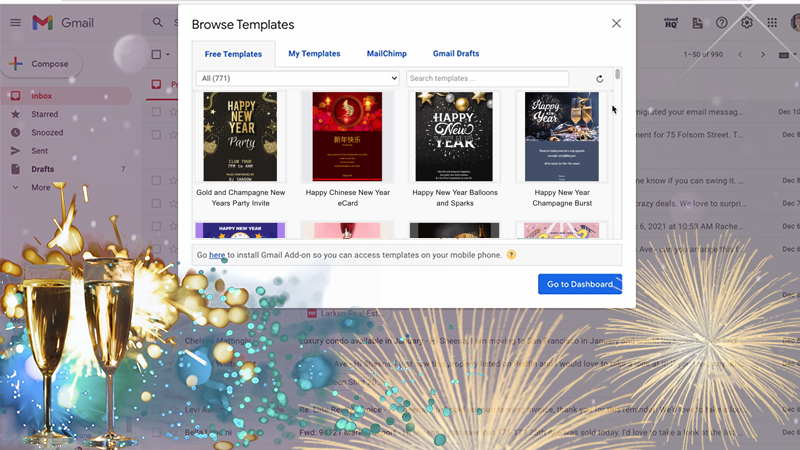 Step 4. Personalize and Send!
Find the text portion of your email template and start editing any of the words you want to edit. All images can be replaced, and (we offer you many free images if you're searching for one), and include your email subject line.
Just click on "close editor" in the top left hand corner when you're done, and your New Year's email template embeds right into your email!
You can save your email template for future use, copy any emails you received, or share this email template with the rest of the team so that they can use it with their contacts the company can have one uniform brand.
With that, we wish you all very happy and fulfilling holidays, and all the best for 2022!
Get Free Templates