Track all email opens in Gmail
Okay. You've drafted the email. You've poured over it. And finally, you've clicked send. But…now what? What if you're waiting for the response and they never reply—or never even open it? Is there a way to see what's happening on your recipient's end? We're here to tell you: there is. It's called email tracking software, and fortunately, it's at your fingertips.
As you'll see, cloudHQ's comprehensive, Gmail-integrated software, Free Email Tracker, makes it easier than ever to know when your emails are opened. In fact, we've just rolled out an update on the app, freshly equipping it with some very handy new functionalities.
More on this below.
Install Free Email Tracker
Reap the benefits of tracking email opens
By now, email tracking has actually become pretty ubiquitous. A 2017 OMC report analyzing 1.5 billion emails found that a whopping 40% used email tracking software—including 99% of non-conversational emails! Which means it's time to get on the bandwagon. So, why use email tracking software? We've listed some of the best reasons below.

1. Stay one move ahead
Usually in email communications, the recipient of an email has a bit of a leg up. The sender, with no information until they receive a reply, is automatically in suspense. Email tracking, however, changes this dynamic. With real time knowledge of when your email was opened, your recipient's decision to read your email gives you information you'll use to plan your next course of action.

Let's say you're in a negotiation. You send a price proposal, and they don't respond. No need to sweat. You know they haven't opened your email yet; you haven't received a notification. When they open the email, you see a text and desktop notification come in letting you know. The next time they open your email, you'll receive word again. They're thinking about what you've proposed, and as they do, you can think more clearly about your next move.
2. Improve email communication with best practices
Looking to make strides in your email effectiveness?
Study the information you gain through email tracking. Some questions you might ask yourself are: do certain recipients open emails during the evening, and others during the day? (Adjust your sending accordingly.)
Does your tracking show a higher open rate when using formatted Gmail subject lines? (Looks like bold and italic is working for you.)


Perhaps you're getting a higher reply-rate because you included an email signature like this?

Are your links not being clicked? Try sending fewer links, or try a different format like a call-to-action Gmail button.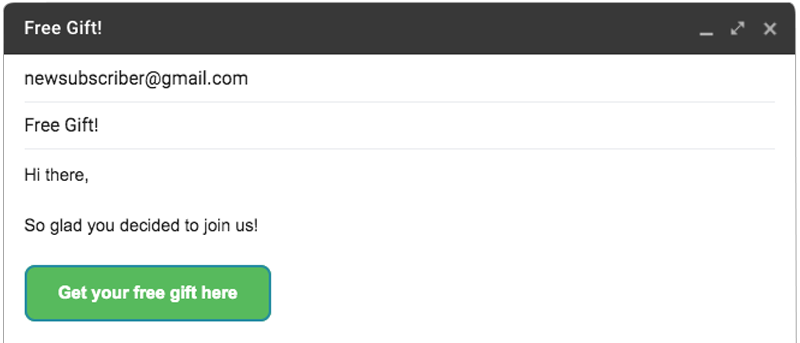 Alternatively, if your links are getting a lot of clicks, you may ask: can you sustain that rate with even more links added?
It's all discoverable with free email tracking software.
3. Stay on the ball with your network
Free Email Tracker offers plenty of features to keep you on top of your game, avoiding unnecessary lapses and delays in communication. Click an automatic Gmail label to view all of the received mail that you haven't replied to. Click another Gmail label to view all sent messages that your recipients opened and left unanswered. Get reminders when your emails haven't been opened in 48 hours. All of these tools help make your email performance stronger and more efficient.
If 40% of your network is already using their own email tracking software, isn't it time you leveled up, too?
Standard features of Free Email Tracker
Even before we rolled out this latest update to Free Email Tracker, the tool featured a broad range of functionalities for tracking email opens. We've given Free Email Tracker some exciting new Gmail-based features. Before we reveal the new additions, here's a list of the tool's original capacities.
Unlimited email tracking
Email link tracking
Dashboard to help you manage all of your email tracking information
One-click "turn-off" to stop tracking individual emails
Real-time desktop notifications for when someone opens your email
Real-time SMS (text) notifications for when someone opens your email
Gmail notifications (real-time) for tracking email opens
Reminders if your email is not opened in 48 hours
Reminders if your email has not been replied to in 48 hours
Integrated with Schedule Email
Integrated with Send Email to SMS
Multiple recipients tracking
Yes, that's quite an array—but our recent update adds a few special new dimensions to this useful email productivity tool.
New features of Free Email Tracker
In order to enhance your tracking experience, we've added three new features to your Gmail tracker. We think you'll like them.
1. Sort your sent email: opened, but unreplied
Instead of just helping you track individual emails, we've created a Gmail label that will sort all emails you've sent that were opened but weren't yet replied to. This way, you'll have one-click access to a full list of everyone you need to follow up with.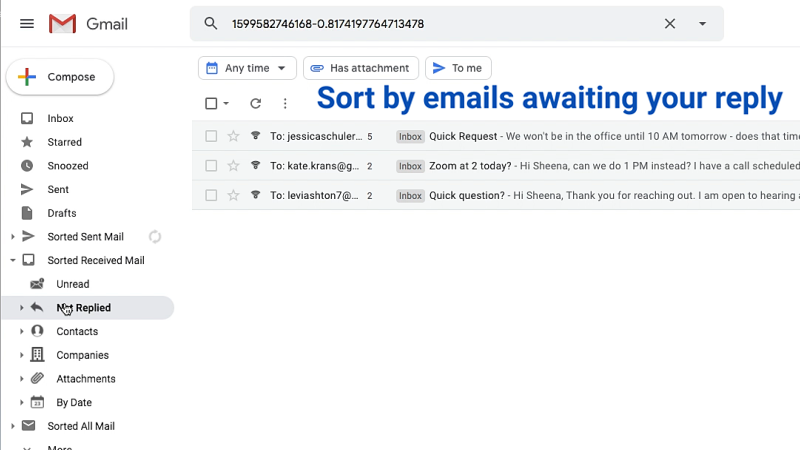 2. Sort your received email: awaiting your reply
As a welcome compliment to the new feature we describe above, you'll now have a Gmail label dedicated to the mail that has slipped through the cracks in your inbox. Who knows: maybe someone who's tracking you just received a reminder that you haven't replied in 48 hours. Or maybe you need to reply back to some of your customers or team members. This label will make it much easier to check off all the items on your communications "to-do" list.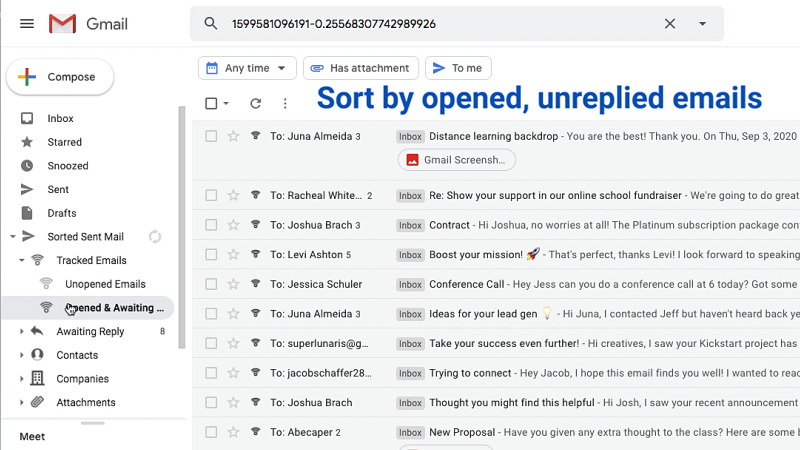 3. Special feature. All of your email tracking statistics, organized in an up-to-date Google Sheets report
For this last new feature, something really unique. Access an automatically-updating Google Sheets report filled with all of your tracked email data. If you send a lot of cold emails, you'll want this.
This particular new feature is not free, and only available with an upgrade of Free Email Tracker for $7.99/month. Of course, before you say, "Shoot, I have to pay for something," take a look at what you get.
Upon installing Free Email Tracker, you'll see a new Gmail label with an option to export your email tracking data to Google Sheets. When you click on it, you'll be prompted to upgrade to our premium service, providing you with a Google Sheets report that updates whenever new information comes in. It organizes extensive email tracking information in a tidy Google Sheets report, helping you see the big picture. What tracking information? We include the formidable list below.
The official list of email tracking information included in your Google Sheets report is:
| | |
| --- | --- |
| Campaign name (if part of an email campaign) | Subject line heading |
| Date and time of sent email | Recipient's email address |
| Recipient type (To:, Cc:, Bcc:) | Was your email was opened? (Yes/No) |
| Was your email was replied to? (Yes/No) | Email open count |
| Tracked links count | Links clicked count |
| Date and time of first open | IP address when it was first opened |
| Country when it was first opened | State/region when it was first opened |
| Location when it was first opened | Operating system when it was first opened |
| Date and time of the last email open | IP address when it was last opened |
| Country when it was last opened | State/region when it was last opened |
| Location when it was last opened | Operating system when it was last opened |
Now that you see the full offering, let's run through the following steps to get you started.
Getting started with Free Email Tracker
First, download from the Google Chrome Webstore here.

Your Gmail labels will automatically show up here.

You can see whether or not your emails have been opened, either (1) in the Dashboard tracking history, or (2) within Gmail under Sent Emails.


On your Dashboard, you can toggle options on and off.

Here's your automatic spreadsheet. and remember, the Google Sheets report is available with a paid upgrade to email tracking. You can view our pricing page here.

Starting using free email tracking software now.
Like the name suggests, Free Email Tracker costs nothing to install and use for anyone with a Gmail.
You'll note that, as a default, every tracked email includes a link in the message making it clear that you're using cloudHQ's email tracking software. However, it's quite easy to remove this link: just delete it before you send, or before you start writing. On the other hand, you can always upgrade to the premium version of the tool: for $7.99/month, and we'll remove the link for you by default. You'll get access to your Google Sheets report, as well as unlimited link tracking.
Discover what the hype is all about! Don't miss out on this secret to better email performance.
Install Free Email Tracker