Last week, we got a lot of feedback from our users after releasing Free Email Tracker, a tool that lets you track who opens your emails, and when- for free.
Because of that feedback, we decided to focus on making it even more polished with 3 new features:
Notifications: SMS Text, Desktop, and Email Notifications for multiple recipients in an email
Reminders if your email has not been opened after 48hrs
Multiple Recipient Tracking (e.g. Cc, Bcc)
Here's a quick look at each new feature:
1. Desktop, Email & SMS Notifications
Let's say you send an extremely important email.
You'd love to be notified the moment your recipient opens the message.
Using Free Email Tracker, if your email is opened while you're on your computer, you'll get an instant Chrome desktop notification:
You'll also get an email notification for good measure:
And if you're not on your computer, we've got you covered there too.  That's where SMS and email notifications come in.
When enabled, SMS and email notifications will send you a text message or email as soon as your message is opened by a recipient- for each recipient in your email.
That way, you'll know immediately when your email has been opened, whether you're at your computer or not.
To enable SMS or email notifications, select the box in the Email Tracker dashboard: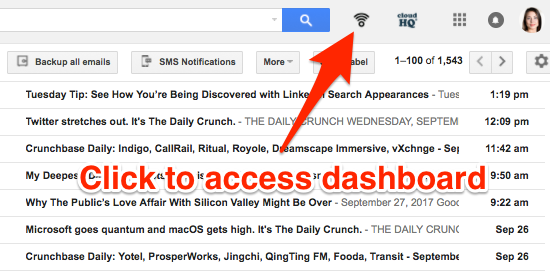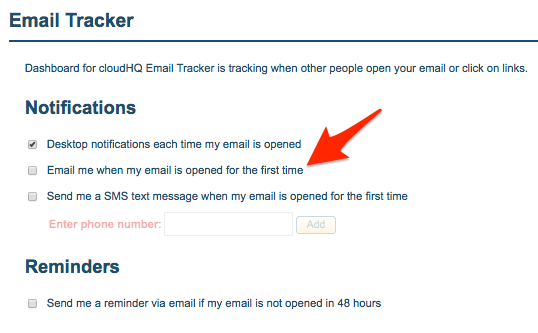 2. Reminders for Unopened Emails
With reminders, you can receive a notification if your email goes unopened for 48 hours.
This gives you a heads up that the email you're using might not be active. Or, it might be that the person is on vacation or in training for a week.
Whatever the case, a notification will alert you that your message has NOT been received.
That, in turn, allows you to email someone else or try a different method (text, phone call, etc.).
3. Multiple Recipient Tracking (e.g. Cc, Bcc)
This is a big feature that a lot of you were asking for, and took us quote a bit of development time to release!
When sending an email to multiple email addresses, or to one address with additional recipients in the Cc or Bcc lines, you can now track all of their email open activities.
Premium Version Available for Under $5/mo
Free Email Tracker is 100% free to use for anyone using Gmail.
By default, we'll include a link at the bottom of all tracked emails that lets people know you're using our tracker.
If you prefer to remove the notification, you can simply delete the link manually before sending your email.
Or for just $4.90/mo, you can upgrade to the premium version of the tool, and we'll remove the link for you by default.