Gmail doesn't come with a wide variety of formats, and sometimes it can be frustrating when you want to send something that looks professional, but find your emails looking flat.
If you know even a little bit of HTML, you'll love cloudHQ's latest tool, Free HTML Editor for Gmail. It lets you customize Gmail emails to include things like:
✔ Tables
✔ Charts
✔ Call-to-action buttons (great for sales meeting bookings)
✔ Side-by-side images (great for social media links)
Watch this 30-second video below to see how simple it is:
This new tool installs in seconds, is 100% free, and is the latest addition to our growing library of free Gmail tools.
Here's how to set it up:
1. Install the Extension from the Chrome Web Store
First, go to the Chrome web store and install the extension. Once it's installed, a new "Edit HTML" icon will be added to your compose window in Gmail.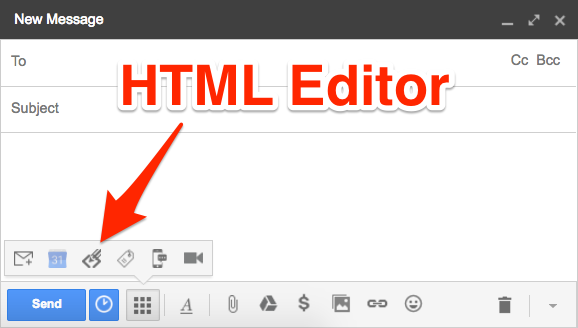 2. Click the Icon to Open HTML in Gmail
Click the icon to view the HTML email editor, which will open automatically.
The email editor is sophisticated. It uses a clean, split-screen design that lets you customize your message by directly editing your email in HTML. There's no need to copy and paste your code from another text editor.
3. Save, Close, and Send
When you're finished editing the email's HTML, click "Save and Close" in the upper left corner of the editor.
From there, send your email as you normally would.
Ideas for Using Free HTML Editor for Gmail
Here are a few ideas to your creative juices flowing when using the free HTML email editor in Gmail:
✔ Redesign your company's internal newsletter
✔ Create a unique auto signature
✔ Create a call-to-action button to book sales calls
✔ Easily add and format tables or charts
By using Free HTML Editor for Gmail free tool, your email design possibilities are endless!
Get Free HTML Editor for Gmail