Using free online polls and surveys in your emails: how it creates customer loyalty and increases repeat business.
cloudHQ's latest Google Chrome extension, Gmail Free Online Polls and Surveys by cloudHQ, is more than just a fun, handy tool for adding a novel kind of engagement to your email messages. Sure, online polls are a refreshing way to spice up communications between friends, schedule meetings, or collect opinions on the topic of the day. But it's also an essential resource for businesses. Below, we explain why.

Of course, it's no secret that when a new type of consumer emerges and dominates the marketplace, new and original business practices must also emerge to meet the new consumer head-on. But what kind of consumer has emerged that wants to answer polls in their emails?
The answer: a consumer that wants to feel heard.
Recent research suggests that, in our hyper-digitized world, consumer expectations have skyrocketed. No longer satisfied with one-way engagement from brands, consumers desire a digital conversation with their favorite companies where they get to create their own personalized experience. A company's customers want to play an active role in the company, and they want to feel in charge of their own relationship with the brands they love.
That's why successful businesses regularly use online surveys to ask their customers questions about their customer experience. It's effective: contemporary marketing research confirms that, within email outreach, interactive engagement boosts click-through rates by nearly 75%.
Polls are great for your business: here's the lowdown.
Let's break down the top 5 reasons why you'll want to start using free polls and surveys in your business emails.
1. Upgrade customer experience:
Brand follow-up is a major part of a customer's experience, but it's often forgotten. Fortunately, when you round out your customer experience by explicitly allowing for customer feedback, you complete the sales cycle, which leaves your customers feeling complete, too. Consequently, you'll increase their customer loyalty to you.
2. Identify product/service development:
Do you want to speed along product development? Let your customers tell you what they want. You'll save time and money listening to them directly. Find out which products are most popular with your customers; how they're using those products; and what they want to see next.
3. Improve customer service:
Polls are a streamlined, automated method for collecting feedback from your customers about their experience with your company. Online polls and surveys encourage your customers to engage with you honestly. You'll be able to understand how they really feel, and you'll even have the chance to follow up with them id they had a negative experience and try to make it right. It's a massive first step toward superior customer service that reduces your churn rate and results in increasing brand loyalty and repeat business.
4. Troubleshooting:
Polling your base, you'll learn faster what bugs and/or hassles exist in your product or service. Plus, you'll retain customers that would have simply deserted you because, when they experienced a snag, they didn't have an easy way to tell you.
5. Marketing:
Looking for the next way to grab the attention of your consumer base? When you embed online polls and surveys within your email campaigns, you'll substantially raise your click-through rates, all the while gathering important data about your customers. Then, you can target your next campaign based on customer responses to your survey. Learn your customers' preferences, and then tailor your approach.
Basically: let them tell you how to serve them. They will thank you for it.
What questions can you ask?
Well, did they enjoy the company event they attended? How often have they been using the last product they bought? Did they have to wait long on the phone when they talked to customer support? What new features do they want you to develop for the product they love so much? Is your website up to snuff?
Furthermore, remember this: in moments such as our current one—the complete halt and transformation of the economy due to COVID-19—buyer behavior shifts dramatically. So, go ahead and survey your customers about anything and everything they're thinking: let them tell you their next move!
Polls are great for everyone: here's how they can be used.
Importantly, polls aren't just for businesses and customers. In fact, there are plenty of reasons to use polls outside of customer engagement. Here are some of them:
Calendar invites. Impromptu Zoom party, anyone? Send a poll to your friends to find out availabilities so you can quickly create a meeting time that works with everyone's schedule.
Clear way to ask questions. In day-to-day emails, questions sometimes get lost in the wash. Unanswered questions are the worst and hang over our heads! So, this time, instead of asking a question in the normal way, use a poll. You're very likely to receive a strong response.
Humor. You can use a funny online poll in an email to bring some levity to your message. Plus, since polls are interactive and can include comments, the humor can flow both ways.
Find out more about your friends. Create poll for friends and you'll discover how they feel about an issue, a current event, or last night's crazy party. Maybe you'll find something you never knew you had in common.
Get ideas for activities. Wonder what game your friends want to play tomorrow night? Poll them. Does your squad want to take a group vacation this summer? Poll to find out bucket-list locations. Restaurant of choice for the weekend? Poll. Movie tonight? You get the picture.
Techniques for effectiveness with free polls and surveys
If you have multiple questions in an email, keep your rating scales consistent. Too much variation and you'll confuse—and turn off—your customers.
Try different types of questions, from multiple choice to open-ended questions to sliding scales. But again, don't mix and match in one email: keep things consistent, and try something new next time.
Add your logo to the email and match the colors of the survey to your brand color scheme. You're guaranteed to get customer brownie points for good design.
Offer an incentive for taking your survey. 15% off their next purchase? Not a bad trade for all the valuable information they'll give you.
How it works
Start composing an email and click the Polls button on your message options bar. (It looks like a speech bubble with a bar graph inside.)
Title your poll with the question you'll be asking.
Identify your poll's response options.

Define the ends of the scale for your responses: do the options range from Satisfied to Unsatisfied? Older to newer? If the choices are not along an bi-polar gradient, then just place an empty space in each of the boxes and you're good to go.

If you'd like, click the box that allows user to add more detailed feedback in their own words.

Click to add the poll to your email body, and then customize your formatting by clicking on the polling buttons, which brings up an extensive menu. Manipulate the buttons' border size; border color; background color; text color; and border radius (to make the corners more round or more of a right angle).

Click the box to apply your formatting to all of the poll buttons, or edit each individually.

Once you've created that poll, you can use the same online poll again in another email with just 1 click. Just click the Polls icon and choose your poll from the menu that pops up.

When your recipient takes your survey, they'll be directed to a page where they can enter their email address, confirm their response, and make comments, if you've allowed for them.

Users can only submit their answer once, so you won't get any confusion with repeat responses.
Export all your Online poll and survey responses to a Google Sheet
It doesn't stop there, of course. Try out this idea to get the most out of Gmail Free Online Polls and Surveys by cloudHQ.
Once your customers have submitted their responses to your poll, you'll receive confirmation emails with their answers included. In a couple easy steps, you can ensure that all of your received polling data is organized for you and automatically uploaded to a spreadsheet, neatly including the information from your online poll and survey results.
To do this, click on the Gmail Free Online Polls and Surveys button in the top-right-hand corner of your browser (see movie above). You'll be directed to your cloudHQ Dashboard. Click the "Export Responses to Google Sheets" button, and our artificial intelligence will mine the relevant data from all of your polling confirmation emails and organize that data for you into a Google Sheets spreadsheet.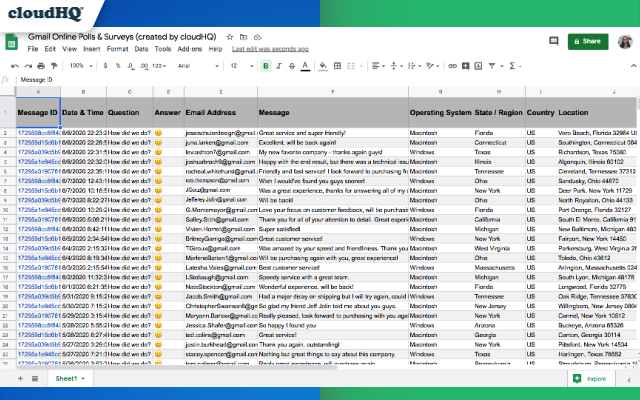 In summary: Gmail Free Online Polls and Surveys will serve you in a variety of capacities.
Why use polls if you're not a business?
First of all, because their possibilities are really limitless. Polls are all about learning new information, so you'll never stop getting value as long as you put them to use.
And if you're a business, why then?
Because it's a new day in the marketplace. Customers demand a dialogue with their brands. Interactive customer service and a holistic customer experience are now both paramount. If you want to create brand ambassadors out of your customers, poll your people.
Asking questions has never looked so good.