Did you know there's a 67% higher chance someone will click a button in your email than if you sent them a hyperlink?
If you'd love to have an easy way to create buttons in Gmail, we have a brand new tool called Gmail Button that's perfect for you.
For example, we created this one in just a few seconds: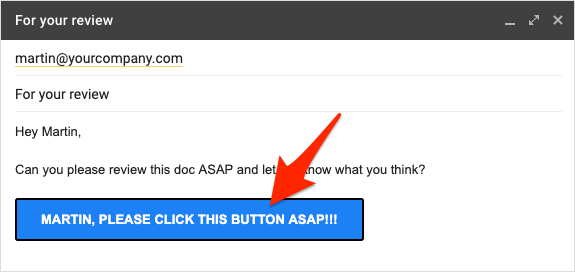 That might be exaggerating a little (unless your boss' name is Martin and he's terrible about getting back to you!), but you get the idea.
It's simple, fast, installs in seconds, and works entirely within gmail. The buttons can also be customized with any message and any color.
Here's how to create a Gmail button in seconds.
1. Install Gmail Button from the Chrome Web Store
Step one is to install the new Gmail Button extension from the Chrome Web Store.

Gmail Button installs in seconds and is free to use for anyone with a Gmail account.
It will install a new button in the bottom of the "compose" window when you're writing a new email.

2. Create a Button from a Draft Message
To create a button, click the icon to display a simple options popup.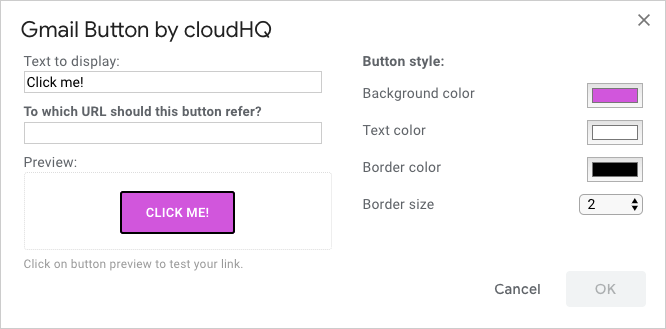 From here, you can change the text to display, the link, and the color of the buttons.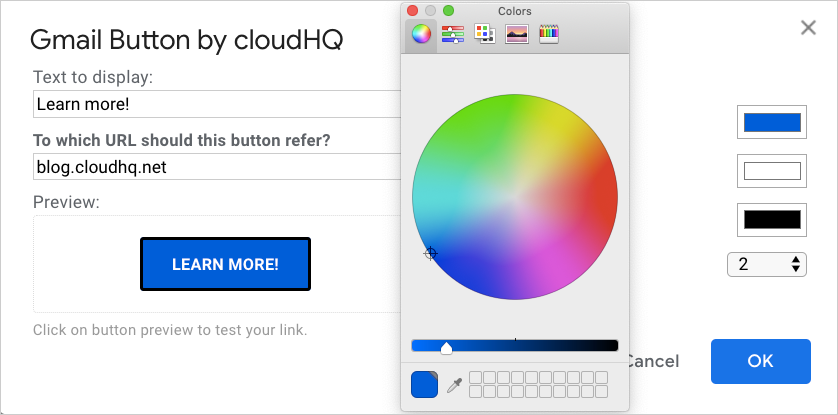 Click "OK," and the button will be immediately dropped into your Gmail message.
There's no need to download an image to your computer or attach anything to your message. The button is created using HTML and can be moved around your message like normal text.
To edit the color of the button, the call to action message, or the link, click on the button, then click "Button" to adjust your options:

Three Ways to Use Gmail Button
Since Gmail Button is free, you can use it in all kinds of emails — both professional personal.
Here are some ideas…
1. Sales communications
If you work in sales, you occasionally send links to your customers and prospects. Any time you send an email, you're hoping your recipient will take an action or make a sale.
At the least, you want them to know exactly what they should do next as they work with you.
Instead of sending a text link, send a big call to action. That way, there's no way anyone can miss the action you want them to take.
2. Marketing emails
Marketing emails almost always have a call to action.
Sign up, buy now, see more, learn more, order now. These are all actions you want people on your email list to take, and a bold call to action will make it clear exactly how they can take the next step.
3. Personal emails
Sending a report to your boss for her review?
Adding a link in an email to your Grandma so she can see the latest photo album of your kids?
Add a Gmail button!
It's free. It installs in just a few seconds. And you can use it as often as you want.
Try it out and see how it works for you!