Table of Contents
In an age where the volume of daily email correspondence is constantly growing, it's essential for businesses to manage their email accounts more effectively.
Enter: The innovation that is Gmail label sharing. This feature can streamline your operations, enhance productivity and foster better collaboration within your teams.
What is Gmail Label Sharing?
The principle behind labels is simple – they are tools for categorizing and locating emails swiftly in your inbox so you can stay organized. An exceptional function about Gmail labels versus traditional folders is that you can apply multiple labels to a single email if need be.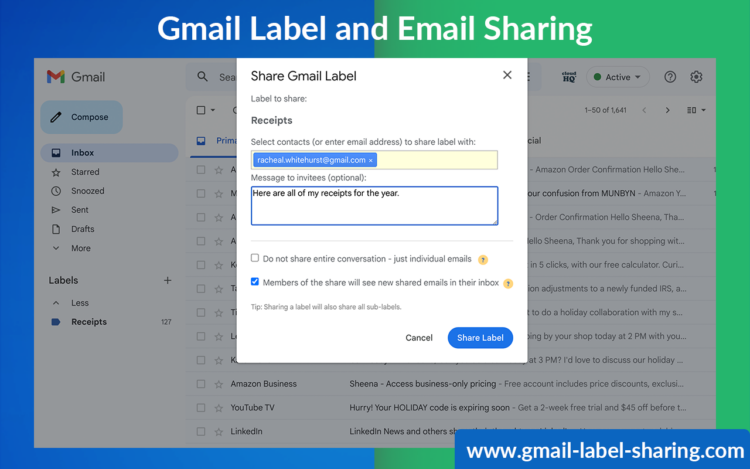 Finding labelled emails isn't complicated either – all labels display on the left-hand side of your inbox, creating convenient email hierarchies, which are especially handy with support emails.
The Benefits of a Shared Gmail Label
Discover how much productivity and harmony shared labels could bring to your work flow:
15 Inspiring Ways Businesses Enhance Collaboration with Gmail Label Sharing
Daily Updates and Memos:
Share a dedicated label to correspond about important updates or changes within the team. Everyone can stay abreast with the day's schedule, notice periods or necessary meetings.
Inbox Management:
Use shared labels to organize your inbox and distribute emails to appropriate teams. Shared labels will allow you to eliminate unnecessary CC's on every email.
Client Correspondence:
Create client-specific labels which everyone who deals with that client can access. This ensures nothing is missed, as all employees can see all communication history.
Budget Tracking:
Manage invoices, bills, receipts using dedicated shared labels. Financial accountability becomes breezy when everything os visible in one place – simple for accounting teams.
Collaborative Projects:
Working together becomes more comfortable with shared labels for projects where emails are often sent between various parties involved.
Sales Inquiry Sorting:
Long list of sales prospects? No problem! With shared Gmail labeling you can sort sales enquiries in an orderly manner ensuring nothing falls through the gaps.
Pitch Decks/Proposals:
Avoid creating multiple drafts of pitch decks or proposals using a universal label for all related content reviewable by your team members before sending out.
VIP Customer Communication:
Create and share a 'VIP' label or preferred customer tag to elevate customer service experience routing important clients instantly.
Error Reporting:
Create specific error reporting tags which your Quality Assurance (QA) or IT department have access too. It creates an effective channel to report errors and track their correcting process.
Sharing Reports:
Create shared labels for different departments to submit their weekly or monthly reports. It makes the process of report submission and review efficient.
Job Applications:
If your company is hiring, having Gmail labels for different job postings can help HR to better organize applications based on specific role requirements.
Press Relations:
Include a separate label for media related correspondences, feature news about your company, press releases etc.
Crisis Management :
This email could be used as 'emergency use' and activated only in crisis situations thereby giving it high priority attention by all staff members wherever shared.
Sensitive Information Category:
Emails with law sensitive content or special contracts can be suitably labelled for those who are authorized to peruse them.
Promotional Campaigns:
Create explicit labels for Marketing Teams' outreach campaigns specifying resources (creative content , brief etc) and along with partner communications. This centralizes all the needed info regarding an upcoming campaign in one easily accessible space.
Simplify Sharing Knowledge
Streamline collaboration like never before using Gmail Label Sharing. Watch productivity soar as workflow communication becomes effortless from customer service, to client queries, and project management, all neatly categorized into shared Gmail labels where everyone on your team can access.
This is an extremely easy way to share your Gmail labels with anyone, and it's an incredibly powerful app. Not only for all the reasons listed above, but also for the most obvious reason: your convenience.