Whenever we start off our day, it's known that it'll sometimes be hectic.
After dropping off the kids at school and battling traffic to get to the office on time, you often find yourself bombarded with teammates asking your opinions on projects, or texts from your clients as soon as you walk in the door. Often, it seems like everyone wants a piece of you all at once.
That's why we're excited to release Good Morning by cloudHQ, a free Chrome extension for someone who wants a little moment of inspiration in their day- even if it's just for a few seconds.
Beauty and Inspiration Every Time You Open a New Tab
Good Morning by cloudHQ will replace the default "new tab" screen in your Chrome browser with a personal desktop that looks like this: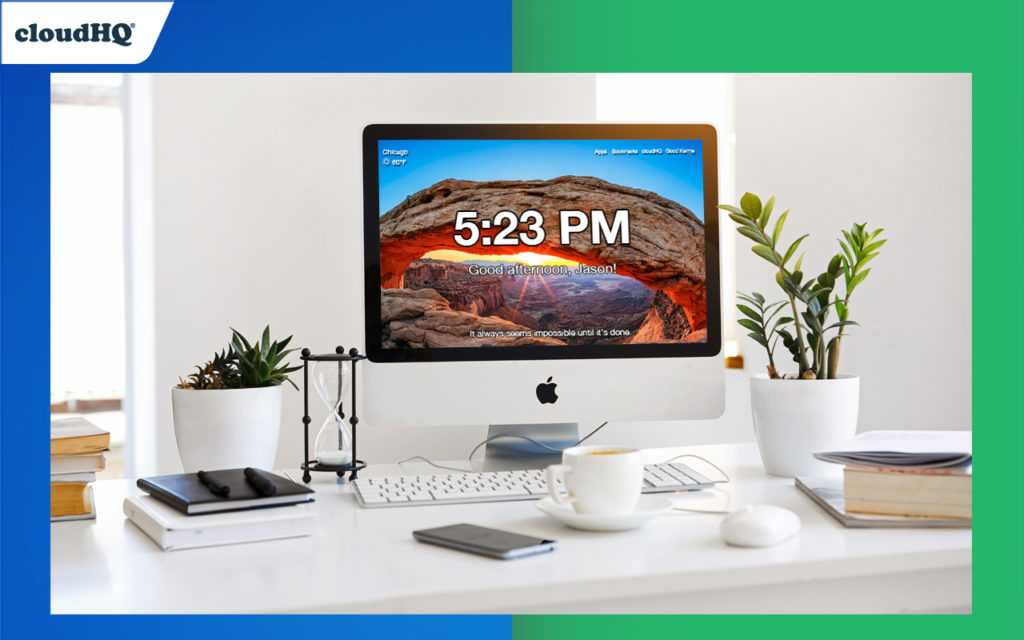 From your tranquil image, to your inspirational quote, to your personal links that we've included for you, Good Morning is designed to remove distractions, keep you inspired, and help you focus.
✅ Breathtaking Photos
Beautiful images have the power to make us more productive.
When you install Good Morning, you'll have a chance to recenter yourself every time you see a breathtaking photo. It helps you take a moment of pause to help you focus on the day's tasks ahead, boosting your productivity every time you open a new window or tab.
✅ Personalized Greetings
We'll ask you for your name after you install Good Morning. From that point on, you'll receive a custom greeting.
✅ Inspirational Quotes
Like beautiful images, our brain loves a good quote, and you'll see an inspirational one every time you open a new tab.
✅ Local Weather
We'll give you the daily weather forecast in your city, and display it in the upper left hand corner of your screen.
✅ Your Apps
We're all regular users of Chrome Apps. Click on "Apps" to go straight into your Apps launch page.
✅ Your Bookmarks
To jump to a list of your bookmarks, click "Bookmarks."
✅ Good Karma
Finally, every day, you'll be offered the chance to donate to a worthy cause (example: The Red Cross) just by clicking the "Good Karma" link.
Simple, Beautiful Productivity
If you have Facebook or Google News as your "new tab," we invite you to take a simpler approach.
Good Morning by cloudHQ will ensure your day starts with both beauty and inspiration. It'll also shield you from the distractions that so often wreck our productivity when we open Chrome to work online.