Halloween is here! Tis the season to let the ghouls and goblins into your haunted house or break out the pumpkins and friendly ghosts for a costume party with the kids.
But before the big day arrives, you'll have to dig up your creative skills and design a Halloween poster to announce the festive occasion.
Starting any document from scratch can be a bit frightening, but Google Docs Template has got you covered. You'll be able to get your message across without complex design skills and hours of work. Instead, start with a professionally designed template, customize it with your information, and finish the project at record speed.
Halloween Poster Templates in Google Docs
Google Docs Templates is a free app that makes your design work easier. It gives you access to thousands of free Google Docs templates designed by professional designers. It's the perfect design tool for all of your Halloween needs. No matter what business you're in or the project you're tasked to complete, there's a Google Docs template sure to please.
Get Halloween Poster Templates
Small business owners can use Google Docs Templates to scare up more business. How about a Halloween poster for your Midnight Madness sale? Or let your favorite customers know they can bring in their little ghouls and goblins for some trick-or-treat fun. Your poster will be ready in minutes, giving you plenty of time to get it out to your customers.
And below are other options for Halloween parties and Halloween show events:
Browse More Halloween Poster Templates
Teachers can use Google Docs Templates to create a poster recruiting parents to help with the Halloween bake sale and party. It's never been easier to get the daily tasks you face each day completed and checked off your list. In fact, browsing through the template library may even give you more ideas to get creative with your organizational skills. There's a template that can handle everything from lesson plans to projects and proposals.
Looking for design templates for personal use? Google Docs Templates has got you covered. Google Docs Templates are so flexible and easy to use they'll spark creativity no matter what you're trying to design in your Google Drive or Gmail. Send invoices out for your local book club. Create invitations for your local get-together. Browsing through the templates will give you ideas for effortless ways to make your projects look better.
You'll love Google Docs Templates as a productivity tool because:
It Saves You Time
Why reinvent the wheel? You already use Gmail and Google Docs as a part of your routine. Instead of having to open up a third-party program, just click. You'll have access to hundreds of templates waiting for you to customize.
It Saves You Money
Skip hiring a graphic designer or a marketing pro to design and customize. You'll get the very best designs right at your fingertips. Each template was created by graphic designers and marketing pros who do this for a living. You'll get their very best designs at a price you can't refuse.
It Lets You Win Every Time
No more missing out on your top ideas because you lack time to make them happen. With a professional template ready and waiting, you can plan a party, hold an event, or advertise a sale anytime you wish.
Whatever you can scare up to make your Halloween festivities a bit more fun, Google Docs Templates make one of the most challenging parts of planning a snap.
How To Make a Halloween Poster Using Google Docs
Google Docs Templates is a free app for your creative design work for commercial and non-commercial use. It's fully integrated with Google Drive, so you won't have to download anything to your hard drive to start.
Visit the Google Chrome Web Store and install Google Docs Templates by cloudHQ.
Once installed, the complete library of Google Docs templates will open up in your browser window. You can access it in one of two ways.
First, you can pin it to your Chrome browser window to quickly access the entire template designs library whenever you're using Gmail or Google Drive.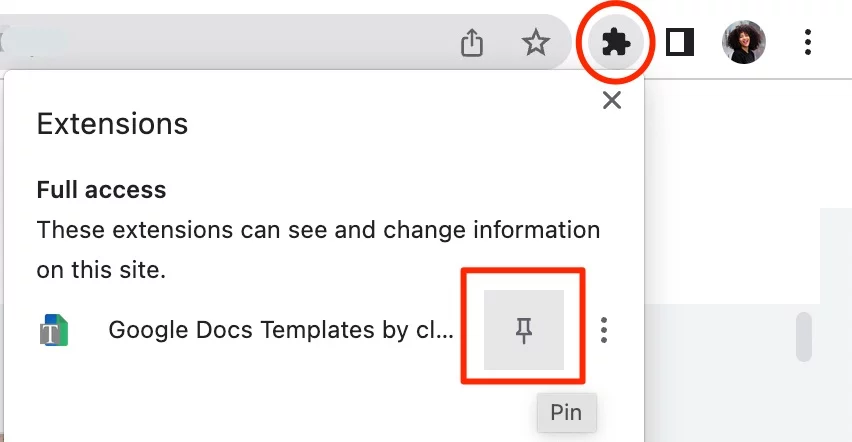 Then, just click the icon at any time in any window in your Chrome browser, and it will take you to your Google Docs Templates library.

Second, if you're not using Chrome, you can still access the entire Google Docs Templates library right from your Google Drive account. With Google Drive open, click on the "New" button. Hover over "Google Docs" and click on the arrow next to it. Select "From cloudHQ template." The Templates library will open up on your screen, and you can scroll through and find the template that best suits your needs.
When you find a suitable template, click on it. Make a copy of the template, and it will open up in your Drive, ready to be customized to suit your needs. You can adjust photos, text, logos – anything you desire to create a clear message suitable for your personal or professional needs.
Don't let Halloween escape this year without sending a spooktacular message to all of your ghouls and goblins. It's never been simpler – Google Docs Templates take the most complicated part away. Start designing today.