You might be focused on Black Friday and Cyber Monday, but don't forget about the sales opportunity around Halloween.
Halloween and spookier seasons are quickly approaching, and email marketing is one of the best ways to get in front of customers. In fact, 50% of consumers plan on making an online purchase during the Halloween season. As the first two weeks of October are the peak Halloween shopping time, it's essential to get your email campaigns launched immediately.
MailKing is cloudHQ's full-service email marketing software – equipped with email templates, email tracking, link tracking, video compatibility, and more. It's exactly what you need to spellbind your clients, and here are a few reasons MailKing is the platform to help you get up and running quickly.
Send Halloween Email Marketing Now
Halloween Email Marketing Works
The biggest reason to send out your email marketing for Halloween is obvious: sales. Take a look at the latest National Retail Federation projection numbers for 2022: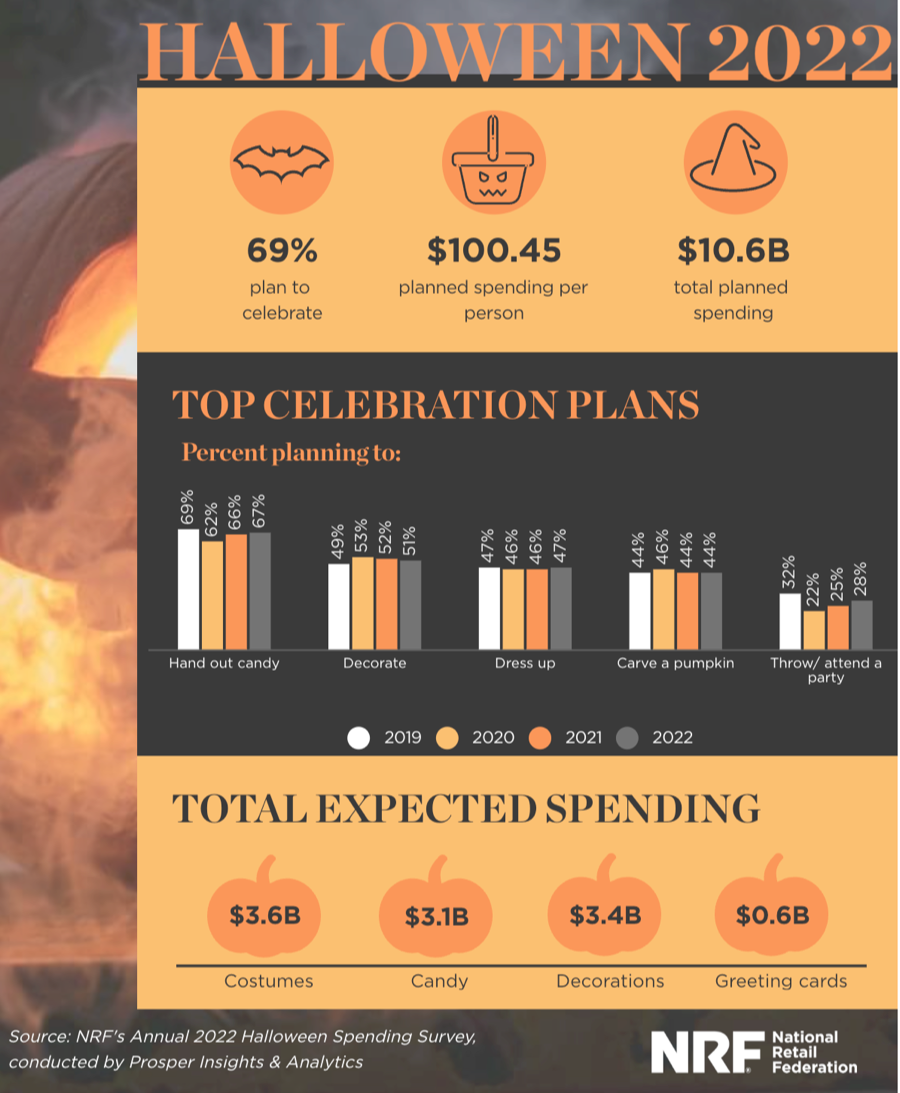 With many email marketing platforms to choose from, MailKing offers the best combination of flexibility, features, and scale for busy entrepreneurs, business owners, sales representatives, and more.
Quickly Promote Sales and Discounts
What gets people most excited around the end-of-year holidays are sales, sales, sales. With plug-and-play templates, scheduling, analytics tracking, and more, MailKing has many features that help you seamlessly communicate with thousands of people, getting your sale and discount code info right in their hands. Plus, you'll have robust analytics to let you know what emails people opened and what links they clicked. Let the online sales begin!
Use This as an Opportunity to Build Your Email List
Are you struggling to build an email list? Use cloudHQ's Email List Builder to start a list from scratch when you're starting at ground zero. It builds a unique email list of all of the people that you've ever had contact with in your Gmail, and turns these contacts into a neatly organized Google Sheet for you. Cross-promote your Halloween sales on social media, and encourage these people to sign up for your email list, too. Once you have a healthy list started, MailKing helps you stay proactive about communicating with your customers even after Halloween.
Copy your Favorite Competitors' Emails And Use it as Your Own
With MailKing, you can copy the formatting from any email you've received in your inbox—including exact fonts, spacing, images, and text boxes—and edit that email using your own company's information. This can save you tons of time, money, and resources, and you know this is probably a high-performing layout for your competitors. Just save the email as a template to reuse as needed.
Text Message Marketing
Make your Halloween campaigns even more impactful with text messaging through MailKing. MailKing lets you bulk text message and quickly send out short messages to everyone on your email list. Text messaging is highly effective, with a startling 98% open rate, and it's the perfect addition to your email marketing campaigns as well.
Get Started with Halloween Email Marketing
To get started with MailKing, just visit https://www.mailking.io/email-templates/halloween, and select one. To make it easier, here are a few of our favorites, but you should visit the link above to get the larger collection:
View More Halloween Email Marketing Templates
With MailKing, you can get started with both text and email messaging for Halloween in just a few steps. Here's some great email subject line tips for higher open rates. We hope this helps you have a spooky profitable holiday!