Record-Breaking Halloween Spending Expected in 2023
In a revealing forecast for 2023, Halloween spending is anticipated to soar to an unprecedented $12.2 billion, surpassing the previous year's high of $10.6 billion. The National Retail Federation's latest survey highlights that a whopping 73% of the populace intends to engage in Halloween festivities, marking an increase from 2022's 69%. This surge in participation signifies not just an enthusiasm for the spooky season but also presents an unparalleled financial opportunity for businesses. With consumers gearing up to splurge on costumes, decorations, and candies, retailers have a golden chance to amplify their sales and capitalize on this festive momentum. The push towards early shopping and the growing influence of social media platforms like TikTok, Pinterest, and Instagram as sources of inspiration further underscore the evolving dynamics of Halloween shopping.
5 Strong Benefits of Halloween Email Marketing
As October 31st approaches and people start preparing for celebrations, consumers are more likely than ever to entertain promotional deals in their inbox – especially if they're framed within an engaging Halloween context! Here's how you could benefit:
1. Customer Engagement
Thematic emails awaken sentiments! They nail down relevance by aligning your message with current events, fostering stronger bonds between consumers and your brand. A Halloween-themed promotional campaign could boost your email interaction.
2.Driving Traffic
Customizing your newsletter to feature special Halloween content, how-to's or costumes ideas generated by your very products increases website visits and sales by over 70%. For example: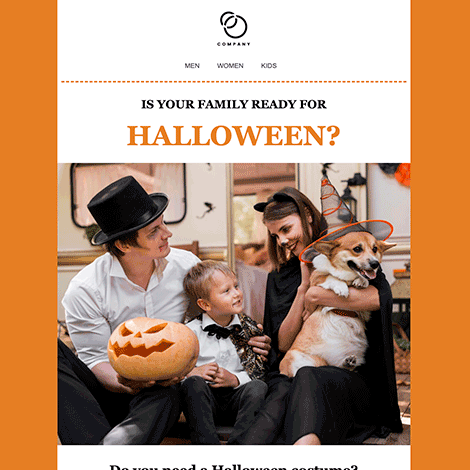 3.Increasing Sales
Consumers anticipate holiday-related purchases. Capitalize on this season of increased spending by offering special deals or exclusive Halloween discounts.
4.Improving Brand Image
Fun and out-of-the-box campaigns present an emotional appeal, showing that your business is not just about sales but also customer satisfaction and engagement. For example: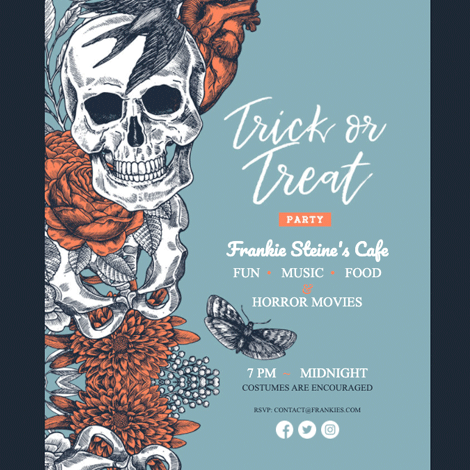 5.Email Marketing Automation
Many of your customers might relish the idea of cozying up with a pumpkin-spiced beverage and a book that's a departure from the usual Edgar Allan Poe during the Halloween season.
Furthermore, there's a segment of your audience that might be more drawn to the serene essence of fall rather than the eerie Halloween festivities. To cater to their preferences, think about crafting email campaigns that emphasize the charm of the autumn months rather than the nocturnal mysteries.
Attract visitors to your e-commerce platform and landing pages by tailoring campaigns based on their online interactions.
Initiate this by sending out emails that highlight the splendor of the fall season, catering to those who might not be big fans of Halloween but still are on the lookout for those enticing discounts. For example: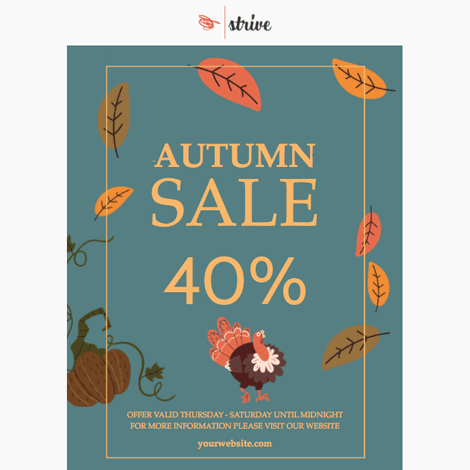 How MailKing Makes Your Emails Shriek with Success
MailKing from cloudHQ consolidates all of these benefits into a user-friendly platform fully integrated with Gmail, making it ideal for small-to-mid-sized businesses keen to initiate or enhance their email marketing. From Halloween to Christmas and throughout the year, MailKing ensures you get the most out of your mass email strategy.
1. Spine-Chillingly Simple to Use
You'll get access to 1500+ professionally designed email templates available for use right within Gmail; no need for jumping between applications. Boasting an intuitive design editor enables you to easily create alluring emails for any occasion – be it a spooky sale announcement or festive holiday deal!
2. Trick-or-Track Performance
With unlimited email tracking, MailKing enables its users to monitor opens and clicks, allowing you to adjust future campaigns based on what works best strategically: determining best send times, well-performing headlines and types of content.

3. Integrated Spell-ocity
MailKing allows seamless importing of pre-designs from MailChimp or Hubspot Templates directly into Gmail – maintaining brand consistency without compromising convenience!
4. Frightfully Flexible Delivery
Marketing emails are all about timing – thankfully scheduling is made easy with MailKing! This is crucial for sending relevant messages in-sync with worldwide events like Halloween. And even better is that your email will be sent by your own email address, making sure that you experience even higher open rates than if you had sent it with other email marketing services.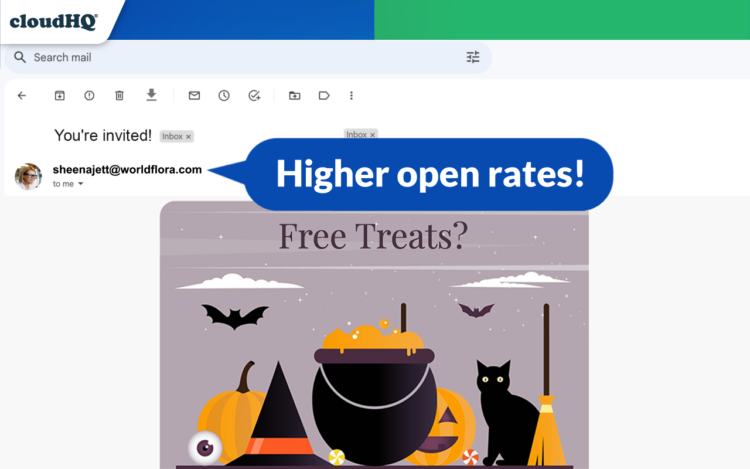 50 Halloween Email Subject Lines
Boo! 👻 Save with Our Spook-tacular Sale!
Halloween 🎃 Costumes are almost Gone!
Witch-ing You a Happy Halloween ‍ 🧙!
🦇 Fly Over For Frightful Discounts!
Your Treat 🍫 – No Tricks Included.
Fancy a Scare? Visit Us 👺‍♀️
Halloween Sale: No 🕷 Webs Attached!
Bewitched by Our New Arrivals? 👹
Slashing Prices this Halloween🔪!
Warning: Scary Good Deals Inside 🎃
It's a Monster 🧟 Mash – Join Us!
Halloween 🍬 Treats for All Tastes!
Experience Chills with Our Spooky Range 💀
Celebrate Halloween with Our Ghostly 🌬 Deals!
Eerie-sistible Offers This Halloween‍ 👻
Ghoulish goodies are waiting!👹
Fright Night Essentials 👀, Right Here!
A Hauntingly Good Discount Awaits…💀
Sink Your Teeth into This Sale 🦇‍♂️
Your Halloween Costume Reveal 😱 is Here!</
🔮 Unveil our Mystical Discounts!
Trick or Treat Yo' Self with Deals 🍬
Unearth 👻 Eerie Offers Now!
Mummy's Word 🎃: Best Deals Inside!
Spine-tingling 🕸 Savings Await!
🍁 Fall into Spooky Season Specials!
Hocus Pocus 🎃, Time for Our Focus!
Wicked Good Deals are Brewing 🧙‍♀️
🕯 Light Up Your Halloween with Savings!
No Tricks, Just Treats 🍭 and Sweet Deals!
🦉 Whooo Wants Special Halloween Offers?
It's a Boo-st for Your Savings! 👻
🕷 Creep it Real with Our Discounts!
🌙 Midnight Flash Sale – Don't Miss Out!
Wrap Up Your Halloween Shopping 🎁 Now!
🧛 Fang-tastic Finds Inside!
Sale So Good, It's Supernatural 👽
Be Afraid… Of Missing Out! 🏚
🍂 Harvest the Best Halloween Deals Now!
Are You Ready to Carve Out Savings? 🎃
Haunted by High Prices? Not Here! 🏰
It's All Just a Bunch of Hocus Pocus ✨
🧟 Unearth Deals from the Dead!
Witch Way to the Best Discounts? 🧹
🔥 Hotter than a Witch's Cauldron!
👁 Eye See Big Savings for You!
Make No Bones About It, Best Deals Here! 💀
🍎 Poison-Free and Priced Just Right!
🦄 Magic Awaits in Every Offer!
Jack-o'-lanterns Glow & Deals Show! 🎃
Spellbinding Savings are Here ‍🔮!
So why not move past the horror of manually managing large-scale marketing emails? Adopt MailKing's email marketing software to enhance your campaigns starting this Halloween. And if you're hungry for more ideas on how to curate thrilling Halloween email marketing campaigns, head over to their blog posts for tips and tricks!