Halloween is just around the corner, and it's time to brew up some wickedly creative email campaigns! Whether you're a business owner looking to promote your Halloween specials or an individual wanting to send ghoulish greetings to friends and family, having eye-catching and professionally designed email templates is the key to success. In this comprehensive guide, we'll explore the world of Halloween templates, providing you with everything you need to create spook-tacular emails that will leave a lasting impression on your recipients.
Table of Contents
Why Send Halloween Emails?
Halloween spending is anticipated to hit an unprecedented $12.2 billion in 2023, surpassing the previous year's $10.6 billion, according to the National Retail Federation's yearly survey. A record-breaking 73% of people plan to participate in Halloween festivities, marking a rise from 69% in 2022. The average individual spending is projected to be $108.24, with significant growth in costume expenses. In total, costume spending is expected to hit $4.1 billion. Other significant expenditures include decorations at $3.9 billion and candy at $3.6 billion. A notable trend is the early start to Halloween shopping, with 45% of participants planning to shop before October.

Why Use Halloween Templates?
Using Halloween templates for your email geetings offers numerous advantages. Firstly, they save you valuable time and effort, eliminating the need to design emails from scratch. These professionally crafted templates come pre-designed with spooky graphics, eerie fonts, and captivating layouts that instantly transport your readers into a world of Halloween magic. By leveraging these templates, you can create visually stunning emails that keep your recipients under your spell.
Halloween templates ensure consistency in your branding and messaging. They provide a unified experience across all your email communications, reinforcing your brand identity and professionalism. With a well-designed and cohesive look, your emails become instantly recognizable and memorable, increasing the chances of engagement and conversions. Halloween templates also allow you to optimize your emails for mobile devices, ensuring that your messages reach every ghoul and goblin, wherever they may be.
Finding the Perfect Halloween Template
Halloween Templates for Outlook
If you're a Gmail user, you're in luck! Gmail Email Templates is a powerful tool that seamlessly integrates with your Gmail account, providing you with access to a vast library of professionally designed email templates. To get started, simply install the Gmail Email Templates Chrome extension or Google Workspace Add-on. Once installed, you'll find the template library available with a single click from within the 'Compose' window in Gmail.
With a large selection Halloween templates to choose from, you'll have no trouble finding the perfect design to suit your needs. Whether you're planning a Halloween party, offering spooky discounts, or sending Halloween greetings, Gmail Email Templates has got you covered. Simply select your desired template, personalize it with your own hauntingly good messages, and send it off to your recipients.
Halloween Templates for Outlook
For Outlook users, Outlook Email Templates offers a similar solution. This tool seamlessly integrates with your Outlook account, providing you with a library of professionally designed email templates to choose from. To access the template library, simply install the Outlook Email Templates Edge extension.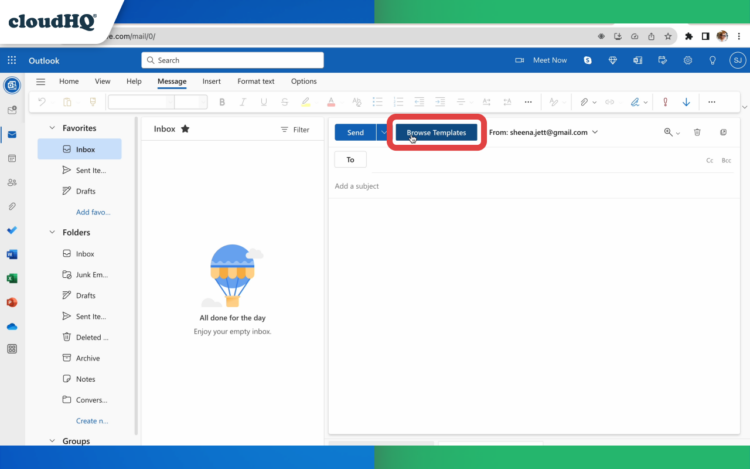 Once installed, you'll find the template library available with a single click from within the "New mail" window in Outlook. Browse through the templates, select the one that suits your Halloween campaign, and personalize it with your own ghoulish greetings or spooky offers. With Outlook Email Templates, creating eye-catching Halloween emails has never been easier.
Creating Hauntingly Good Emails
Customizing Your Halloween Template
Once you've selected your Halloween template, it's time to customize it to fit your specific needs. Start by replacing the placeholder text with your own compelling content. Craft engaging subject lines and body copy that captures the Halloween spirit and entices your recipients to read further.
Personalize the email by adding your logo, brand colors, and any additional graphics or images that align with your Halloween theme. Consider using animated elements or GIFs to add a touch of interactivity and capture your recipients' attention. Don't forget to include clear and compelling calls-to-action (CTAs) that direct your recipients to take the desired action, whether it's making a purchase, RSVPing to a Halloween event, or simply sharing the email with their friends.
Best Practices for Halloween Email Campaigns
Crafting a Killer Subject Line
The subject line is the first thing recipients see when your email lands in their inbox, so make it count! Craft a killer subject line that grabs attention and entices recipients to open your email. Incorporate Halloween-themed keywords and phrases to set the spooky tone and pique curiosity. Experiment with emojis to add a touch of playfulness and visual appeal. Keep your subject line concise and compelling, giving recipients a glimpse of what's inside while leaving them wanting more.
25 Halloween Email Subject Lines to Promote a Sale
1. 🎃 Spooky Savings Inside!
2. 👻 Boo-tiful Deals Await!
3. 🕷️ Web of Discounts!
4. 🦇 Midnight Sale Alert!
5. Haunt & 🛍️ Shop Now!
6. 🎃 Potion for Savings!
7. Ghostly 👗 Fashion Faves!
8. Bewitching 🍫 Treats Inside!
9. 🧹 Ride to Discounts!
10. 🍬 Candy Corn Deals!
11. Halloween 🛒 Cart Surprises!
12. 🎃 Unmask Big Savings!
13. Ghoulish 🍬 Candy Galore!
14. 🕸️ Trapped in Savings!
15. Fright & Delight 🛍️ Inside!
16. Jack-o'-lantern 🎁 Joys!
17. 🌙 Night of Sales!
18. Monster 🎩 Hat Deals!
19. 🧛‍♂️ Bite into Discounts!
20. 🍁 Autumn's Magic Sale!
21. Scary Good 🍪 Snacks!
22. Haunted 🏠 Home Deals!
23. 🎃 Carve Out Savings!
24. Ghostly 👟 Sneaker Steals!
25. Cackle & Shop 🎃 Now!
25 Professional Halloween Greeting Email Subject Lines to Send Clients
1. 🎃 A Spooky Warm Hello!
2. Wishing 🌙 Safe Festivities!
3. From Our 🦇 Desk to Yours!
4. Greetings from the 🕸️ Web Team!
5. Happy Halloween, 🎃 Partner!
6. 🌙 Magical Moments Ahead!
7. Toasting to Ghostly 🍷 Success!
8. Bewitched by Our 🕯️ Partnership!
9. 🎃 October's Warmest Wishes!
10. 🕸️ Weaving Success Together!
11. Ghouls & Goals 📈 Together!
12. A Frightfully Productive 🌙 Month!
13. Stay Safe, Stay 🎃 Spirited!
14. Bewitched & Grateful 🍂 for You!
15. Cheers to 🍷 Haunting Successes!
16. 🎃 October's Brightest Moments!
17. Thankful for Our Magical 🕯️ Journey!
18. 🕷️ Spinning Success This Season!
19. A Haunt of Appreciation 🍂!
20. Keeping Spirits High 🎃!
21. 🍁 Autumn Greetings, Dear Client!
22. 🎃 Ensuring Spook-Free Operations!
23. Counting Our 🦇 Blessings: You!
24. 🕸️ Caught in Gratitude!
25. Wishing a Hauntingly 🍷 Prosperous Month!
Eye-Catching Graphics
Graphics play a crucial role in capturing attention and setting the Halloween mood. Use high-quality images, illustrations, or icons that reflect the Halloween theme. Consider adding elements like pumpkins, witches, ghosts, or bats to instantly evoke the Halloween spirit. Leverage the power of color to create a visually striking design, using a combination of Halloween-themed colors like orange, black, purple, and green. Remember to strike a balance between visual appeal and email load time, optimizing your graphics for fast loading on both desktop and mobile devices.

With over 1500+ professionally designed email templates from Email Templates, all the images we offer you are royalty-free, so you can use any of them, and all of our designs are optimized for any view. We also offer you a preview for your emails on any device before you send your email.
Creating Engaging Content
Compelling content is the heart of any successful email campaign. Tailor your content to align with your Halloween theme, whether it's sharing spooky stories, offering Halloween tips and tricks, or showcasing your Halloween products or services. Consider incorporating interactive elements like quizzes or polls to engage recipients and encourage their participation. Don't forget to infuse your emails with a touch of humor or playfulness, making them enjoyable and memorable for your recipients.
Including Irresistible Offers
Halloween is a great opportunity to offer special deals, discounts, or promotions to your customers. Include irresistible offers in your Halloween emails to incentivize recipients to take action. Whether it's a limited-time discount, a free gift with purchase, or a Halloween-themed bundle, make your offer clear and compelling. Use persuasive language to create a sense of urgency and encourage recipients to act quickly before the Halloween spirit fades away.
Integrating Halloween Templates with MailChimp and HubSpot
Importing MailChimp Templates into Gmail
If you're already using MailChimp for your email marketing campaigns, you can easily import your pre-designed MailChimp templates into Gmail. This allows you to maintain a consistent brand image across platforms and seamlessly incorporate your existing templates into your Gmail email library. With your MailChimp templates readily available in Gmail, you can access and deploy them effortlessly, without the need to log back into MailChimp.

Importing HubSpot Templates into Gmail
Maintain a cohesive brand image by importing your pre-designed email templates from HubSpot directly into Gmail. By importing your HubSpot templates, you can access and deploy them quickly and easily, without the need to log back into HubSpot. This integration ensures that your Gmail email library is stocked with high-quality, customizable templates that reflect your brand's identity and messaging.
Conclusion
Halloween templates are a powerful tool for creating memorable and engaging email campaigns. They save you time and effort, ensure consistency in branding, and provide visually stunning designs that capture the Halloween spirit. Whether you're using Gmail or Outlook, there are dedicated tools like Gmail Email Templates and Outlook Email Templates that seamlessly integrate with your email platform, offering a vast library of professionally designed Halloween templates.
By customizing these templates to align with your specific goals and audience, optimizing them for mobile devices, and following best practices for Halloween email campaigns, you can create spook-tacular emails that leave a lasting impression. Don't forget to leverage the integration capabilities of MailChimp and HubSpot to bring your existing templates into Gmail or Outlook, ensuring a unified and efficient email experience.
This Halloween, let your creativity soar and cast a spell on your recipients with captivating Halloween email campaigns. Grab your free Halloween templates today and get ready to haunt inboxes with emails that are both visually stunning and engaging. Wishing you a frightfully fun Halloween and a successful email campaign!