Can't figure out how to catch your target audience's attention before the holidays? Email marketing is one of the most effective ways of engaging clients during the holiday season. You can not only attract a loyal customer base with holiday email marketing but also tap into a larger pool of clients looking for your services or products.
To help you learn how to craft eye-catching and memorable copy for your holiday marketing emails, we have listed templates you can use at different times of the holiday season. You can use these great templates to share holiday cheer and inform your customers about discounts and special Christmas offers. We will also help you learn how to customize your email copy for each occasion and send catchy and quick emails to make your brand more memorable.
Holiday Email Templates Every Business Should Use
Do you want to offer holiday greetings to your customers? Sending a consolidated holiday email for Christmas and New Year's is the best way to make your clients feel special. If you are in consultation or want to attract clients to schedule demos, this is also the perfect time to give your interested audience a little nudge to contact you.
November, December, and January are slow months when people plan and take stock of their business. This is the best time to gain their attention and put their free time to use since your offers for meetings may be put on the back burner when January arrives.
Merry Christmas Email Templates
Nothing can make a client feel more important than a captivating Christmas holiday email. You can craft the perfect Christmas email for your customers with beautiful graphics, engaging copy, and a heartfelt message. Christmas email templates can also help you make the most of the major shopping period. Some companies or solopreneurs also share holiday gift guides during this season in their marketing emails. This allows the customers to learn about your offerings and make decisions about purchasing without having to go on to your website.

Happy Hanukkah Email Templates
Hanukkah offers paired with lovely holiday greetings can make your customers smile and keep them coming back for more. You can offer last-minute bundle offers, limited-time special discounts, or coupons for new services or products. cloudHQ has unique Hanukkah email templates for businesses of all sizes, which can help you draft emails that impress your customers.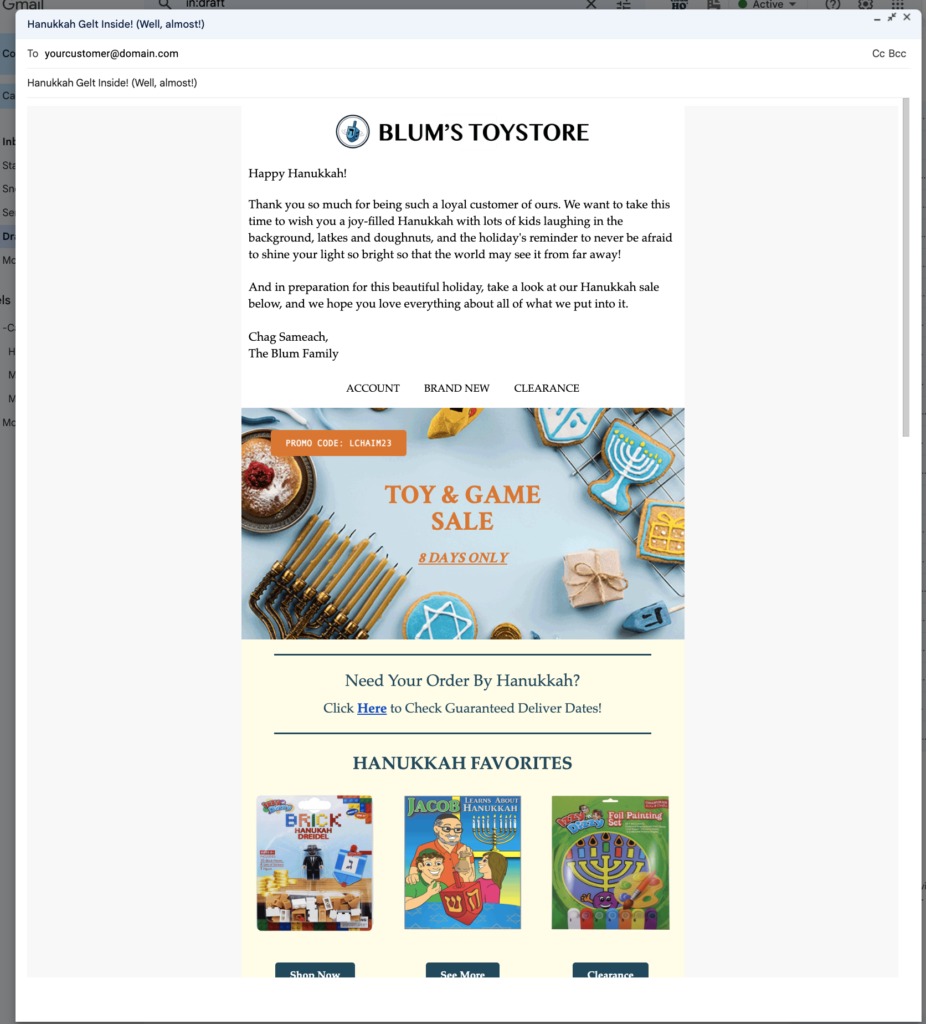 Happy New Year's Email Templates
New Year's is an exciting time, full of optimism and joy. It is an excellent opportunity for businesses to get in touch with customers as the new year starts. You can send warm wishes for a happy new year and share goals/ resolutions your company will work on to improve customer experience. It will inform clients about what to expect from your brand and how their needs can align with your offerings. You can also send a hopeful message from your company and reflect on your brand's achievements in the past year. It can make clients look forward to what's next to come from your business and contact you regarding more information.
Impress Clients with cloudHQ's Holiday Email Templates
With cloudHQ's excellent email templates for the holidays, you have no excuse left not to start a compelling email campaign this holiday season. You can easily install the Gmail Email Templates by cloudHQ extension on your browser to draft attractive emails right away.
It allows you to choose between HTML-designed email templates for marketing emails and text-only templates for sales or business emails. With the tips and types of holiday email templates mentioned above, you can build impressive emails that make your brand unforgettable to customers.