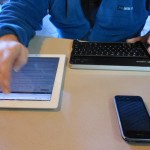 The rise of a mobile workforce is showing no signs of slowing down. The BYOD movement ("bring your own device" movement) is a direct result of employers hiring mobile workforces. With over 96 million mobile workers, and numbers expecting to topple 105 million by 2020, the benefits of mobile productivity is far too great to ignore.
3 Major Challenges Companies Face With Mobile Employees
Mobile use enhances productivity and efficiency in the workplace, but there are still a few challenges that have yet to be resolved. Storage issues, slow or faulty wireless data connections, and apps that don't play well with others, are just some of the issues currently affecting mobile employee efficiency.
Storage: One of the main challenges of mobile devices is that there is no large storage file system. When you need to upload or download large files, mobile is not only an inefficient solution, but it's generally hard to view documents on smaller screens.
Connection: Mobile employees that travel will often bump into limited connectivity issues.
Applications: Extensions and plugins that work with desktop programs such as chrome extensions for Gmail, FireFox plugins, and Salesforce extensions, are typically unavailable for mobile. Many that are available for mobile have basic functional issues, especially when it comes to integrating with other apps.
Last week, we heard this story:
"A few months ago, I had just boarded a plane when my tech partner finally sent me an important presentation that I needed to send over to my (impatient) client. I knew that my internet connection on the plane would be sketchy at best, but I also knew how much I really needed my team to vet it and make all the necessary branding adjustments before I sent it over to my client. Unfortunately, my connection was so poor, that it didn't even send to my team. I even thought of uploading it to our team's shared Dropbox folder, but even that didn't go through, and I wound up losing the deal to a competitor."
– Stefan Frank, Bionomie Cosmetics
What Stefan experienced is an inefficient technology infrastructure. We don't believe that anyone should ever have to go through that again.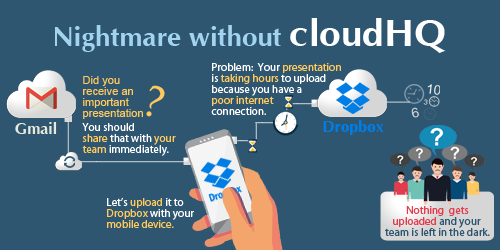 The Solution? Cloud App Synchronization. 
The reliable solution to consider is cloud app integration to protect your cloud and enhance collaboration.
There are 4 major benefits:
Storage:Storage may be an issue on mobile, but in the cloud, you don't have to worry about it. By creating a sync between two cloud apps, you can send and receive large files using mobile without using up storage on your mobile device.
Connection:While you will need a stable connection to upload a file directly from a mobile device, a cloud app sync eliminates this need. Automatically sync your emails, complete with attachments, to the cloud app of your choice – Google Drive, Dropbox, etc. By using permissions, your team members can automatically have access to the files, and you can concentrate on boarding your plane instead of dealing with an unreliable internet connection.
Mobile User Interface: Most extensions and plugins are unavailable or faulty on mobile. However, using a cloud app sync allows all of your extensions and plugins to work as intended, whether you are operating a mobile device or desktop PC.
Collaboration:Collaborators that are using different cloud apps can still work together efficinetly on the same file at the same time with a cloud app sync. For instance, if one collaborator is using Google Drive, and another is using Dropbox, they can both work on the same file simultaneously.
That's the magic of cloudHQ, the most reliable cloud app sync service on the market today.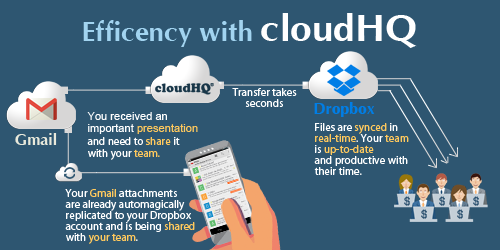 How Does It Work?
There are three important features that help companies maintain an effective email solution:
Organization of emails
Saving emails to shared folders
Evernote/OneNote integration with email
There is one simple solution to all three features: cloudHQ.
Now all emails and attachments will be available to every authorized team member who needs access to them. No more forwarding emails or stressing over uploading large files with an inadequate internet connection. cloudHQ is the middle man, working tirelessly in the cloud so that you don't have to.
Get Started Now 


Want to give it a try? Check out cloudHQ for FREE with a fully-functional trial.