Table of Contents
Email List Builder: Get a Google sheet filled with email addresses from your own Gmail account
Whether you've been using Gmail for a year or for a decade, you've likely sent and received a whole lot of emails by now.
Those emails represent your network: the entire list of people you've contacted and who've contacted you. What if you had instant access to that list of contacts?
Having access to your whole Gmail email list would mean having control over who you communicate with via email. That's why we created Email List Builder by cloudHQ: our latest Chrome extension that creates a spreadsheet including every contact you've been in touch with for years—with up to a full dossier of information about each of those contacts.
Arguably the most powerful tool of its kind, Email List Builder is quite unique. In fact, if you've ever tried something similar—say, perhaps, with Google Contacts—you'll notice that your exported Contacts list was but a fraction of the size of the entire list of people you've ever been in touch with! Therefore, in order to have true power over your digital connections, you'll need to set your eye on the real thing. Email List Builder by cloudHQ offers you the strongest grasp possible on the network that you've grown.

A full email list builder has unlimited uses for small businesses. Among the first benefits are:
Owning your email contact data
Monitoring sales interactions with customers, or procurement interactions with suppliers
Enhancing marketing effectiveness with email merge tags for email campaigns like: first name, company, job title, etc.
Indeed, when it comes to marketing benefits, having an extensive email list builder is significant. Studies demonstrate that email marketing's return on investment can be as high as 4400%!
In order to see what's really possible with this tool, let's take a look at exactly what information Email List Builder displays and organizes.
Comprehensive information about your email contacts
When you build your email list, you'll see the entire past 9 years of email addresses that have traveled in or out of your inbox. Our tool gathers as much information as is available from each contact, including: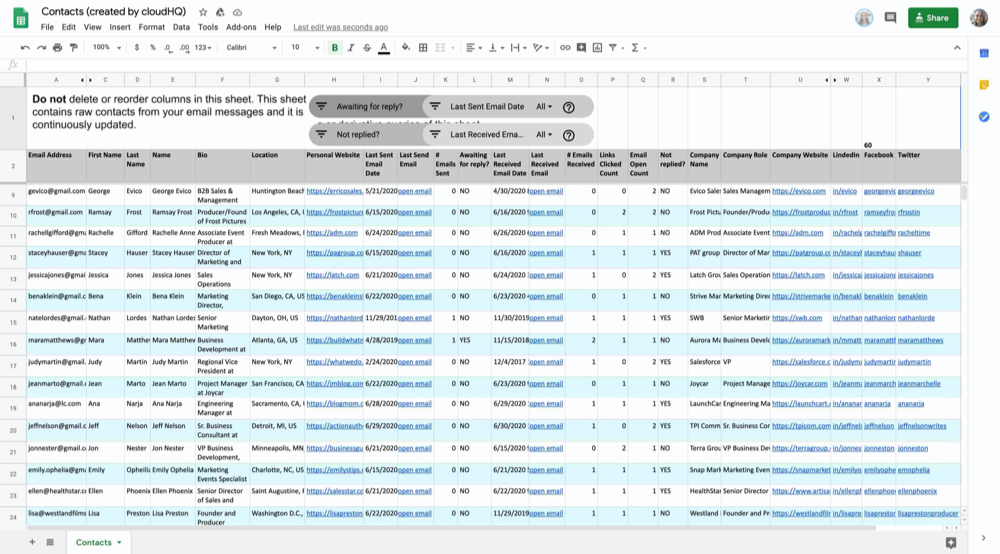 Email Address
First Name
Last Name
Full Name
Bio
Location
Personal Website
Last Sent Email Date (Last email sent to the contact)
Last Sent Email (A link to the actual email you sent)
Total Number of Emails Sent
Awaiting for Reply? (Awaiting reply from the contact)
Last Received Email Date (Last email received from the contact)
Last Received Email (A link to the actual email you received)
Total Number of Emails Received
Not Replied? (Not replied to the contact)
Company Name
Role at Company
Company Website
LinkedIn Profile
Facebook Profile
Twitter Profile
The tool also allows you to filter your results in various ways. You can, for example, search only for contacts from whom you're awaiting a reply, or for a certain date range within which you sent your last email to the contact.
Use your email list builder for sending out email marketing campaigns
As a side note, once your email list builder is built, you probably want to use an email campaign manager. In an age when customer-brand interactivity is paramount, email campaign managers help you develop and send sophisticated mass emails about product launches, free/paid events, discounts, or recent news. Fortunately, you need look no further than MailKing by cloudHQ. MailKing is cloudHQ's comprehensive email campaign management hub, complete with hundreds of templates for beautiful, professional campaigns, as well as with tools for inserting video and other media, and campaign specific necessities like an unsubscribe button, merge tags—perfect identifiers to use from your email list builder, and email tracking capabilities.
Import your newly minted Gmail email list into MailKing; start sending mass emails to your network; and start developing your connection with customers who want information about your products and services. You can strengthen and promote your brand, keeping your loyal customers in the know with exclusive content offers and more.
Download MailKing here.
How to get your Email List in 3 clicks:
Install the extension here by clicking Add to Chrome:
Next, click the Email List Builder icon in your Gmail:
Once you click the icon, you'll be directed to your Google spreadsheet—already populated with all the information for your contacts, now ready for your viewing.

Install Email List Builder by cloudHQ today, and you'll put the entire power of your network right underneath your fingertips.