Do you want to change your display name in Gmail? For example, instead of being known by the name "Marc Westley," you could have a different nickname like "Chef Marc" if you're a chef! It's great branding and doesn't cost a dime to do.
Setting up an email address can sometimes be a hurried process. You may have been younger when you registered or chose a handle that you wouldn't have picked today. There may not be much you can do about your actual email address, but the good news is that you can change your display name – the "Sender" name or title that appears to the recipients of your emails. All you have to do is get into your Gmail settings and change it.
Let's get started!
Open your Gmail account in Chrome and find the gear icon in the upper right-hand corner of the page.

Click on it to open up your Gmail settings.

Look at the settings headers along the top of the page and click on "Accounts and Import" to navigate to the appropriate subcategory.

Scroll down until you see "Send mail as:" which will show your current display name next to your email address. To the right, you will see hyperlinked text that says "edit info." Click on that to proceed.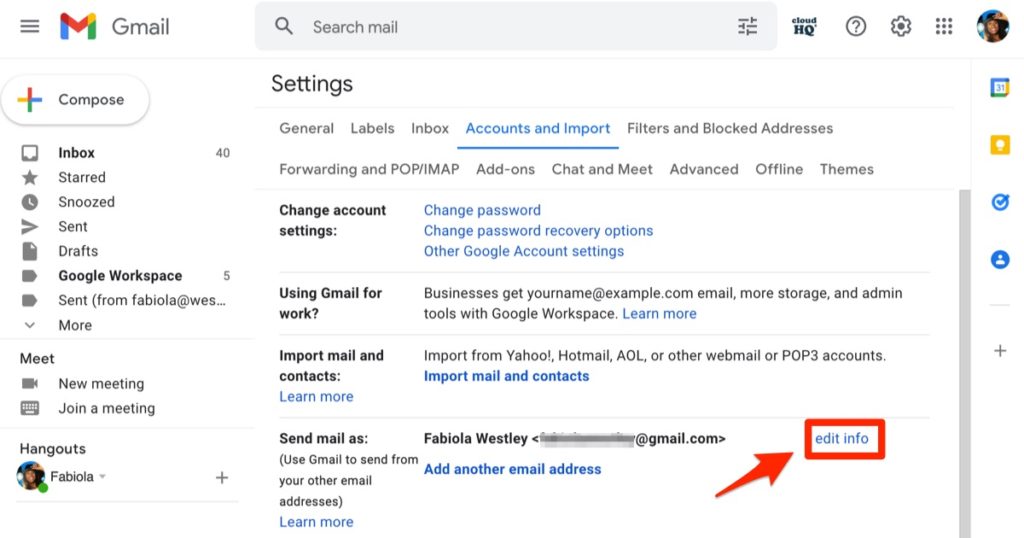 A new pop-up window will appear, showing you your current display name and email address. There will be a box beneath your current display name where you can enter your new one. Be sure to click on the small white circle immediately to the left of the entry field to select that as your display name option. Once you've entered a name you like, hit Save Changes, and the window will close.
Double-check that the name you choose is updated correctly by looking at the name and email address displayed on the "Accounts and Import" page of your settings. It should now show your new display name.
That's it! Now you've changed your email display name without changing the name associated with your entire Google account.
Gmail Auto Label by cloudHQ
Did you know that Gmail also lets you label emails to sort them into categories that will allow you to retrieve them quickly and without hassle? And to make things even easier, cloudHQ has a convenient Gmail Auto Label Chrome extension that auto-labels each email you send and receive into pre-set categories, and setup takes just a few clicks!
Try Gmail Auto Label (it's free!)
Get more things done even faster with the full suite of Gmail productivity apps by cloudHQ.