Create a Google Docs Invoice Template in 4 Steps
With a Google Docs template, you can create a variety of documents such as: invoices, invitations, resumes and more. Google Docs is the "go-to" app for over 2 billion business owners, students and freelancers. Below, we show you how to create an invoice template in Google Docs with 4 simple steps.
1. Log Into Your Gmail Account
Using Google docs requires you to login into your Gmail account.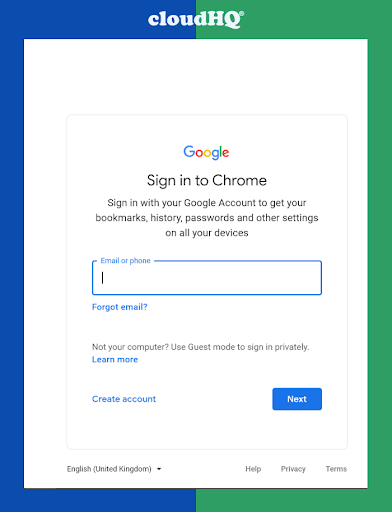 If you do not already have a Gmail account, you can start by creating a Google account and then login into Gmail using your Google account details. But if you already have a Gmail account, access google docs by simply logging in with your Gmail account.
2. Select a Document Template
After you have successfully logged in to your account, you will be redirected to the google docs homepage, go to Template Gallery at the top of the page, you will see templates for different document types. Simply click on the specific template you want to use.
You can select a Google Docs template here.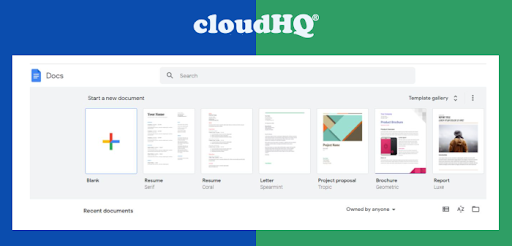 3. Use a Free Invoice Template That We Made For You
If you cannot find the specific or desired template for your invoice in the Template Gallery, just make a copy of one of these samples that we made for you. These invoices give you the freedom to copy or download to your Google Drive account, and customize them so that you can open them directly in Google Docs.
4. Rename Your Google Docs Invoice Template
Perhaps you found the right invoice template in the template gallery, or you used a 3rd party template generator. Whichever method you used, you need to rename the document.
Note that, Google Docs automatically saves your document in your drive but you need to give it a name, else, it will be an "Untitled Document".
To rename the document, you can simply click the Title Box and type your preferred document name.
How to Create a New Invoice from Your Invoice Template in Google Docs
Perhaps you have a need to issue a new invoice and you want it freshly created, you can do this using the saved Invoice Template without having to alter it.
Simply open the save invoice template on Google Docs, navigate to the Main Menu and click "File" then click "Make New Copy".
This will create a new copy of the saved template then you can go ahead to customize it to suit your purpose.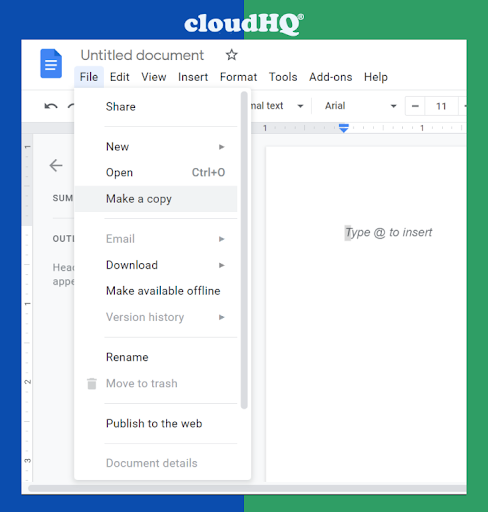 How to Customize an Invoice Template in Google Docs
Whether you have created an invoice document from a template or you have made a new copy of a saved template, you may need to customize the invoice template to address the full details of what your client is paying for.
Invoice Template customization depends on your preferences. In general, here are some of the information you may need to add and/or change:
Your business name, address, logo, and contact details
Your client's name and contact details
The invoice date
Unique invoice number
An easy-to-read itemized list of your services. You can also add a brief description of each one, as well as the number of hours worked or quantity of products and the pay rate
Subtotal for each product(s) or service(s)
The total amount due as well as any applicable tax
Payment due date
The payment terms, payment methods, and the details for a late fee or refund policy
How to Choose a Naming Convention for Your Google Docs Invoice Template
Invoicing should be done in an organized and easily-to-reference manner and so if you will be sending out invoices regularly, you need to choose a standard invoice naming convention.
Choosing a naming convention will make your invoices easy to locate and manage. It also allows your documents to be neatly filed in your Google Drive folder.
A quick method is to use a naming technique that combines your client's name, invoice date and invoice number.
For instance, if you're creating a 5th invoice for Mrs A. Perez from February 2022, you can name the document "APerez_0222_Invoice05."
How to Share an Invoice With a Client
Once you are satisfied with the invoice you have created and have included all the necessary details, the next thing is to share it with your client.
You can share an invoice with your client in either of the 2 ways below:
Via Google Docs – simply click the blue "Share" button in the upper right corner. Enter the email address of your client and write a brief, polite note, and then hit Done.

Via email – You can download the document and attach it to an email. Simply go to "File", click "Download," and select the format you want. PDF is the best option since it won't allow edits to your invoice.
Google Docs make it possible to create invoice templates which can be customized and sent to your clients.
Whether you are a small business owner, student or a freelancer, this tool provides you with invoicing solutions that saves cost, time and effort. The fact creating an invoice on Google Docs is easy and simple makes it a very essential tool for your business.