Making money with online business courses? Here's what you need to know.
In our just-published companion post, we explain how you can earn money through live online teaching while you're quarantined at home. In this post, we'll discuss a different kind of online business, one that will also make you money while sheltered-in-place: pre-recorded instructional courses, also known as coursepacks.
You may be a marketing expert offering 10 levels of lessons, or you may be an accountant offering introductory, intermediate, and advanced courses in the discipline. It's easy to see the benefits of offering pre-recorded video coursepacks, rather than booking individual students and teaching live small group workshops. Instructors can maximize their reach and minimize their labor.
Watch this video and then read on!
Because of the massive COVID-19 layoffs, many are thinking of developing coursepacks for the first time. For many others, coursepacks have been their M.O. for a while. Either way, you'll need to sharpen your game to optimize your returns. In order to help with that, we've crafted a mini-tour for you below, introducing you to three powerful resources. You'll find them very useful for upgrading the effectiveness of your online business courses:
MailKing, our comprehensive email campaign management package
Gmail Copilot, your mini customer relations management (CRM) system
Export Emails to Google Sheets, your personal artificial intelligence system. This tool exports important information from your emails, like contact information or price paid. Then, it organizes them neatly in a spreadsheet for you within seconds.
Next, let's break down each of these three applications. We'll show you how each can help organize your online business courses and increase your revenue.
1. MailKing: Email Marketing Campaign Manager
Your all-in-one email campaign resource for your online business courses
Think of MailKing like the marketing headquarters for your online business. Having success in your instructional courses means nailing the process from beginning to end. Thankfully, MailKing will give you the tools to do that. Here's the skinny on its various features:
A) Import contact lists for mass mailing
MailKing is designed to send mass emails to everyone on your mailing list. Therefore, MailKing makes it easy to import all of your contacts' information from a spreadsheet with just one click. You can also import all of your LinkedIn and Salesforce contacts.
B) Email Templates
In our companion post about 1-on-1 instruction, we discussed the many joys of cloudHQ's Gmail Email Templates tool. Templates make your emails stand out with eye-catching presentation and a "mood" that's just right for what you're offering. MailKing includes our 200+ business templates to choose from—plus plenty of holiday templates that you can revise for online business purposes. In addition, you can also upload your own email templates, or you can copy your competitors' emails with just 1 click and edit the information. As an added bonus, you can even choose specialty screencast and video templates: with these, you can embed video or screencast recordings of your classes. Edit the templates to include your own original content, and then you're ready to send.
C) Merge Tags
Personalize your mass communications with this feature. A merge tag allows you to include information relevant to recipients in the email. Include actual names, email addresses, current time, current date, or other information. Your email recipients will each see content personalized to them. This is a great way to connect to your audience because you can get creative with the information you include.
D) Email Tracker
If you want to be effective in your online business sales, you have to keep an eye on your data. That's why, after you've sent out your email blast, MailKing allows you to track your emails. You'll know the status of each message you send. Was it sent? Is it pending? Did an email address bounce back? You'll also know the exact time each email was sent, opened, and replied to. With this tool, you can make sure to follow up with contacts who've read your emails. Plus, you can track your progress towards your goal of having clients purchase your coursepack.
E) Video recording
One of the best ways to connect to your customer base is to share a video of yourself in the emails you send. Maybe you're letting them know you're okay and you're sending your best quarantined wishes before launching into a little speech about your vision for online instruction. Unfortunately, Google doesn't allow you to record within the Gmail app itself. Thankfully, however, MailKing includes a feature where you can record and embed videos in the body of the text, directly from your Gmail, using our Gmail Video technology. Your emails will NOT be the same afterward!
Whew! There was a lot to cover in MailKing, but now that it's been explained, let's move onto Gmail Copilot and explain how much it can help you, too.
2. Gmail Copilot: Free CRM made simple
Introduce your online business to its new best friend
Gmail Copilot is a simple and essential customer relationship management (CRM) system. First, it automatically gathers every email you've exchanged with a particular contact (like each of your students). Then, on the right-hnd side of your email inbox, it displays that email history for you beneath that person's social profile summary. An extremely handy companion, it even allows you to include notes and reminders on their contact profiles as well, which helps you identify key business opportunities to drive your business's growth.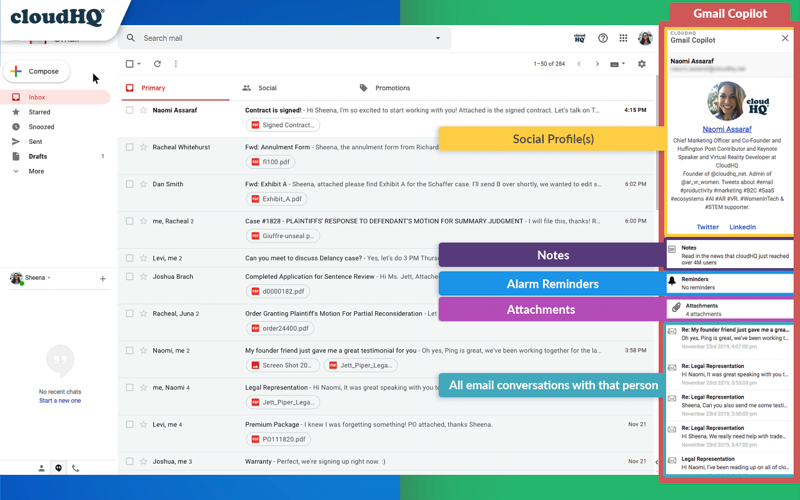 3. Export Emails to Google Sheets
Keep track of your information better than ever
The very best way to keep track of all of your business transactions is in a spreadsheet. Here's the good news: exporting the information out of your emails and into a spreadsheet is surprisingly simple. Just use Export Emails to Google Sheets. This extension gives you access to your very own artificial intelligence algorithm. The algorithm identifies commonalities within your emails and organizes them for you in a Google spreadsheet within seconds.
Choose specific emails, or select an entire Gmail folder filled with emails to export into your spreadsheet. If you select an entire Gmail label, understand that you can have your email exported on an ongoing basis. This means that, as soon as new emails populate your Gmail label, its contents will automatically get exported and organized in your spreadsheet. This is an ideal way to keep track of all your class signups, orders, and any other metric that's important for your online business courses!
Here's a 20% off coupon.
We want you to thrive, so don't miss out!
With MailKing, you'll have an easy way to reach and develop your customer base.
Of course, there's no way to know the benefits unless you give it a whirl. So, take a leap of faith! Download MailKing to get ready. Then, start sharing those classes! You'll be glad you did.
With MailKing's free package, you'll get 200 free emails to send per month, but if you need to send more emails, the regular price is $14.99/mo. Use code BC34SB9N at checkout to get 20% off.
Gmail Copilot keeps you updated and organized, should any of your students reach out to you. You'll know exactly where you left off in the conversation without having to search through your emails, and you won't repeat information and come off as disorganized. After all, people want to learn from the best! The best are rarely disorganized, so it's important to keep in mind how much responsibility you have for being the poster child of organization for your online business.
If you want a G Suite administrator integration, you can upgrade your account for $4.99/mo, but use the code BC34SB9N at checkout to get 20% off. Otherwise, Gmail Copilot is a completely free service that you shouldn't overlook.
Lastly, you've got a game changer in your hands with Export Emails to Google Sheets. Having an up-to-date report on all of your sales metrics keeps you in control of your online business at all times. The free version gives you 50 email entries per month, or you can get an unlimited service for $39.99/mo. Use code BC34SB9N at checkout to get 20% off.
Dive in! It's finally your time to share what you know.