Are you someone who likes to doodle with digital art drawings? Tiny Sketchbook by cloudHQ is a free app that lets you create digital sketches with just a click of a button. Creating digital art is fun, shareable in email, and is easily saved to your cloud storage service or your computer's hard drive. Let's explore the benefits of doodle art sketching.
5 Benefits of Easy Doodle Art Drawings
Visually show what you need in a sketch (great for remote teams)
Create and collaborate on digital sketch art projects
Use it as a team bonding activity
Provide classroom visual assignments for educators
De-stress with art therapy doodling
Get Tiny Sketchbook
Installing and using this app is simple and fun! Take a look at the 5 easy steps below:
Step 1. How to Add Browser Extension to Chrome
Go to the Google Chrome webstore to install Tiny Sketchbook. It takes just a few seconds to install and then use right in Gmail.
Step 2. How to Pin a Chrome Extension
Step 2, is actually part of its own 2-step process to pin Tiny Sketchbook by cloudHQ to your Chrome toolbar. Luckily, it only takes about 5 seconds to complete, and helps you have easy access to your favorite extensions.
Click the Puzzle Piece
Look at the top of your Chrome toolbar next to your profile pic image.  You'll find something that looks like a puzzle piece. Click on it.
After clicking on your puzzle piece icon, a drop down menu of all your Chrome extensions will become visible. Scroll down until you see the Tiny Sketchbook by cloudHQ Chrome extension and click on the pin icon next to its name. 
Enjoy 1-Click Access to Your Tiny Sketchbook
Once you pinned your Tiny Sketchbook by cloudHQ Chrome extension to your Chrome toolbar, it's always there until you decide to unpin it. To unpin it from your Chrome toolbar, just follow the previous 2 steps, and instead of pinning your Chrome extension, the only option that will show is to unpin your extension.
The benefit of always having your Tiny Sketchbook available is simple: whenever you feel the urge to sketch, you can do so in one simple click. This is great for many reasons, including having quick access to it when you're very stressed, or before an unexpected and important meeting to help clear your mind.

Step 3. Start Sketching Your Easy Doodle Art Drawing
Tap on your Tiny Sketchbook by cloudHQ icon on the top of your Chrome toolbar. You'll see a new popup window where you can get started with your sketch. There are a number of features that you can use to get started with your doodle art:
Insert boxes or circles
Fill-in the background
Select your colors
Select your pen size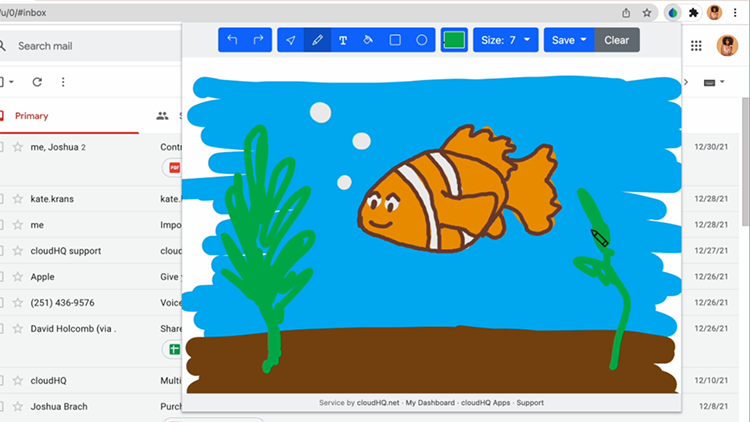 Step 4. Save your Doodle Art Drawing
Once your masterpiece is done, you can save your work by:
Downloading it
Saving it to your cloud storage of choice

Google Drive
Dropbox
Box

Attaching your artwork to your email and sending it to a friend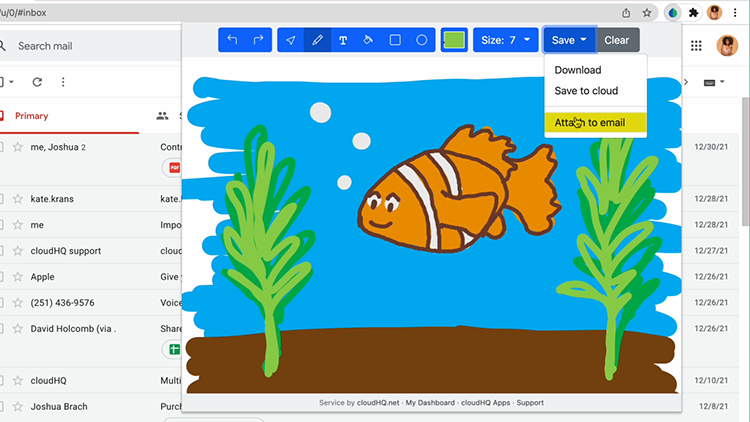 Step 5. Collaborate on Your Doodle Art Drawing
If you choose to "Attach to Email," then your doodle art can be emailed to a friend for some collaborative art fun! This is a a great team bonding activity too. When they receive your email, all they need to do is click on the link under your sketch that says "Edit with Tiny Sketchbook by cloudHQ."
When your friend gets your email, they can edit your sketch art and email it back to you. You can edit your sketch an unlimited amount of times and have fun with each other while doing it.

Get this fun app today, and start creating your doodle art drawings! It's free, fun, collaborative, and can be used by educators, project managers, teams, or be used completely solo for relaxation purposes.
Get Tiny Sketchbook