How to find a job during a recession? That's a question many job seekers ask as they see the state of the current economy. Inflation, supply chain crisis, and massive layoffs across industries make job hunting challenging.
Moreover, advanced technology has changed the way recruitment cycles work.
Studies reveal that 9 out of 10 Fortune 500 companies use AI and predictive algorithms to optimize their hiring process. You can't rely on your research and resume writing skills to land a job.
Our comprehensive guide on "How to Find a Job During a Recession?" shares four actionable steps to apply for and track your job applications efficiently. We also recommend digital tools you can use to optimize the process.
Let's begin.
Step 1: Search.
Use Google Alerts to Find the Best Job Opportunities
While healthcare providers, financial experts, legal professionals, and public service specialists can overcome economic downturns, there's no guarantee of whether desired employers have openings. Jobs fill up faster than before, so you must be resourceful and super active to beat the competition.
Google Alerts for jobs make it possible to achieve this feat. It's not the usual Google Alerts that you're probably used to. This is specific for job hunting, and it will filter recent job postings that match your criteria.
You can search for jobs:
By Location or Remote Positions
By Requirements
From a Specific Company Website
By Company Industry
How to Search for Jobs on Google
1. Go to Google.com and enter in the job you're looking for with any criteria you want.

2. Click on 100+ More Jobs on the bottom left hand corner.

3. Get job alerts that fit your criteria.

Toggle your job alerts on:
If you're a brand strategist, enter keywords like "online brand manager," "brand consultant," and "branding expert" to receive real-time notifications about job opportunities in your field.
Adjust "Frequency" to tell Google whether you need daily, weekly or monthly alerts for the chosen keywords. Depending on your customized settings, it can send notifications via email (and text).
Don't stop here.  You can even include keywords like "401k" to ensure that you'll filter for employers that offer you a 401k program. Get specific with what you want in your search results.
You can use this information to connect with recruiters and companies. Contact them via social media channels or send resumes to get the ball rolling.
Step 2: Create Your Resume
Creating your resume can be daunting, but when you have a template, it should help you get the ball rolling much easier. There are free templates available for you to use with Google Docs Templates by cloudHQ.
Get Your Resume Template
Step 3: Track Interviews.
Unlock Job Hunting and Interview Tracking Sheets
Google Sheets Templates by cloudHQ allows you to track all the places you applied to and their response. This service is also offered for free. The color-coded sheets give you an overview of your job-hunting efforts. For example, here's one we created for you to track you through your entire interview process.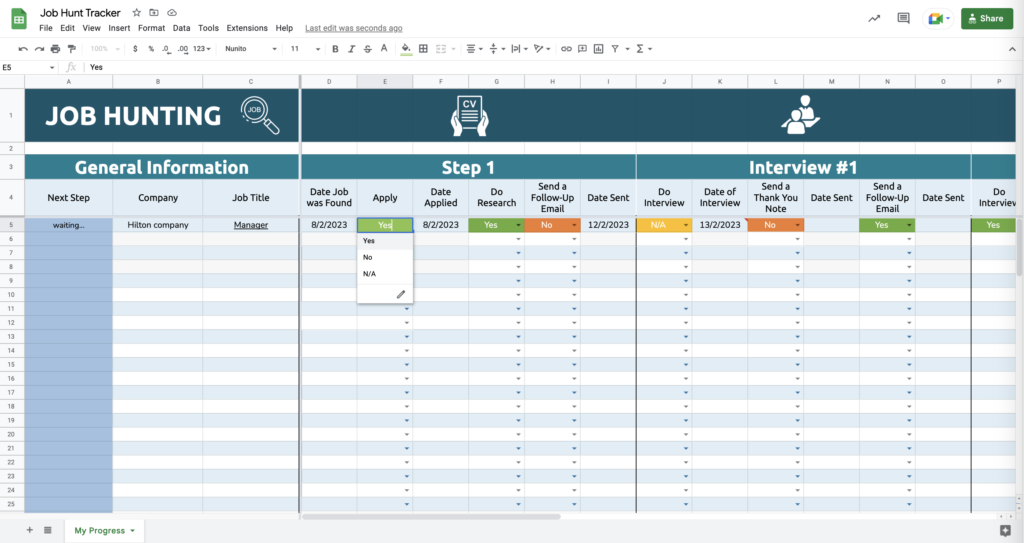 You can also download an Interview Tracking Sheet to maintain a running list of upcoming interviews and associated details.
Step 4: Get a Jobs Report.
Integrate Google Alerts with Emails to Sheets
Time is of the essence when you're on a job hunt.
Therefore, going through each Google Alert individually can seem overwhelming and time-consuming in the long run. You can use Emails to Sheets by cloudHQ for organization and efficiency. The Chrome extension organizes all your Google Alerts (free for job hunters) and transforms those alerts into a neatly updated spreadsheet.
That way, you receive an overview of your Google Alerts job search in a single report.
The sheet will display the following:
Google Alert title/keyword
Name of publication/publisher and URL
Summary of the content
A tally of alerts per keyword
Links to flag irrelevant Google Alerts
The sheet also includes a space to add personal notes. You can use it to create pointers for your application or interview. Having all the information at your fingertips gives you an advantage over other candidates.
You can use this information to prepare questions and answers for the interview. Your extensive knowledge of the firm and field can be the very thing that impresses recruiters.
Tip: Learn more about how to find a job using Google Alerts and Emails to Sheets here.
Step 5: Communicate With Automation.
Get Proactive with Automatic Email Sequencing
Learning how to find a job during a recession means adopting a proactive and slightly aggressive strategy to contact recruiters. You need all the help possible to stay on top of the principal players' inboxes.
That's where Gmail Auto Follow Up by cloudHQ comes to the rescue. You guessed it – this is also free for all job hunters. It allows you to activate an automated process to stay in touch with correspondents. You can create a drip email campaign to schedule follow-up messages to recruiters. You can schedule ten follow up emails through the free Chrome extension.
According to your rules that you create, Gmail Auto Follow Up will email the recruiter every three days unless they respond back to you, which will stop the auto follow up sequence and you will need to respond manually at that point to understand what the recruiter needs.
Voila.
You're all set to navigate the competitive job market in an automated way.
In a Nutshell
Many recruiters use sophisticated AI tools to scan, review and sift through applications to identify the best candidates. You can infiltrate the system by using your AI to crack through the algorithms and stand out from the other applicants.
Google Alerts, Emails to Sheets, Google Sheet Templates, and Gmail Auto Follow Up are some tools you can use to jumpstart your job search.
Good luck!
Like this article? Subscribe to the cloudHQ blog to discover innovative one-click solutions that bring you closer to your career goals.