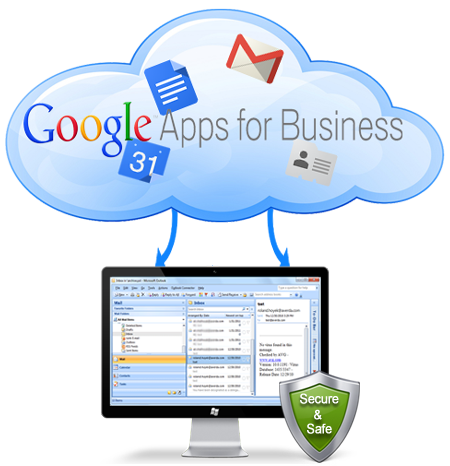 Over 5 million businesses currently use Google Apps, the powerful suite of tools used for document management, collaboration, email, organization and much more. If you are a business owner that is using Google Apps, then you probably know that the main benefit of Google Apps is its excellent collaboration.
_
The Google Apps suite includes these collaboration tools:
Google Gmail: Google's email is one of the most popular email services around. It integrates with other Google services including the online calendar, Drive, video meetings, documents and more.
Google Drive: Allows users to store files in the cloud, share them, access them from virtually any location and allows multiple users to simultaneously collaborate on documents.
Google Docs: Allows users to create, share and edit documents in the cloud.
Google Spreadsheets: Allows users to effectively create, share and collaborate on  spreadsheets.
Google Presentations: Allows users to create, edit and collaborate on presentations.
But 80% of companies use more than one cloud service in addition to Google Apps. Maybe Dropbox… Maybe Evernote… Maybe Basecamp.. By having these services isolated (and not integrated) with Google Apps you are losing the key benefit of Google Apps: collaboration. 
Google Apps Collaboration

Google Apps collaboration is the best cloud collaboration available, allowing up to 50 users to simultaneously work on the same file. This has been one of the large factors in millions of small businesses, as well as many colleges and universities,  making the choice to implement Google Apps- for this superior collaboration feature.
However, between individual professionals, business owners, employees, clients and customers, a variety of cloud services is often used. So rather than try to attempt the daunting (and probably impossible) task of getting all of your employees, clients, customers, etc. on the same cloud service, it's much easier to integrate cloud services together so that everyone can join the collaboration without much hassle. Click here to see just how easy it is to integrate numerous cloud services with Google Apps for the most efficient collaboration experience available.
How to integrate Google Docs with Evernote
In addition to Google Apps, many small businesses use Evernote. Google does have its own "Evernote clone" named Google Keep but it is not as powerful as Evernote. 
So if you use Evernote or Evernote for Business in your business, you may wish to have all of your Evernote files (notes, photos, audio clips, etc.) synced with Google Apps so that you can access all of your files through Google Drive or Docs, and that your team can collaborate on them. But neither Google Drive or Evernote offer the ability for users to sync files between Evernote and Google Drive, and files would have to be added manually. Fortunately, cloudHQ makes it simple to sync files between Evernote and Google Apps. You can find detailed instructions on how to setup the sync between Evernote and Google Drive here. Basically, you will use the cloudHQ sync wizard to create a sync pair between Evernote and Google Drive. You will be able to choose which notebooks, stacks, or entire Evernote account that you wish to sync with a folder in Google Drive. Once the sync pair has been created, all new notes will be instantly replicated, as well as any revisions to existing notes. You can also choose what file format you wish to export your Evernote notes to. So, for example, you can also have Evernote notes exported in PDF format, which is great for sharing with your clients or partners which might use Evernote or Google Docs.
If you want to keep the existing Evernote format, you can, or you can choose from Microsoft Word, text and many others including PDF format.
And the beauty of the new cloudHQ for Business integration is that the Google App administrator can setup integration of Evernote accounts with all Google Docs accounts in his/her domain from the central console without even asking any of the domain users for their Evernote username/password.
What about Basecamp? Can it be integrated with Google Apps?
Basecamp is the most popular project management tool for businesses. Business owners often employ teams of workers to work together on company projects using Basecamp and it is quite probable that your business might be use Basecamp additional to Google Apps.
There are times when you will find it can be very helpful to have your Basecamp project information such as attachments, schedule or similar, accessible in Google Drive. For example, you might want to share some project deliverables with other members of the team via Google Drive. Or maybe you want to have these deliverables automatically saved to your PC. Or maybe you want to have an easy way to upload large files into Basecamp by simply putting files into a folder in your Google Drive folder on your PC.
Similar to the method for creating a sync pair with Evernote as mentioned above, you can use cloudHQ to create a sync pair between Basecamp and Google Drive. You can find the detailed instructions to create this sync pair here.
cloudHQ will enable you to create a centralized database where you can keep all of your files. If you create a sync pair between Evernote and Google Drive accounts, then another sync pair between all Basecamp and Google Drive accounts in your company, you will have all of your Evernote notes, all of your Basecamp project files and all of your Google Apps documents and files stored in the same location for simple searching and easy accessibility and, of course, available for easy collaboration. 
How to Back up Google Drive, Gmail, Basecamp, and Evernote
Due to the very real threat of data loss, every business that performs any tasks in the cloud should have a secure backup plan in place. While Google Drive has excellent security, retention and recovery measures, there are many possible issues that could cause data loss.
Human error causes the majority of data loss incidents in the cloud. If you, a project worker, employee or someone else with access to the company's Google Apps account accidentally deletes an important document or other file, it can be recovered within 30 days. But what if the file deletion goes unnoticed for more than 30 days and suddenly the file is needed? You better hope that you have a good cloud data backup system like cloudHQ protecting your data.
Malicious deletion can happen when an attacker gains access to your company account and deletes data. Sometimes attackers will delete data out of spite or to cover their tracks. This can also happen when a recently-fired or disciplined employee decides to take revenge by accessing the company account and deleting important files.
There have been problems with Google's flagging system that locks users out of their accounts for violating the Google ToS. Sometimes this system wrongfully flags users and deletes their accounts, which causes data loss. With no official tech support, it can take weeks or months (if ever) to regain access to your Google account. This can cause massive disruption to normal business routine.
And there have been very few accounts of Google Drive files being deleted for unknown reasons, but it has happened.
And data loss can destroy your company. As a matter of fact, 43% of all business that suffer severe data loss do not ever reopen.  Data loss can be a massive disaster for your business, but cloudHQ is your solution.
Luckily, cloudHQ is also cloud data backup system that can protect all your company files in Google Drive, Evernote, Basecamp and emails in Google Gmail. Here are the detailed instructions on how to back up your Google Drive files and Gmail emails, including attachments. Basically, you will want to create sync pairs, much like described above between Google Drive, Basecamp and Evernote. You simply choose a cloud service (such as Dropbox, Box, SkyDrive, etc.) that you wish to use as a backup account. The cloudHQ service will automatically replicate files from Google Drive to the backup account; let's say you decide to use Dropbox for this example. Once you have successfully created a sync pair between Google Drive and Dropbox, all new files that are added to Google Drive will be instantly replicated to Dropbox. Any changes to existing files will also be instantly replicated.
You can also setup another sync pair, this time to backup your Gmail accounts. This will allow all Gmail emails and attachments to be saved in a specific folder of your choice in your other cloud account which is dedicated for backup.
If any data loss incidents occur in Google Drive or Gmail, you will be able to instantly login to your backup cloud account (i.e., Dropbox) and recover all of your files, still organized and formatted exactly as you had them saved in Google Drive, Evernote, Basecamp or Gmail.