Emails to Sheets will help you easily manage your online sales, even when you're not at your desk.
As any online store vendor will tell you, it's really important to stay on top of your sales confirmations before they get out of hand. If you wait too long to record your sales, it's much harder to know what or when you need to deliver to your customers, and it becomes next to impossible to forecast your monthly cash flow. Both of these can have detrimental effects on your income.
Where "Emails to Sheets" Helps You Manage Your Online Sales
Luckily, this app makes it simple. Tap any email in your Gmail app, and it'll save in your sales spreadsheet where you can get to it whenever you're in a more convenient headspace. This is an ideal solution for your:
Shopify store
Amazon Store
Airbnb rentals
Real estate listings
Any project that you're managing
Here's a quick movie to show how easy it is to use:
How to Use Emails to Sheets for Mobile in 2 Steps
This app is an easy install that you can do in seconds. Here's 2 simple steps outlined for you below, and you're done.
Step 1: Install Emails to Sheets
Firstly, you'll need to install Emails to Sheets from the Google Workspace Marketplace. Just click on the "Install" button to the right of the app description.
Step 2: Save Your Email to Sheets in 3 taps
Now here is where all the magic happens. Just tap your finger three times and you're done!
All you need to do is tap on an email you received in Gmail that you want exported into Google Sheets.
Then, simply scroll down to the bottom of that email, and find your brand new add-on icon. Tap that icon to export your email to sheets.
Next, tap on "Spreadsheet with email messages" and finally "Go to spreadsheet" if you want to see it.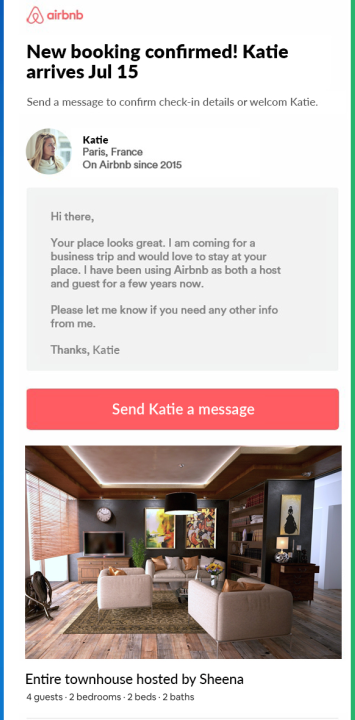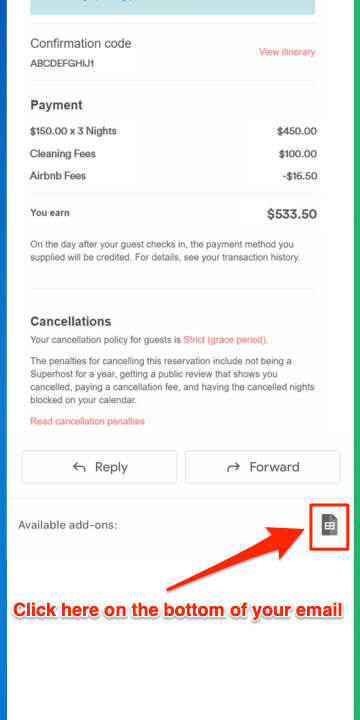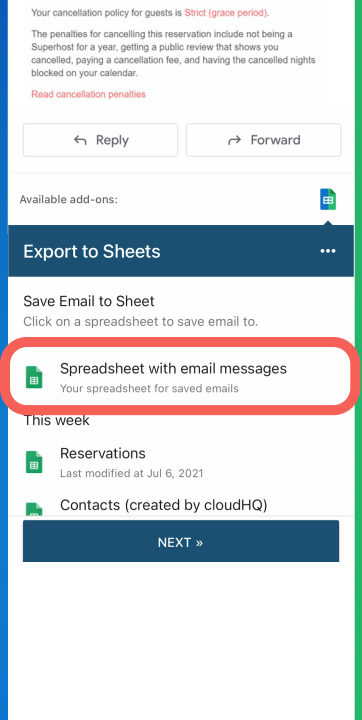 This is what your spreadsheet should look like:

Now you can keep track of all your online sales that come in, regardless of where you are. Try it today and see for yourself how easy it is to use.
Need something more specific than full emails?
Try our Email Parser.
Once you start using spreadsheets to manage your email sales confirmations, you'll quickly see how beneficial this can be for your business. However, you might be thinking that it would be even more helpful if you extracted specific information from within the body of your emails like:
Reservation numbers
Price
Date
Leads
Real estate listings
Support issues
Extracting specific information from your emails is called email parsing and we help you get that data out of Gmail and into Google Sheets. You can access it by visiting the app's wizard which can be found here. Email parsing is best used in a browser window on your laptop or desktop (not your mobile device).
This is excellent for any business because the data sitting in your Gmail emails can be a literal goldmine. Unfortunately, if you don't know how to extract that data to look at it in a more effective way, that gold can quickly become worthless. This app simplifies all of that tedious work, and we wrote a blog post about how to turn this into an automated export so that every new email that matches your filter criteria auto-populates into your Google Sheet. It's like having a real-time report on whatever you need to keep track of, and best of all, it saves you a ton of time.
Try it today and stop wasting your precious time.
There's a Freemium, Premium, and Premium Unlimited price list which you can find here.