Table of Contents:
You don't need fancy, expensive software to screen record videos from your computer.
What I'm about to show you is—I admit—a bit of a hack.
But it's a cool hack! And one I think you'll find extremely useful.
It turns out…
If you have a Gmail account, you have everything you need to record your screen, share, download, upload, or publish videos you screen record from your Mac or PC.
100% for free.
Examples of ways you could use these kinds of videos include:
YouTube "how-to" videos
Internal training videos
Support responses with tutorials to resolve known problems
Updating your boss about what's happening on a project
You could also use them for your website or sales pages, where videos can increase conversions by as much as 50%.
The uses are endless, really. If you want to record and save a screen recording video of any kind, this process will work.
Here's a quick video showing how it's done…
Want to create videos just like the one above using nothing but your Gmail account? Install our Chrome extension Free Screencast Recording for Gmail and start recording in less than a minute.
If you didn't play the video, here are step-by-step instructions:
Step 1: Free Screencast Recording for Gmail Chrome Extension
First, you'll need the Free Screencast Recording for Gmail Chrome extension from the Chrome Web Store.
It's a free Gmail add-on available to anyone with a Gmail account or a work email hosted by G Suite.
Just click "Add to Chrome." The extension installs in seconds.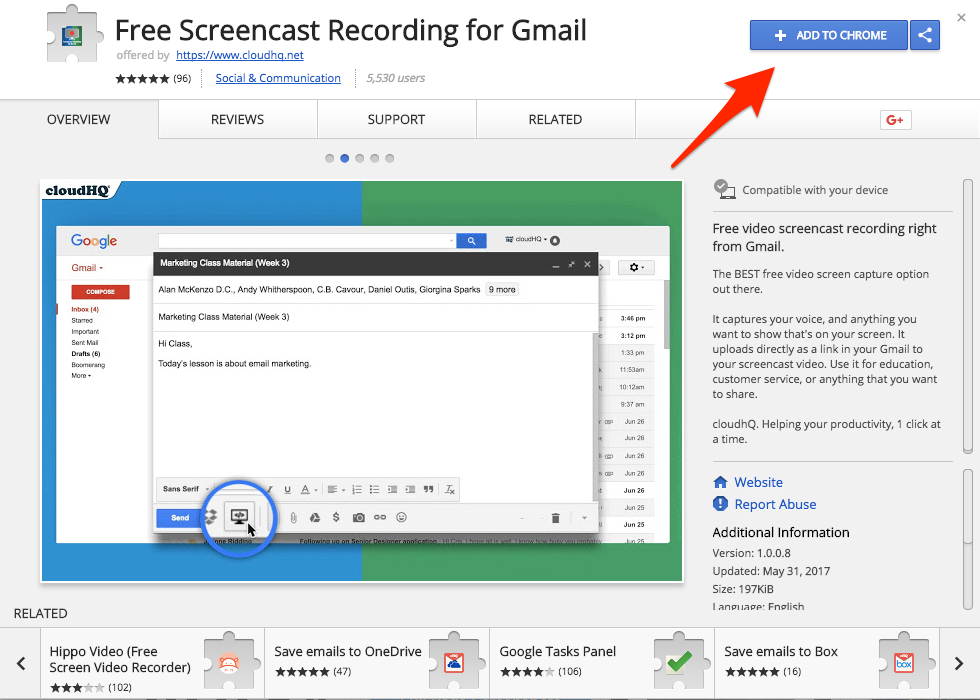 2. Screen Record a Video
Once you've installed the Chrome extension, open Gmail and click "Compose" to start a new message.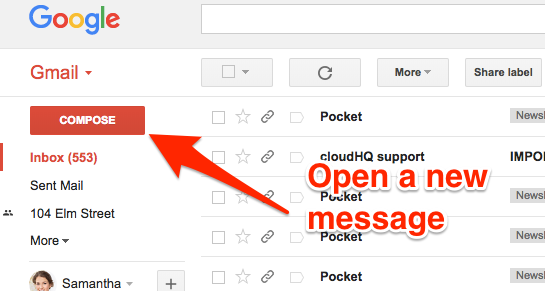 You'll see a screen recording icon next to the "Send" button. To record your screen, click this icon.
Then just record your video.
The tool will record your screen and the audio from your active microphone, allowing you to talk over the screen as you record.
When you're done, click "Finish Recording" in the popup window.
Your video will process for a few seconds (or a minute or two, depending on how long you recorded).
From here, the video will automatically be added to your Gmail message.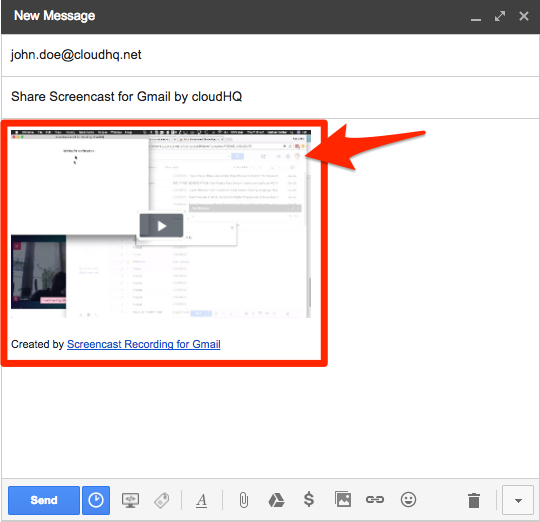 This is what Free Screencast Recording for Gmail was designed to do: easily create videos in Gmail.
Here's where the awesome little hack comes in…
Step 3. Download Your Video to Save or Publish it Online
To save your video, right-click the video in your Gmail message. Then choose "Copy Link Address."
With that done, paste the link into your browser.
That will take you to the landing page for your video.
Now, in the URL, do a copy-and-paste:
Replace this part of the link: https://www.cloudhq.net/screencast/
With this: https://s3.amazonaws.com:443/cloudhq-video-share/
It will change your link to look like this:
Click "Enter" in your browser, which will open the raw video file in a new window or tab (depending on your settings).
From the new window, right click and choose "Save Video as…"
Just like that, the video will download to your computer's hard drive.

There it is. Everything you need to screen record with nothing but your Gmail account!
What to Do With the Videos
Once you've downloaded your video, you can do whatever you want with it, including:
Save it
Upload it to a storage service such as Drive or Dropbox for safekeeping
Load it into WordPress and publish it on your website (like we did above)
Add a nice intro and publish it online in a place like YouTube, like this:
Everything we've shown you here can be done 100% free for anyone with a Gmail account. It's one of many ways you can make yourself more productive using cloudHQ add-ons for Gmail.
Install Free Screencast Recording for Gmail today and try it for yourself!