It's that time of year again when we all scramble to find the perfect Mother's Day gift. But what if you don't have time to go out and buy something? Or maybe your mom is far away, and a physical gift just isn't an option.
Don't worry, because there's still a way to show your mom some love on Mother's Day – with a digital card!
Send Mom a Mother's Day Card
Digital cards are a great way to send a personal and thoughtful message to your mom without having to go through the headaches of figuring what to buy or physically going shopping. Plus, you can be sure that she'll get the gift on time!
With Gmail Email Templates, you can easily send your mom a beautiful digital card that she'll absolutely love. Here's how:
How to Send Your Mom a Mother's Day Digital Card
Gmail users can send their mothers free digital cards for Mother's Day using the Gmail Email Templates extension. This tool lets you send fully customized greeting and thank-you cards to your mom, wife, family members, or friends without ever leaving your inbox.
To send a Mother's Day card with Gmail Email Templates, simply follow these simple steps:
1. Install Gmail Email Templates
Navigate to the Chrome Web Store and install the Gmail Email Templates extension.

2. Open the Template Library
Once you've installed the extension, head over to gmail.com and open a new email message. You'll be able to see an "Insert Template" icon in the bottom-left corner of the email compose window. Click on this icon to open up the template library.
3. Choose From Over 200 Mother's Day Digital Cards
From the template library, choose from over 200 email templates that you can send to your email recipients. Search for "mother" in the search bar to see all the available Mother's Day templates.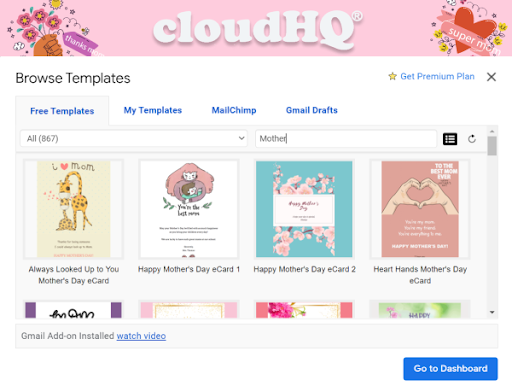 4. Customize the Template
Once you've selected a template, a new email window will open up with the template pre-filled. All you need to do is enter your recipient's email address, add a personal message, and hit send!
You can also schedule your Mother's Day digital card to be sent in the morning of Mother's Day by clicking the blue arrow next to "Send." This will show you a send-time calendar, so you can choose the perfect send time for your card.

How to Use Gmail Email Templates for Mother's Day
Gmail Email Templates makes it easy to send your mom a beautiful digital card that she'll love. Here are some of the different ways you can use Gmail Email Templates for Mother's Day:
Send your mom a traditional "Happy Mother's Day!" card.
Thank your mom for all she's done for you over the years.
Let your mom know how much you appreciate her.
Send your mom a funny Mother's Day card to make her laugh.
Bottom Line
No matter what your reason is for sending a digital Mother's Day card, Gmail Email Templates has you covered. So what are you waiting for? Install the extension and start creating beautiful Mother's Day cards today!
Send Mom a Mother's Day Card