There's no denying the power of personalized email communication. It not only enhances the efficacy of your messages but also elevates the overall perception of your brand, particularly when engaging with esteemed clients. Using the "no-reply@url.com" feature, typical of platforms like Hubspot, can sometimes impede the sense of personal touch you're striving to project.
While Hubspot does hold significant utility for tasks like automated email marketing campaigns, it may not be the optimum choice when the aim is to foster personal connections or build relationships.
If you're targeting a specific set of clients, you'd most probably want to preserve the aesthetics of the email template designed by your marketing squad, whilst adding a personal touch by sending it directly from your professional Gmail or Google Workspace account.
The way forward is to import your meticulously designed Hubspot email template to your Gmail or Google Workspace account, tailor it as required, and send it. This approach ensures that your emails are dispatched from your personal address, hence, maintaining the treasured personal connect associated with your email communications.
How to Send Hubspot Marketing Email Templates Using Gmail

Step 1. Download the Extension
Visit the Google Chrome Store and download the Hubspot Templates in Gmail by cloudHQ Chrome extension.
It's free, and cloudHQ guarantees a stringent security and privacy policy that you, and over 10 million other clients, can rely on.

Step 2. Log into Hubspot
Log into Hubspot, and click on "Go to my account" on the top right hand side of the page.

Step 3. Choose Your Email Template to Import to Gmail
Once you've signed in, navigate to the Marketing tab on top of your screen, and select "Email" from the drop down menu.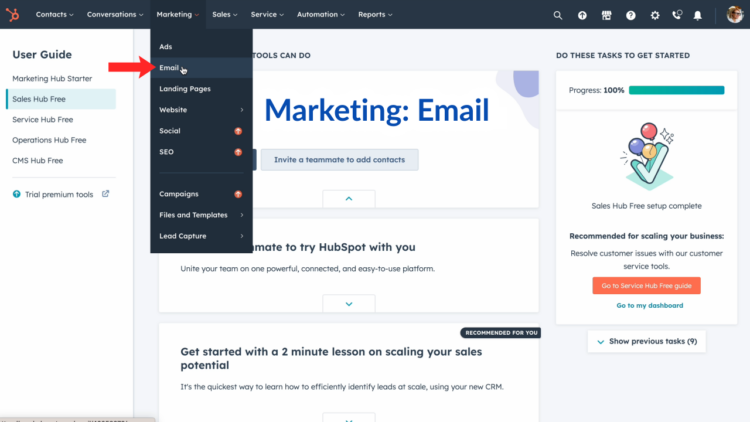 Step 3. Choose Your Email Template to Import to Gmail
Now, simply scroll through to find the email template you want to import to Gmail, and click on the new Gmail icon next to it. You can import as many email templates to Gmail as you wish.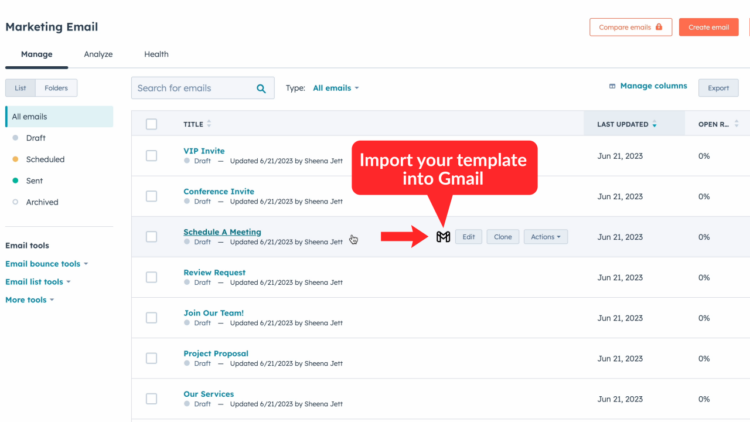 Step 4. Tweak it in Gmail and Send
You can edit it in Gmail to ensure any names or details in the content is correct, and hit send!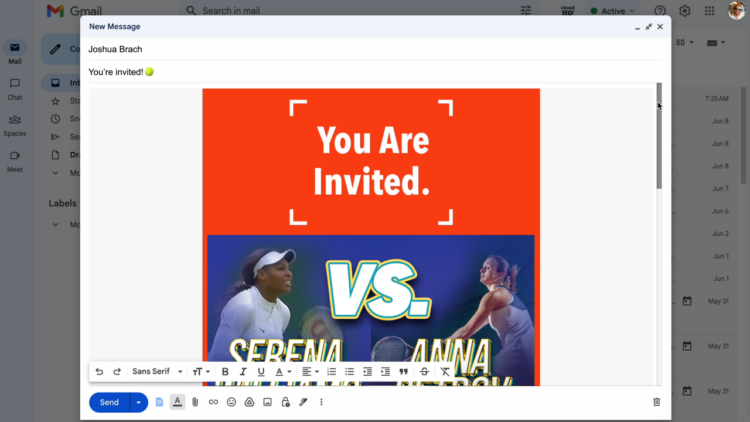 Step 5. Bonus! Get to Your Hubspot Email Templates in Gmail
Here's a perk! Once you've imported your email template to Gmail, you'll always have access to that specific Hubspot email template… in Gmail!
Whenever you're in Gmail, composing a new email, or even replying to one, you'll see a new icon button at the bottom of your email. Click it, and access your email template library that you imported from Hubspot to Gmail.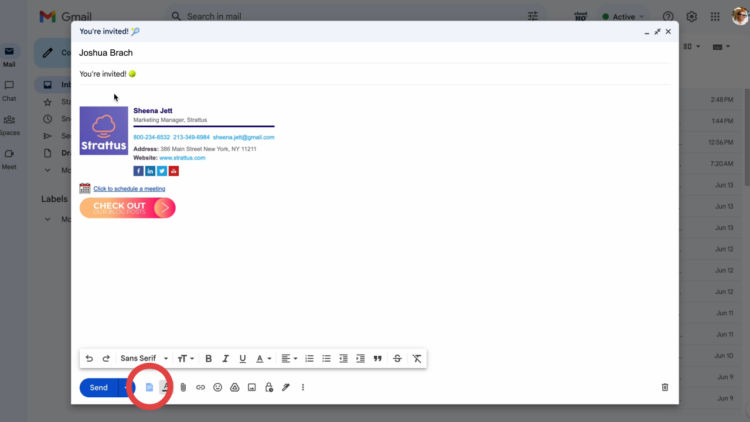 Your library will display all of your Hubspot marketing email templates that you imported to Gmail. Easy!
The Outcome? Email Personalization.
Personalizing your emails is crucial. It can be done by addressing the recipient by their name, referencing something distinctive about them, or including a personalized note. This introduces a human touch to the email, conveying that it wasn't merely mass-produced and dispatched to a broad email list, thereby amplifying the relevance of your email communication.
Sending the email from a personal business account not only makes it appear more authentic and personalized, but also prompts the recipient to engage in a conversation. Emails from a no-reply email address may discourage interaction, as the recipient is aware their response won't be received or read. This diminishes the effectiveness of your email and portrays its content as less significant.
When an email arrives from a person or a valid business email, it extends an invitation for the recipient to reply, ask queries, offer feedback, or interact with the content in a substantial manner.
By ensuring your emails strike a balance between professionalism from a well-crafted email template, and the personal touch and potential engagement of a direct email communication, you can cultivate stronger relationships with your clients. This approach could lead to higher response rates, more positive feedback, and a stronger connection with your valuable clients or stakeholders.
Conclusion
In sum, this tool is invaluable for anyone sending personalized, yet professional looking emails. By amalgamating the best features of Hubspot and Gmail, this extension streamlines your workflow, enabling you to send personalized, aesthetically pleasing emails directly from your Gmail account. This not only saves you time, but also increases your access to your Hubspot email templates.
Why wait then? Give the Hubspot Templates in Gmail by cloudHQ extension a go today and experience a novel level of efficiency and personalization, designed to boost engagement with your emails!