Looking for free Mother's Day ecards for your mom, or even your for your contact list?
With Gmail Email Templates, you can design and send a custom marketing or greeting email in a matter of minutes — without ever leaving Gmail.
How Send Your Mom a Free eCard for Mother's Day
Gmail Email Templates can be installed in under a minute by any Gmail user. Here's how to set it up for your account.
1. Install Gmail Email Templates
Navigate to the Chrome Web Store and click the blue "Add to Chrome" button.

2. Open the Template Menu
Compose a new email in Gmail and first click on the "Insert Template" icon.
3. Select a Template
A new window will open in Gmail, and you can select one of over 200 email templates. In the search bar, type "mother" and then press your "return" key. From there, you can scroll through all the Mother's Day ecard templates.
4. Edit the Template
After you've selected a template, a new email window will open. Click anywhere on the email to begin editing it. You can add images to personalize it, too!
Once you're done editing, click the blue arrow next to "Send" to make sure that you schedule your Mother's Day ecard for Sunday at 9am.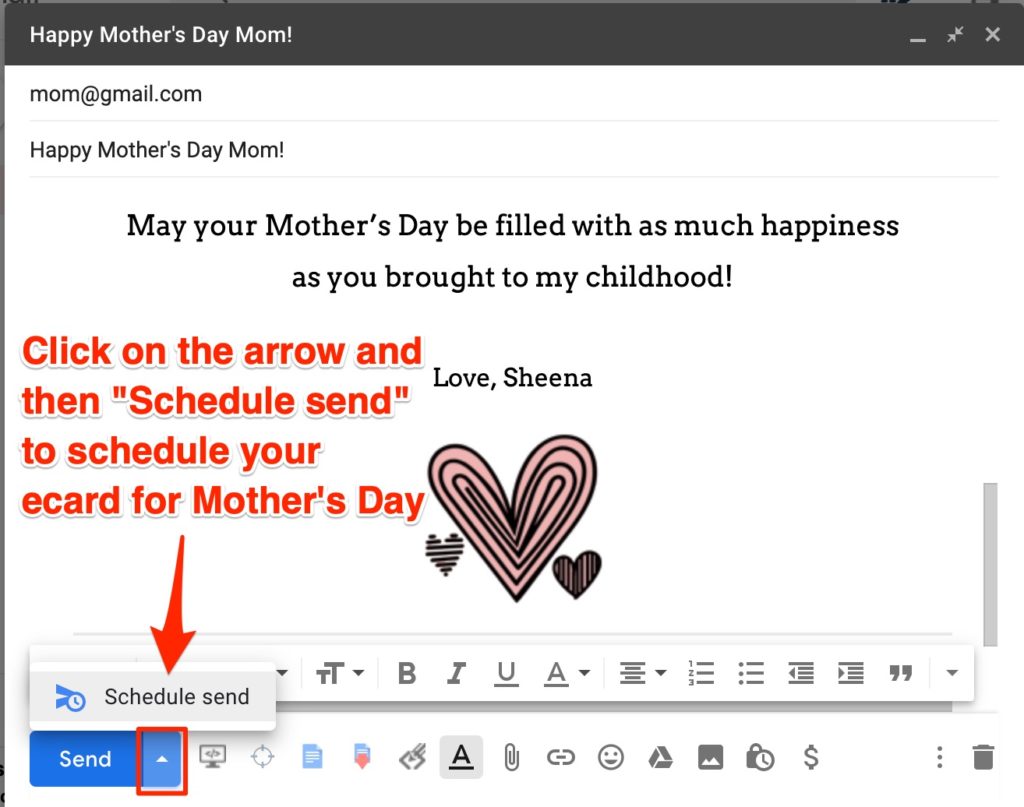 How to Use Gmail Email Templates for Mother's Day
Gmail Email Templates is a great tool to use when you want to send a quick custom email — but don't want to waste time browsing the internet for a template or making sure the HTML works right.
If you run a store or restaurant, sending out a custom Mother's Day message to your mailing list can generate a flood of new business.
Here are a few ideas that you can use:
Restaurant, Florist, or Spa Marketing Email Campaign
You can create a simple Mother's Day sale promotion to send out to your marketing list. This is great for if you run anything retail like:
Restaurant
Florist shop
Perfume shop
Health day spa
Hair salon
For this example, we pretended to be a florist shop, changed the logos and a few words, and now it's ready to send out! It literally took us about 1 minute to create.
Discount Email
Many shoppers will wait until the very last minute, and a coupon or discount can make your email irresistible to ignore.
Be sure to include verbiage in the body that asks that they mention this email to receive this discount. This will make it easy to track conversions.
Mother's Day Gmail Templates
Whether you're sending out a marketing blast or just showing your thanks to Mom, Sis, or Grandma, Gmail Email Templates can help you design and create the perfect thoughtful email this Mother's Day!