Spreadsheets can be a powerful tool for organizing, presenting, and analyzing data, but creating them from scratch can be a daunting task. That's why we created hundreds of professionally-designed Google Sheets templates with pre-built formulas so that you can easily copy and customize them to fit your needs.
Our templates cover a wide range of categories, including:
Mortgage Calculator
Tax calculator
Todo lists
Timelines
Invoices
Project plans
Guest list
Educational lesson plans and classroom attendance sheets
Questionnaires
Personal wellness
Meal plans
General lists
AND MUCH MORE!
How to use Google Sheets Templates
Using one of our templates is easy – simply choose the template that best fits your needs, make a copy, and start customizing it to your liking. You can add or remove rows, change the formatting, and input your own data.
Step 1. Installation
Google Sheets Templates
installs on your Microsoft Edge or Chrome browser. Simply go to the landing page, and click on "Install Google Sheets Templates."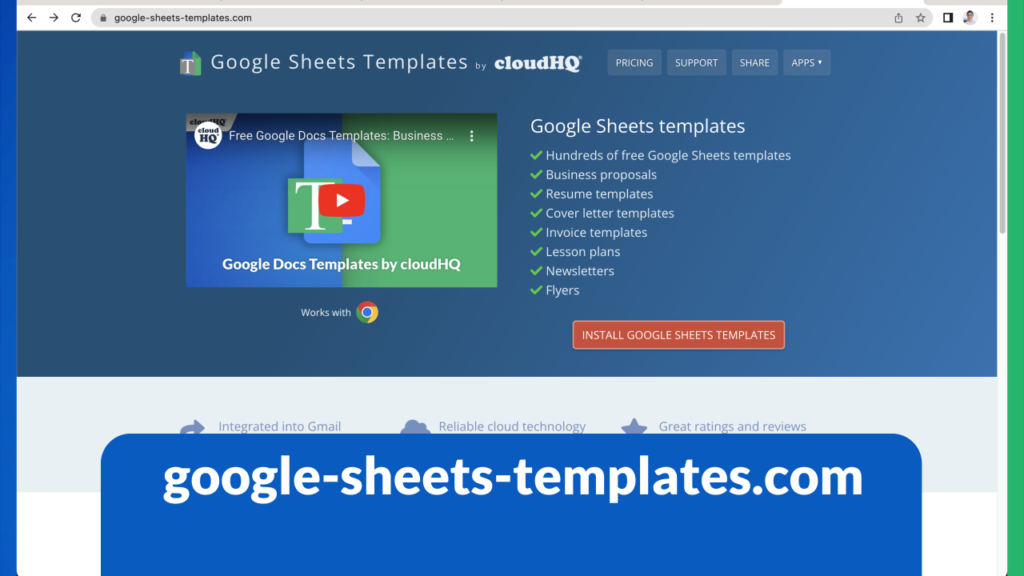 Step 2. Locate Templates in Google Drive
The next step is to navigate to your Google Drive.
Click on "New" in the top left hand corner of your Google Drive.

Scroll down in the menu to Google Sheets.
Click on the arrow next to it, and select "from a cloudHQ template"
Step 3. Browser Templates
Browse through the templates that. you now have access to you, and select the one you want by double clicking on it.

Step 4. Make a Copy
Once you've noticed the one you'd like, click on it.

Then Google Drive will prompt you to make a copy. Click on "Make a copy."

Your copy will open and this Google Sheet template is now yours to edit as you see fit! 🙂
Not only do our templates save you time and effort, they also ensure that your spreadsheet is visually appealing and easy to read. Whether you're a student, a small business owner, or just someone looking to organize their personal finances, our templates have you covered.
So next time you need to create a spreadsheet, don't start from scratch. Check out our Google Sheets templates and find one that meets your needs. You'll be up and running in no time.