Are you an HTML dabbler and want to make your emails a little more eye-catching?
If so, you'll be happy to hear about our Free HTML Editor extension for Gmail, which easily customizes your emails like never before. Get your creative juices flowing and design your emails exactly how you envision them for mobile or desktop view.
Turning a plain old generic email into a masterpiece can instantly grab your recipient's eye!
Design an Email in HTML Format—Quickly and Easily
It's all about the visuals: the moment your recipient opens your message, it needs to POP.
That's where our HTML Editor for Gmail comes in. It puts the power in your hands to create fully customized, visually stunning emails that get your message across effectively.
Here's a quick video showing how the extension works:
But wait, there's more!
Let's take a look at some of the other great features you'll enjoy:
The fully embedded intelligent HTML editor monitors your code in Gmail as you type, automatically adding closing tags and alerting you to common problems like missing brackets (so you won't have to wonder what went wrong if you make a tiny error!).
Customize every feature of your messages, including fonts, colors, and spacing—so your email content will be more expressive than ever.

If you need it, you can upgrade to the premium version for full email and phone support too- costing you less than a cup of coffee.
Plus, like the video shows, you can edit any HTML file stored in your Google Drive. You'll love how easy it is to touch up your code!
Intrigued? Installation only takes a few seconds and it's 100% free.
You don't have to be an expert coder to make it work. The intuitive WYSIWYG ("what you see is what you get") editor makes this tool straightforward for a total newbie, too!
So, let's take a closer look at the process.
5 Simple Steps to Getting Your HTML Game On
Step 1: Install with a Single Click
To get started, head over to the Chrome Web store to download the Free HTML Editor in seconds!
Click on the "Add to Chrome" button and follow the on-screen prompts. (And if this is your first time using one of our Gmail products, you'll need to set up a cloudHQ account to manage your extensions.)
Step 2: Start Designing Your Email
Once you have the HTML Editor installed, begin composing a message and click on the "Edit as HTML" button that looks like a pencil drawing on paper.
Then the editor screen will pop up and you can begin composing your HTML code.
Step 3: Check Out the Live Preview
We're all about keeping your workflow efficient.
Tabbing back and forth between windows and compiling code slows down the design process and breaks you out of that sweet creative headspace.
Not to worry: the HTML Editor includes a live preview of the output of your code on the right side of the screen, so you can instantly check your progress:
And if HTML coding is not exactly your forte, don't sweat it—we added in the WYSIWYG design tab so you can create your email visually as well!
At the top of the left side of the screen, select "Design" to switch the editor from coding to visual design. In the visual builder, you can still add everything you need to create a stunning message, including embedded videos and images: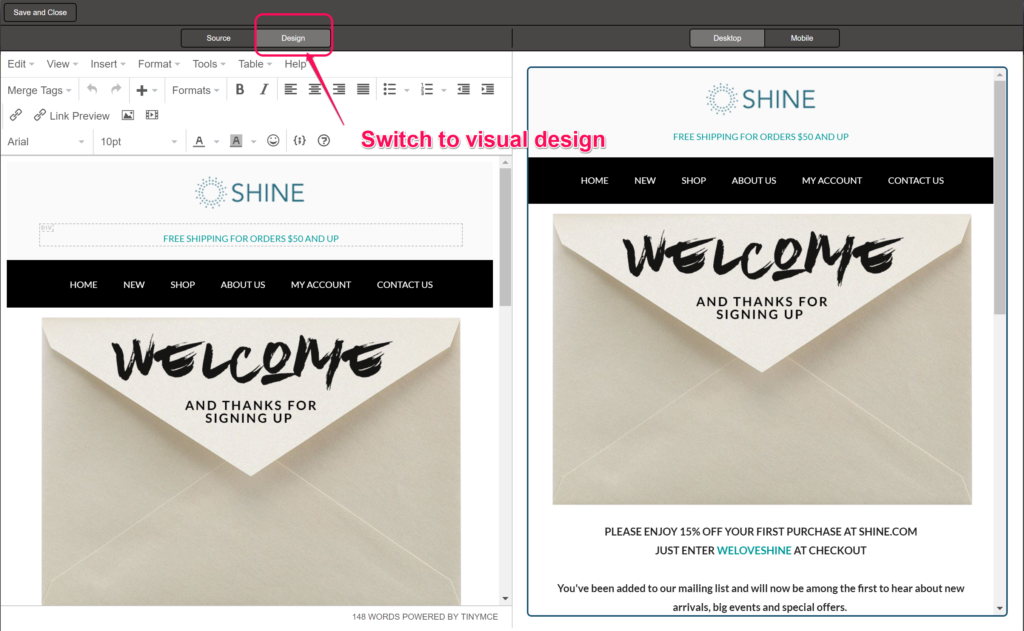 Plus, add tables, graphs, and headings—and boost sales and leads with a custom call-to-action button! Make adjustments on the fly and enjoy a seamless design experience from start to finish.
Step 4: Activate Mobile Preview
By default, the editor shows how your message will look on desktop, but nowadays recipients are more likely to check their emails on mobile while out and about.
So to make sure your email looks just as good on a smartphone as it does on desktop, switch the editor preview to "Mobile" and check out how your email will look on a mobile device:
Step 5: Send your Masterpiece
Once you're finished and your email is looking fabulous for desktop and mobile, hit that send button and razzle-dazzle your audience!
Bonus: Edit Existing Email Templates
The HTML Editor will work with any existing email template to help you get the exact look you want.
If you don't have any templates of your own, consider downloading our free Gmail Email Templates extension. It offers over 200 designs that you can easily customize using the HTML Editor—so you don't even have to start from scratch!
Or if you're one of our MailKing email marketing software users, take advantage of this HTML Editor to add some extra pizzazz to your professional email campaigns.
Try the Free HTML Editor Today!
Break away from the same boring emails—and don't get caught up in using generic email templates if you have a great design idea of your own.
Instead, bring some color to your audience and liven up their inbox… Unleash your creativity and become the 'Van Gogh' of emails with our Free HTML Editor for Gmail.
You'll boost your productivity and your sales leads.