Gmail templates are great for marketing, sales, invites, or simply for looking more professional. But in our increasingly mobile world, they're a pain to use from your mobile phone. That's why we've enhanced our popular Gmail Email Templates Chrome extension to make mobile Gmail templates easier than ever before.
To use a mobile Gmail template, simply go to your Gmail drafts folder, choose your email template, customize your message, and send. But here's the cool part: once you've personalized and sent it, a new copy of the saved Gmail mobile template will auto-populate back to your drafts. No more cutting and pasting!
Since all of our templates are fully customizable and shareable, they're a great way to bridge the gap between marketing and sales, and to keep branding assets consistent. You can customize or create as many Gmail templates as you want, and then share them so salespeople (or the whole team!) can use them anytime, anywhere.
Here's how you do it in 7 simple steps:
Step 1: Get Gmail Email Templates from the Chrome Store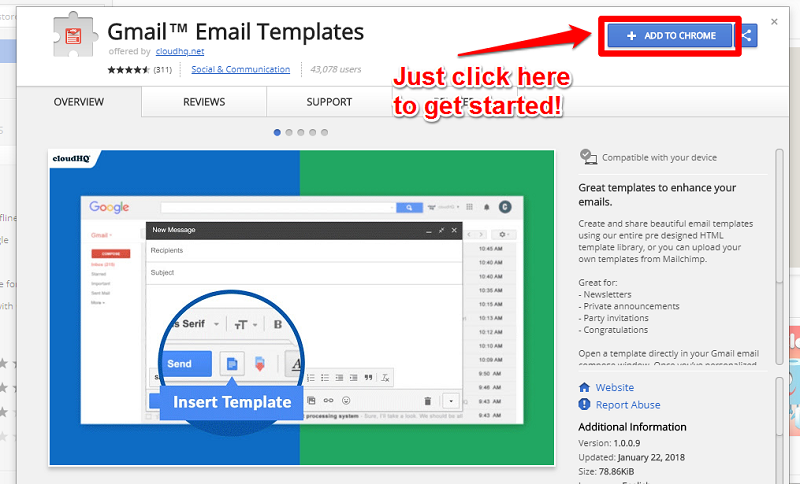 In Google Chrome on your desktop, just follow this link to the Chrome Store to get started. Click the + ADD TO CHROME button in the upper right corner, and then click Add Extension in the popup pane. That's it! You're ready to start your mobile Gmail templates!
Step 2: Select an Email Template
On your desktop, navigate to your Gmail account. Then click Compose, as you would to start any email. You'll notice some new icons in the Compose Email frame:
Just to the right of the Send button will be an icon that looks like a document. This is the Insert Template icon. Click on it to choose a template.
Once you've clicked, you'll get a popup frame giving you the option to browse our free template library. Find the template you want, and click on it to customize it.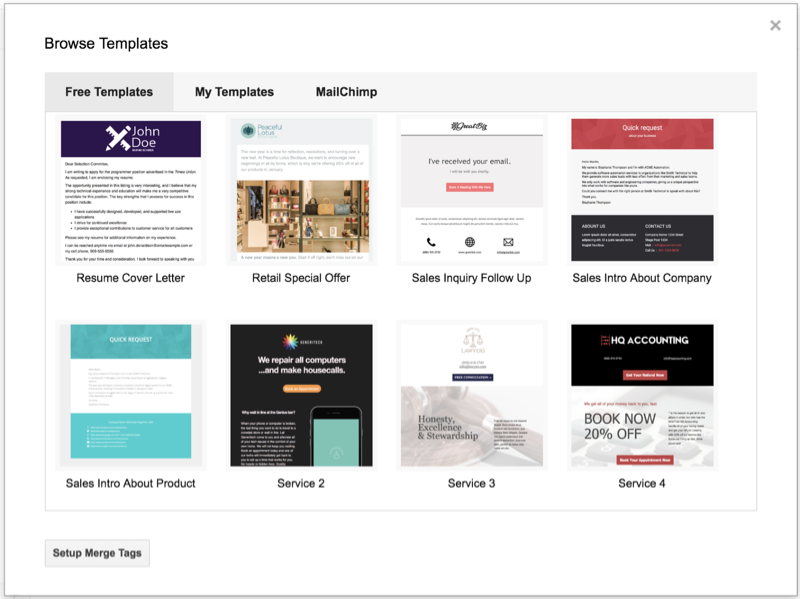 Step 3: Customize Your Gmail Template
Your entire Gmail Template is editable, including the graphics. For our example, we'll use one of our stationery templates. Here's what it looks like in our email. (Hint: Maximize the compose frame in the upper right hand corner for a better view!)
Now you can customize your email however you like. You can either right click or control click on graphics and links to change them, and then simply edit the copy to suit your needs.
Step 4: Save Your New Gmail Template
So now you've added your own company logo (or other relevant graphics), and edited the body text. You're ready to start using your new template, all you need to do now is save it!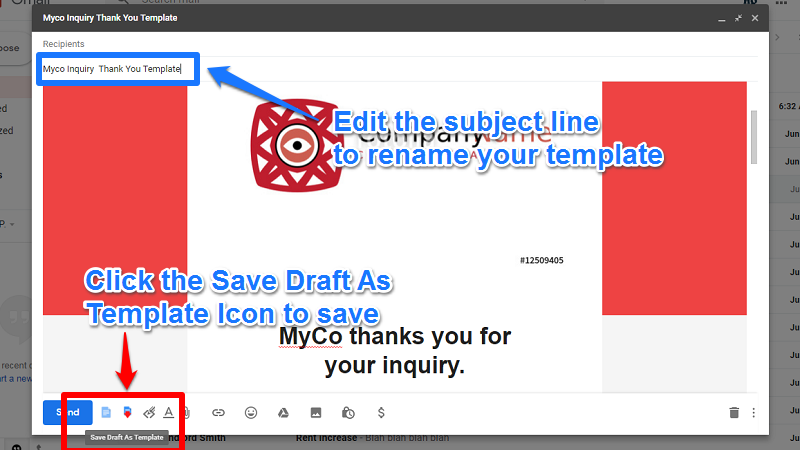 When you're ready to save, edit the subject line of your email draft to rename the new template. Then click on the Save Draft As Template icon (just to the right of the Choose Template icon).
When you've clicked the icon, the above Save pane will open. With your first Gmail template, a folder called Gmail Templates will automatically be created for you in your Google Drive. Any future templates will go to this folder by default. You can also create subfolders directly from the Save pane.
Bonus: If you want a template to be your default Gmail signature, just click the checkbox! This feature is great for creating consistent branding on email signatures throughout a company.
Then just click the Save Template button!
Once you've saved your template, you can follow the link in the success message to open your templates in your Google Drive folder, or just close the pane and trash your email draft. Templates will be saved as HTML files in your Google Drive. Repeat steps 2-4 as many times as you like in order to populate different types of Gmail templates you'll want to keep.
Step 5: Edit HTML (only for the pros)
If you're a little more advanced, you might prefer to modify the template's HTML code yourself. We give you that option with cloudHQ's free HTML editor. Just click the Edit as HTML icon in the bottom pane of your Gmail.
A popup will open your new Gmail email template in HTML, where you can edit anything you want, far beyond the scope of just your images or copy.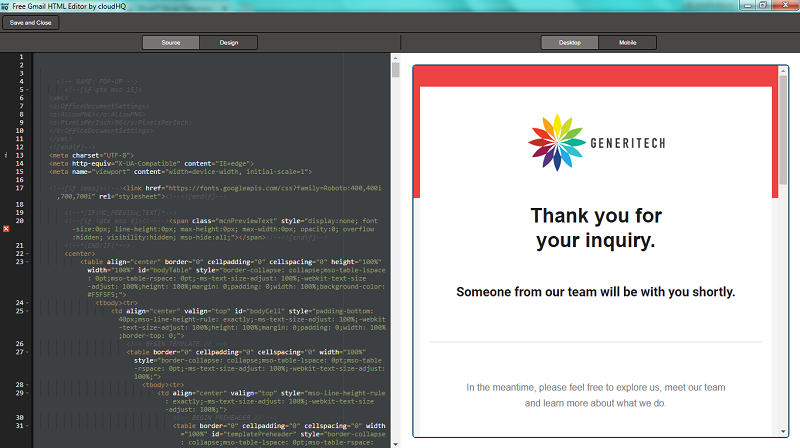 You can view your template as either Desktop or Mobile in the viewer on the right to optimize for either. When you've finished editing to your satisfaction, click the Save and Close button in the top left corner, and your draft will be updated.
You can also open the HTML editor directly from your Google Drive. Navigate to My Drive>Gmail Templates, right-click or control-click on a previously saved template, select Open with from the dropdown menu, then select the cloudHQ Edit HTML option. The editor will open on on a new tab in your browser.
Step 6: Hello, Teams! Share Your Templates
Once you've created all the templates you want to use, share them with any friends or colleagues you'd like to use them.
First, make sure they've added the extension from the Chrome Store. Then start a new draft, click on the Insert Template icon, and select Browse Templates, just as you did in step 2. Then click on the My Templates tab.
The My Templates tab is synchronized with the Gmail Templates folder in your Google Drive (be sure not to rename this folder). It will display any HTML files saved to that folder. To share them with your team, click the Share My Templates button.
The sharing pane will open. Simply enter the email addresses of those you'd like to share with, add a personal message, and click the Send Invite button.
Step 7: Turn on the Auto Save to Drafts function
Now that you've saved all your your templates and shared them with your team (or they've been shared with you), all you need to do is turn on the Auto Save to Drafts function. Navigate back to the My Templates tab, just as you did in Step 5.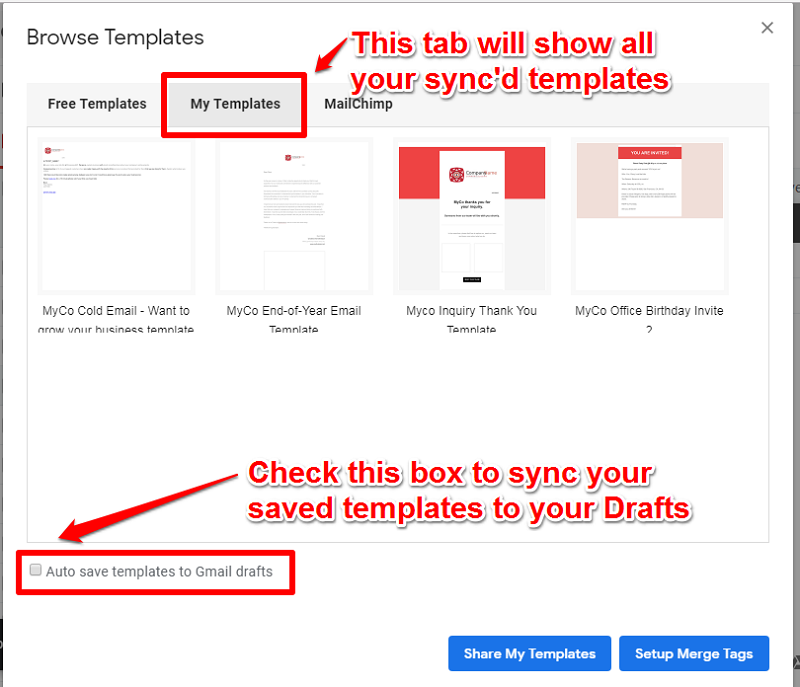 Remember, the My Templates tab is synced with Google Drive, so any templates you've created or that have been shared with you will show up here. To turn on the Auto Save to Drafts function, just click the checkbox in the lower right hand corner. And voila! Now you'll always have your saved mobile Gmail templates ready to go in your drafts folder!
This is key for anyone who wants to access their beautiful email templates while on the go.
Step 8: Use your mobile Gmail templates!
Once you've synced your saved templates with your drafts, you're ready to use them — anywhere!
On your mobile device, just open the Gmail app and navigate to your drafts folder, and you'll find all your saved email templates ready to use.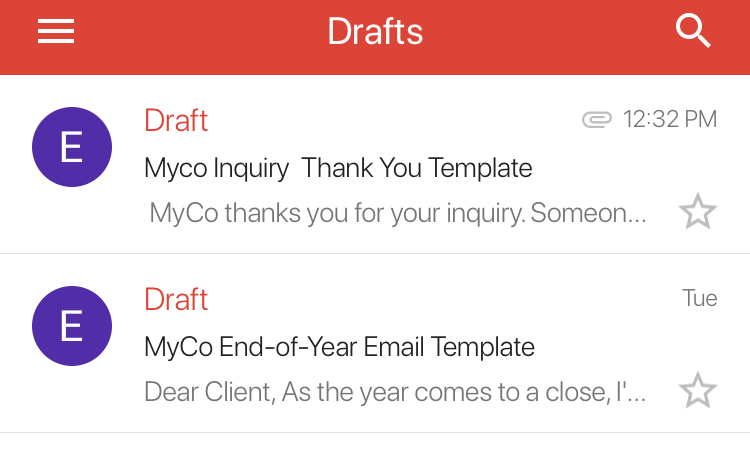 Here's our saved template that we just created above:
Now just enter the recipient, add any personal touches, and send it off!
But what about your draft template?! If you personalized it for Roger the client, won't it be gone?!
Nope! A fresh copy of your customized Gmail template has already been auto-populated back to your drafts folder. See?
Look like a designer… without the effort
Gmail Email Templates are a great way to make your emails look polished and professional without a professional designer. And with new auto-save drafts, you can use your mobile Gmail templates anywhere, on any device (Android or iPhone), in your Gmail drafts folder! We think that's pretty ingenious.
We've already made these Gmail templates for you:
Advertisements
Sales Announcements
Sales followups
Appointment reminders
Cold Emails
Lead Followups
Invitations
Holidays
Class Syllabus
Job Search
Job Recruiting
Legal
Newsletters
Teachers
Office Parties
Realtors
And many more!
We also have generic email templates for basic emails, and a huge variety of personal or professional stationery. All of them are easily customizable to reflect your personality or brand.
To start browsing email templates, just click the button below: