Unique URL Links for Email Conversations  lets you save and share an email with a link — just like would with a Dropbox or Google Drive link.
This is perfect for all sorts of situations, allowing you to share an email link to messaging platforms like: email, text, Slack, Skype, Telegram, Asana, etc.
You can save individual email messages from within a longer email thread conversation, or the whole email thread.
Link a Specific Email
Saving a full conversation can still be done using the link button in the top toolbar in your Gmail: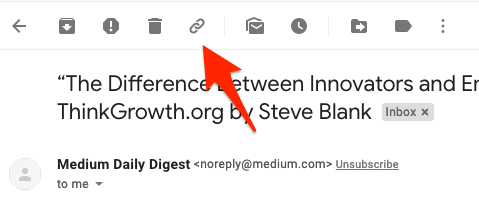 To save an individual email, click the three dots in the top right for that individual message, then choose "Share link to this email" from the popup menu: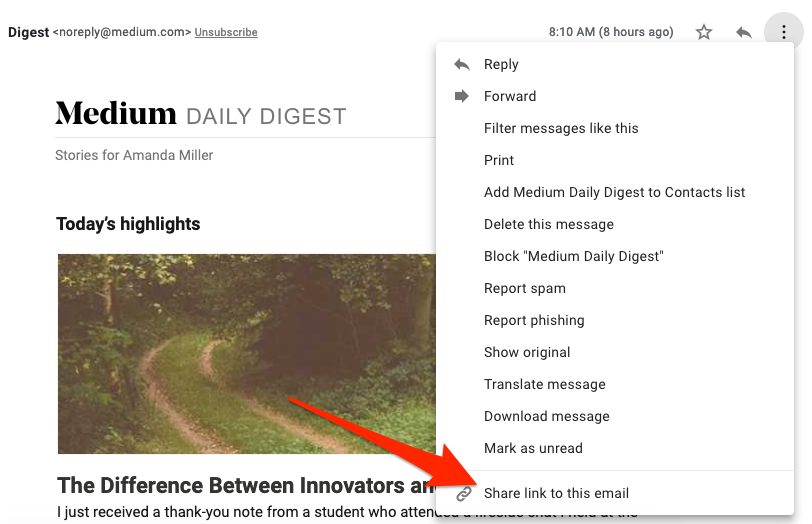 When to Share Email Links
When would the ability to share an individual email come in handy?
Here are a few ideas:
1. When your email thread is over 5 exchanges
Got an email thread with 50 individual messages included?
Don't share the whole thing to your Slack channel. Share just the message you want to reference in your conversation.
We're all busy, and tl;dr really is a thing.
2. When you need help (e.g. QA, Customer Support)
Sometimes you get a message that needs to be forwarded to QA or your customer success team for follow up.
In your support ticket, add a link to the message so the person on the other side knows what's happening and can see exactly what needs to be done.
3. To bookmark a place in a conversation
If you have an ongoing conversation and need to bookmark something important, create a link to that individual message and save it.
That way you can quickly find that specific email from your conversation later.
4. When you need to be concise
Finally, if you're emailing a boss or an executive and need to reference an email (maybe a customer email, for example), keep it short by sending only the pertinent message.
If you make your boss read through 30 back and forth messages to find a specific comment in an email thread, you might not be happy with their reaction.
Free to Use for all Gmail emails
Unique URL Links for Email Conversations is free to use for anyone with a Gmail account or a work email hosted by G Suite.
The new feature is included in the 100% free version. Try it out and see how it works for you!