Now it's easier than ever to save emails to Google Drive, Dropbox, Box, and other cloud storage solutions using Save Emails to PDF.
If you've ever tried to save emails to Google Drive or another cloud storage service, you know it can be a cumbersome process:
Print your email to a PDF
Save it to your hard drive
Open a new browser window.
Log into your cloud storage service
Find the right folder
Upload the PDF copy of your email.
Now you can accomplish all of the above with one click!
We've just released an upgraded version of cloudHQ's free Save Emails to PDF app for Gmail users.
The updated app includes brand new features that let you save Gmail emails to all the most popular cloud storage services with a single click, including:
A downloadable PDF
Google Drive
Dropbox
Box
Egnyte
OneDrive
Here's how it works:
1. Install the Save Emails to PDF Chrome Extension
Save Emails to PDF is a free Chrome extension available to anyone using Gmail.
It installs in seconds from the Chrome Web Store.
After installation, your Gmail account will ask you where you want to save PDF copies of your emails in the future.
Your selections will be the options you'll see when saving emails to PDF in the future.
2. Choose which emails you want to save to PDF
You can save:
An individual email
Multiple emails
An entire Gmail label
Your entire Gmail inbox
You can also choose to save attachments or not, depending on your preferences.
How to save emails to PDF
If you'd like to save a single email as a PDF, simply open that email in your inbox, then click the save icon in the top menu:
This will immediately save a copy of the email to your hard drive or the cloud storage service you choose in step one.
How to save conversations to PDF
To save a conversation, open the last email in the conversation so the full thread is open in your Chrome window.
Then, click the Save emails to PDF icon in the top toolbar (as shown above). The full conversation will be immediately downloaded to your hard drive or saved to your cloud storage service.
How to save a Gmail label to PDF
To save every email with a label in your Gmail account, hover over the label in the sidebar until you see three dots appear next to the label's name.
Click the dots, then choose "Save label to PDF…"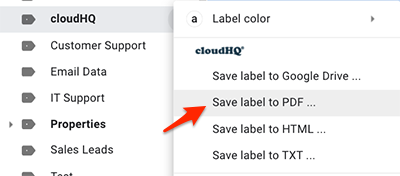 This option will save every email in the label to your hard drive or cloud storage location.
How to save your entire Gmail inbox to PDF
If you want to save PDF copies of every email in your Gmail account, navigate to "All Mail" in the left toolbar. You may need to click "More" at the bottom of the menu find this option.
Once you've opened All Mail:

Check the box at the top left to select all emails
If you have more than 50 emails in your inbox, select All Conversations option that appears just above the list of emails
Click the Save Emails to PDF icon
This process will save a PDF copy of every email and every conversation in your Gmail account.
Other New Features
In addition to new cloud storage options, we've also added a variety of optional features you can use when saving emails as PDFs, including:
Include or exclude attachments
Save your attachments only (not the email itself, but just the attachment)
Add page numbers
Select an appropriate page size for printing purposes
Encrypt your file with password protection (highly encouraged for legal documents)
Save emails as one PDF document with your email selection
Convert emails to a zip file with your email selections in separate PDF files
Save emails as one text (TXT) file or as one HTML document
Access these options by clicking the Save emails icon and choosing "Manage save emails as…"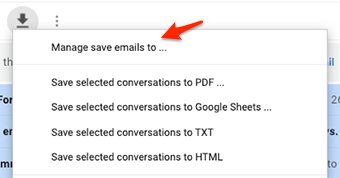 From there, choose "My Dashboard" from the bottom of the popup:
When to Use Save Emails to PDF
Save Emails to PDF is a quick, easy way to:
Organize all your emails for litigation to send to the police or your lawyer
Create a backup copy of your emails for your own records
Send all of your e-receipts to your accountant in one PDF
Archive transactions and projects
Any time you need to save a PDF copy of your emails, Save Emails to PDF makes it easy!