Table of Contents
Saving Emails to PDFs has never been easier using cloudHQ's extension. The extension is used daily by over 100,000 users globally and is trusted by companies such as Twitter, Uber and Airbnb to name a few.
Almost like magic, with just a click of a button the app allows you to save any selection of emails into a PDF document, and now it offers a compact PDF feature to remove any redundant information like email signatures and page breaks.
Announcing our new Feature: Compact PDF
Save Emails to PDF is something we are extremely proud of here at cloudHQ which is why we are so excited to announce the launch of our brand new feature that allows you to simplify the quantity of pages in your PDF!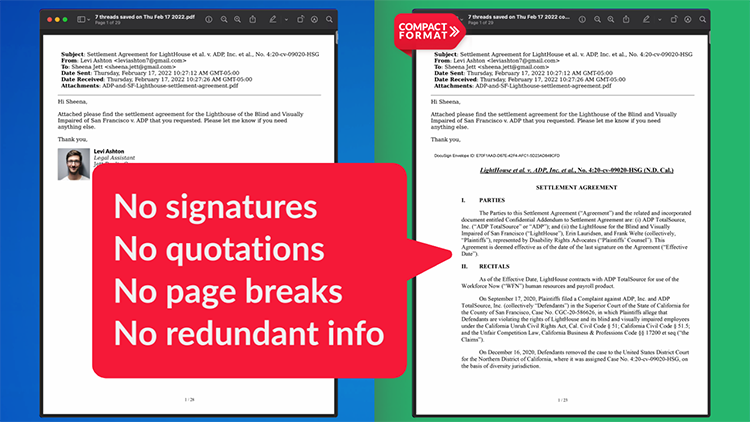 As you can see, a PDF saved with compact format (picture on right) has all unnecessary info such as signatures, quotations, page breaks and redundant information removed and only the important info remains. Considering the amount of emails people receive on a daily basis, it is essential that you try to make your messages as concise as possible.
The Benefits of Compact PDFs
The fact that a compact PDF file is smaller in size is one of the most obvious benefits. However, there are several other advantages to compacting PDF documents for email that are seldom considered.
1. Elimination of long PDFs
Longer PDFs with thousands of pages don't need redundant information to make it even longer. Not only is it annoying to have to read redundant information, but whoever is reading or printing your PDF might charge you per page (like legal offices). Keep it succinct, and keep your billing low.
2. More Efficient Collaboration
Compact PDFs are faster to read and digest, allowing teammates to exchange information more quickly. In contrast, bloated files take longer to upload, are slowed down when passing through the network, and are further delayed when opened and read by the recipient.
3. Be Environmentally Friendly
Printing long PDFs is never good for any environment. Remove page breaks and email signatures to save our trees and do your part to be environmentally friendly.
How to use Save Emails to PDF in compact PDF format
I need to file some legal emails. Instead of printing them one by one, I'm going to save them all to one PDF.
First, I'm going to select the emails I want to convert to a PDF, and click the 'save emails' button. Then click 'Save selected conversations to PDF'.
The settings window will pop up, but now you'll see this newly added 'Compact Format' option here. Check the box for compact format and click 'Start conversion'. After the conversion is completed you can expect to see a clean uncluttered version of your document with only the most essential information.
The compact format feature gives me only the information that I need, and saves me paper and time! Now I have what I need for my legal documentation. On the right side, we have the document without using the new compact feature, on the left we have the compact version. On average you can expect to cut the length of a document by 20% which is a huge difference especially if your documents are long. Here's a step by step instructional video if you prefer to watch how easily it works.
Get Started
The extension is used by:
Real estate agents

Package all your emails regarding your sales transactions and upload them into SkySlope or another CRM that you're using.

Lawyers, Legal professionals, and Court

Save, organize and sort all emails into one PDF document and submit it to court. Upload multiple emails as one PDF into Clio or another CRM that you're using.

Project Managers and Team leads

Archive all project emails as one PDF and keep it organized. Setup an automatic saving of Gmail labels with project-related emails to your Google Shared Drive for collaboration with your team.

Business owners

Get all your email messages with receipts and organize them by date, customer, etc.

Independent Contractors

Archive all communication with your clients.

Anyone Needing Email Archives

Anyone who needs to save important emails and archive email messages.