Did you know that when you send an email with a URL link in it, only 25% of people will click on it?
Email can be underwhelming, and a URL link doesn't give any visual motivation for your email recipients to click on it so that you can get your message across.
With Gmail URL Link Preview, we solve this problem by including a beautiful, visually appealing preview of your URL links in your email. After all, an eye-catching link preview can facilitate conversation, convey information quickly, increase convenience, and save time as recipients filter through their emails.
Here's a short video showing how it works:
A preview will work well if you're in sales and you want to show a few products, but sometimes you might want to show more than just a preview. Sometimes, you might want to show the entire contents of a webpage in your email, but in a well-formatted way.
Well, you're in luck. This (free) tool also lets you choose whether or not you want to send the entire contents of the URL webpage–which is an excellent choice when you want to share:
Unpublished blog posts
Realtor listings before publishing them to the public
Private agreements or contracts
Websites with specific instructions—great for customer service representatives, or even just sending a baking recipe over to your mom!
Let's take a closer look to understand exactly how to use this Chrome extension:
Copy and Paste Your URL
The initial process for adding a link preview in the body of your email is the same as inserting any other link. First, copy the URL of the webpage you want to link to, and then, simply paste it in your email compose window.
Select "Add preview" or "Add content"
If you click on your pasted URL link, you'll notice a new menu pop up underneath it.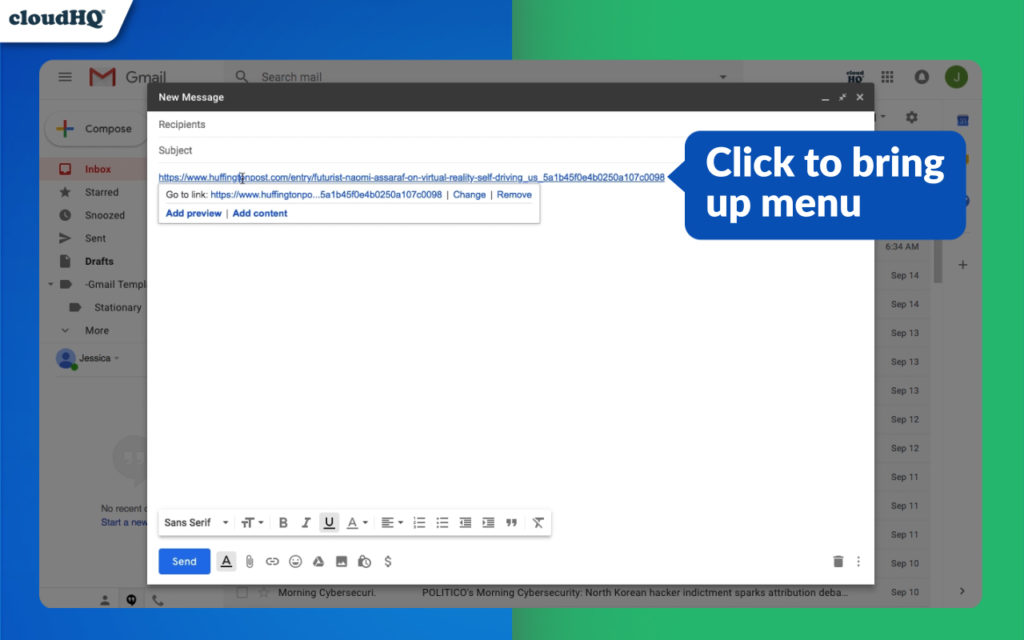 You'll see "Add preview" and "Add content," which offers you two different ways to visually enhance your URL link.
You can select "Add preview" to see a short preview of the webpage content embedded right in your email. This gets your message across in a visual way that grabs the eye immediately.
Or you can select "Add content," which will embed the entire content from the webpage into your email. This option is great for giving the recipient a huge amount of information at once—and they never have to leave their inbox to view it.

Best of all, even unpublished web content can be shared this way!
Sharing Unpublished Webpages
Writers especially like to share their work with graphic artists, editors, or news publishers who don't have access to their unpublished blog posts (which, by the way, is a great way to land a job interview with a news publication).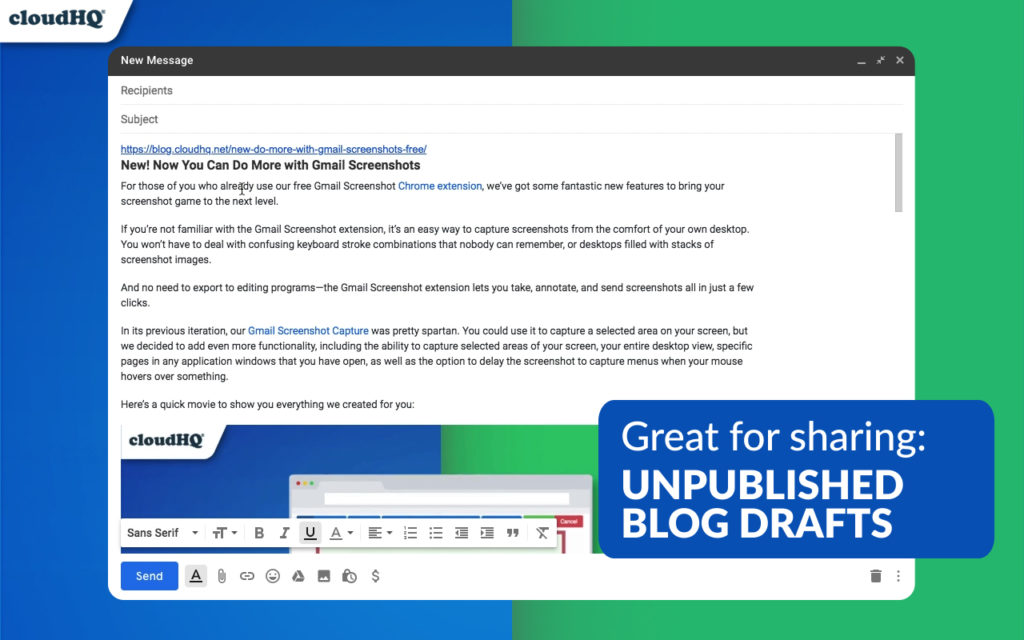 Realtors can send VIP clients a sneak preview of what's about to hit the market—an amazing opportunity to provide extra benefits for your best customers.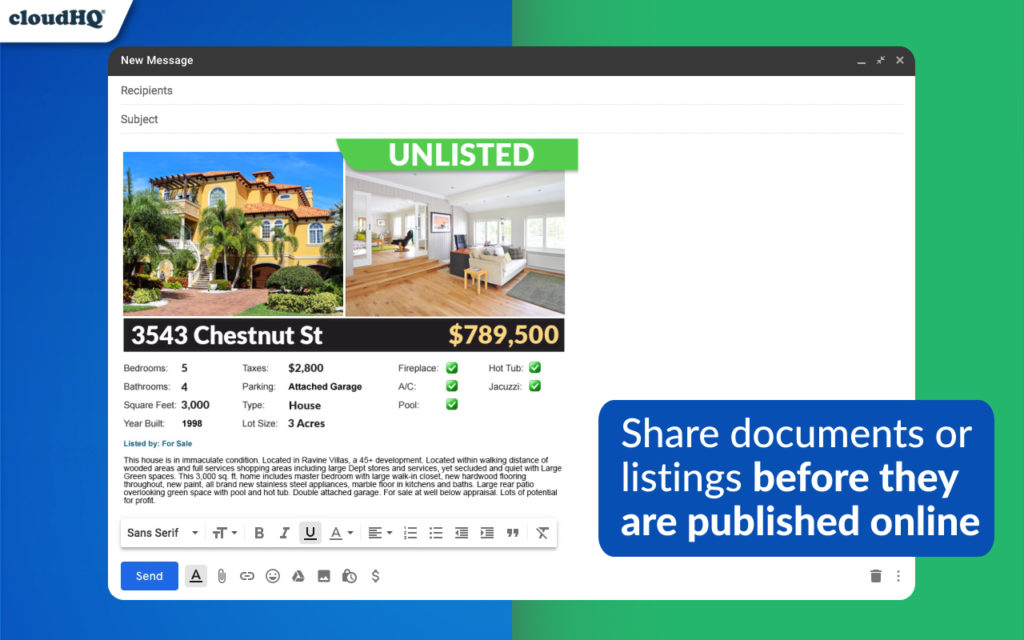 Sharing YouTube videos
The new URL Link Preview extension will be especially useful for sharing YouTube videos via email.
Instead of emailing someone a link to YouTube—which the recipient would have to open in a browser or in the YouTube app—the URL Link Preview will provide a summary of the video directly in the body of your email. This greatly increases the chances that the recipient will watch the video.
Sharing Amazon Links
Sharing Amazon links are so hard! Especially when you just want to share a product with someone, but you have to search for the miniature "share link" somewhere on the Amazon listing and it's very frustrating!  With this tool, just email the URL link and include the preview—it'll tell your email recipient what the product is, how much it costs, the user reviews, and what it looks like. It's really as simple as that.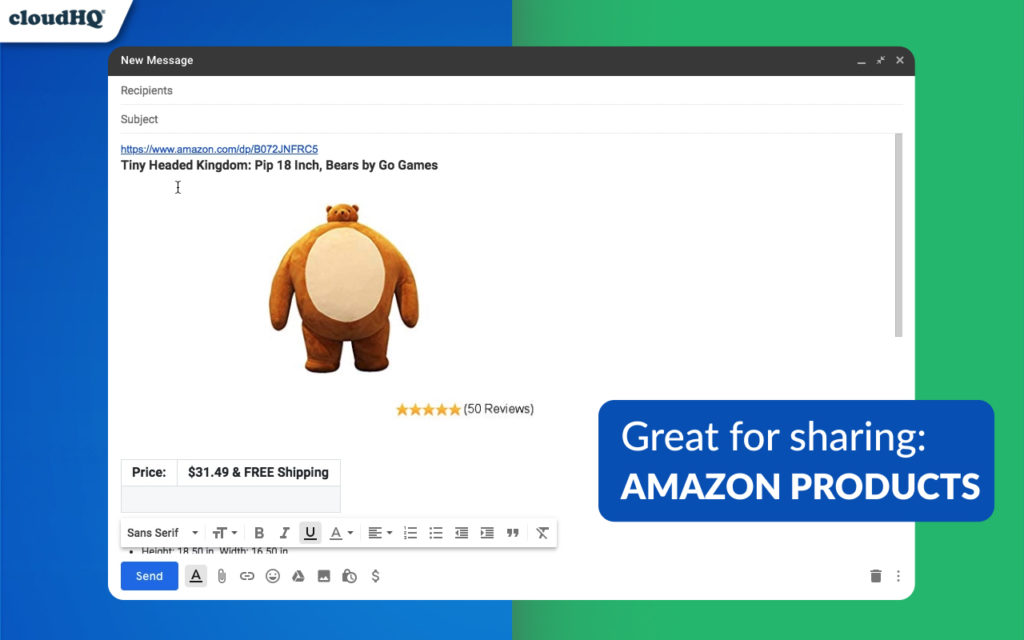 The details
Gmail URL Link Preview is a useful extension for almost any Gmail user but may be especially useful for sharing:
LinkedIn profiles so that job seekers can stand out from the crowd
Google Searches
News reports
Tweets
Facebook posts
Recipes
Product comparisons—see the links, images, and details side by side with previews
Unpublished webpages
Private webpage based contracts and documents
Videos—great for marketers, film creators, vloggers, or musicians who want to have their videos ready to play
Any other time you want to share a visually pleasing, and informative webpage that you're referencing in an email.
The uses are simply endless. Get your free Gmail URL Link Preview extension now by clicking on the button below: