---
In the weeks leading up to the new year, or even shortly thereafter, many of us plan to travel.
But how do you organize your time when you're a busy professional and your schedule is so full to the brim with various places you need to be?
With cloudHQ's FREE Meeting Scheduler, that's how! Take a look at how easy it is to use:
Book Meetings in a Snap with Meeting Scheduler
One of the most useful tools in my arsenal is the Meeting Scheduler extension for Gmail. I use it all the time and want to share it with you now that the busy holiday season is getting underway.
The FREE Meeting Scheduler tool is basically your own virtual assistant (how cool is that!) to help you book meetings through Gmail quickly and easily.
As long as you have a Gmail or G Suite account and you use Google Calendar, you can start scheduling meetings like a pro in no time… and perhaps end up asking yourself, "Where has this tool been all my life?!"
How to Work Your Meeting Scheduler in 5 Simple Steps
I'm planning to travel to San Francisco, and I'll be available for meetings between the 15th and the 19th, and only during lunch hours or late in the evening: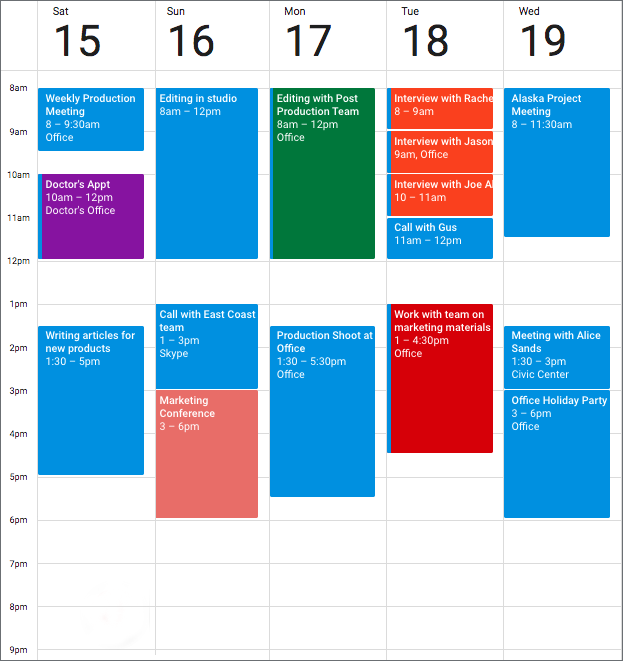 So when I'm setting up meetings, I don't have to take any extra steps—the Meeting Scheduler already knows my availability by scanning my calendar!
Here's how the entire process works.
Step 1. Compose Your Email
This email will serve as your invitation for a meeting.
After having installed the Meeting Scheduler extension, notice that you'll have a little calendar icon at the bottom of your email compose box:
Step 2. Setting Up Your Meeting Parameters
When you click on the calendar icon, a little window pops up where you can specify:
The name of your meeting
How long the meeting will last
The location of the meeting
Which of the open times on my calendar to offer availability for (in this case, lunch and evening hours only)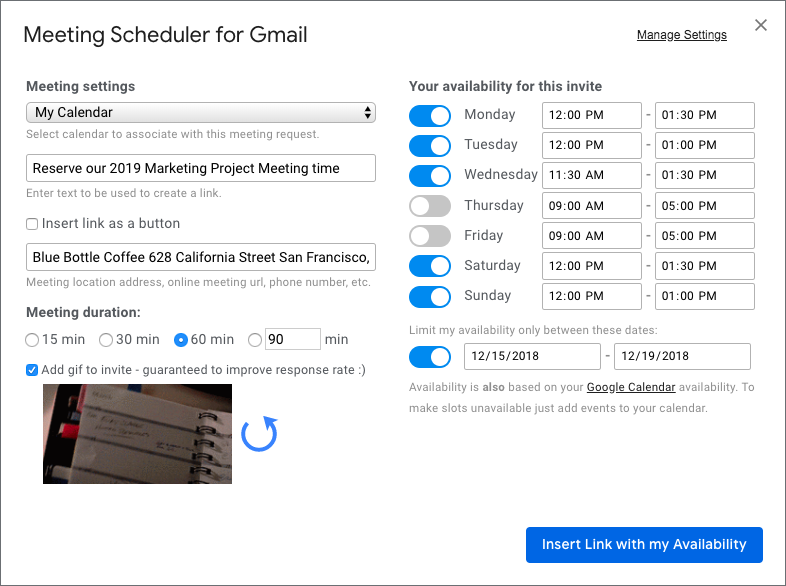 As an upgradable feature, the Meeting Scheduler will exclude any dates that you decide to block off:
Step 3. Inserting the Calendar Link
Meeting Scheduler will automatically insert a clickable link into your email message, and your recipient can click on it to choose a time slot.
The link opens up a landing page showing all the meeting details and available times to choose from.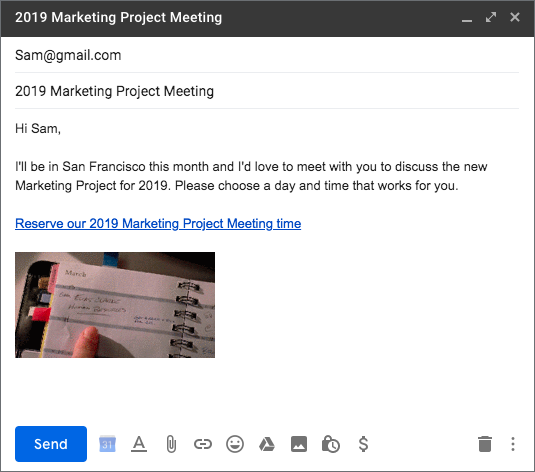 Step 4. Selecting the Meeting Time Slot
By clicking on the calendar link, your recipient can now view the available meeting days based on your availability parameters.
Once they click on the day that works for them, all available time slots for that day will show up.
There's nothing left for your recipient to do.
Step 5. Confirmation of Meeting
After your recipient selects their chosen time slot, it automatically creates an entry in both of your Google calendars for the meeting.
If your recipient doesn't use a Google calendar, then they will get an email with the meeting time just like Google Calendar natively sends to outside calendar apps.
Success! Your meeting has been scheduled!
Benefits of Using Meeting Scheduler for Gmail
Let's take a moment to cover some other great features of the Meeting Scheduler tool:
Meeting times are adjustable even after they've been scheduled, with notifications automatically sent to all participants

This eliminates the need for you to facilitate changes with each individual person

Ability to offer different availability to different people

Great if you want to carve out certain times of day for certain people based on your location, for instance

Supports any calendar platform used by the recipient, as long as the one you use is Google Calendar

Nobody gets locked out just because they happen to use a different service

Option to create and customize your own 'Book me' link for anyone to book meetings with you

Excellent for you to add that to your website, Facebook page, LinkedIn profile, etc.
Never be double-booked again! Meeting Scheduler works seamlessly within the Gmail ecosystem of tools, so you can book meetings quickly and easily and never think twice about it.
Plus, you can even personalize your availability Meeting Scheduler landing page to make the best first impression possible:
Use your own photo or logo to look more professional
Change the background and text colors  to match your business colors
Customize the header message where you can even market your latest news!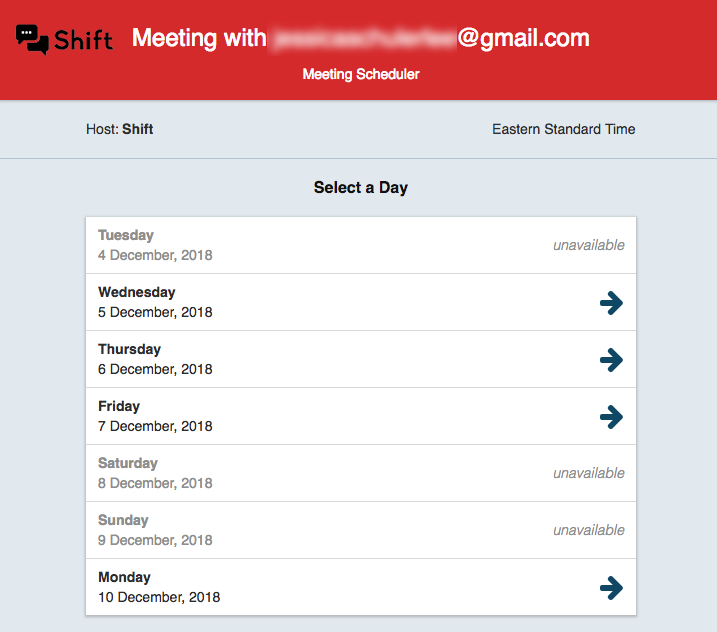 Installs in Seconds— Use it for Free
To install, just go to the Chrome Web store and download Free Meeting Scheduler for Gmail by clicking the "Add to Chrome" button and following the on-screen prompts:

Unlike most appointment scheduling tools out there, Meeting Scheduler for Gmail doesn't hide its best features behind a paywall. You get full functionality, absolutely free.
But if desired—for a few dollars a month—you can upgrade to the premium version of Meeting Scheduler, which gives you block off date availability.
Save Time and Look Like a Pro
You can see why I love the convenience of Meeting Scheduler for Gmail—there's really nothing better out there for a comparable price… i.e. free. (And while we're on the topic of free tools, check out our previous blog post on other products that'll help you get more done in less time.)
Plus, the time you save from not having to play 'email tag' to book meetings can now go toward the things that really matter in your life.
Say 'yes' to saving precious time this holiday season and give Meeting Scheduler a try today—I'm confident you'll love it!
Try Meeting Scheduler for Gmail