Ever tried to download email from Gmail to by "printing" it as a PDF to your hard drive? Or taken a screenshot to accomplish the same thing? There's an easier way:
With one click, you can download emails right from your Gmail account to your computer.
All you need is a simple Chrome extension called Save Emails to PDF, which is free and installs in just seconds. Here's what it looks like in action:
How to Download Email from Gmail to Your Hard Drive
To save a single Gmail email to your hard drive:
Click the "Save to" button
Choose "Save to PDF"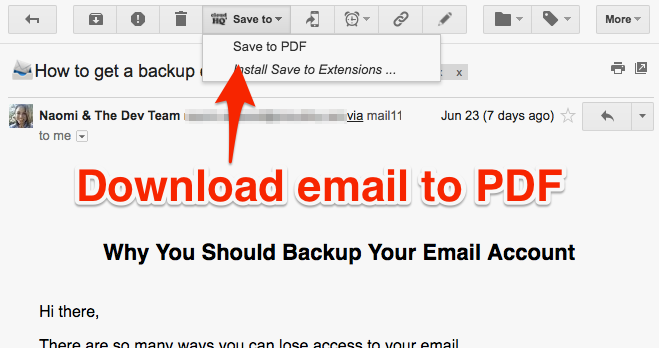 That's all it takes. Your email will be downloaded to your hard drive immediately.
How to Download Multiple Gmail Emails to Your Hard Drive
To save multiple emails to your hard drive:
Select the emails you want to save
Click the "Save as PDF" button
You can save your emails as CSV, MS Excel, or PDF format. Choose what format you'd like for your download.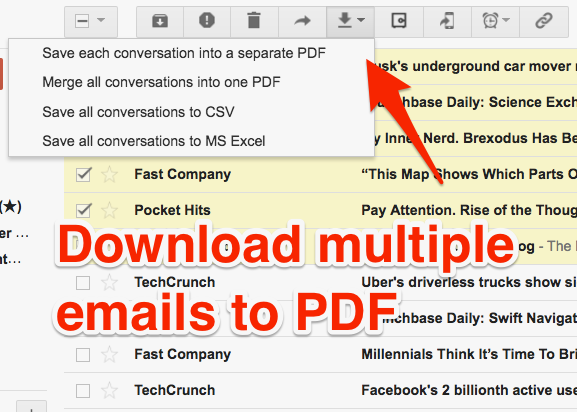 The download will start immediately. With a high-speed internet connection, emails usually download in seconds. You get 50 free downloads/month, or you can upgrade to an unlimited account for $4.99/mo.
When to Save Emails to Your Hard Drive
Saving emails to your computer is helpful in a variety of situations, including:
Receipts
Invoices
Legal notices
Personal emails you don't want to lose
Project documentation
With Save Emails to PDF, you can download any email from your Gmail account in seconds—with just one click.
Get Save Emails to PDF