Tame your inbox and master document organization by saving emails to SharePoint.
Table of Contents
Introduction
Emails are a vital part of business communication, but they can also become overwhelming. Sorting through a cluttered inbox can take hours, making it difficult to find important messages and attachments. SharePoint provides an excellent platform for managing documents, but what if you could extend its capabilities to include email management?
That's where cloudHQ's 'Save emails to SharePoint' comes in, offering a seamless bridge between your email communications and document management system.
Why Save Emails to SharePoint?
Storing emails in SharePoint allows you to take advantage of advanced search capabilities, secure access, and organized archiving. It ensures that critical communications are preserved and can be easily retrieved for reference, legal compliance, or during audits. By saving emails to SharePoint, you also foster better collaboration among team members who can access and work on shared documents and emails within the same environment.
Can You Archive Emails to Sharepoint?
Short answer: Yes. But it takes multiple steps to do it, and it can quickly become extremely time consuming.
However, with cloudHQ's 'Save emails to SharePoint.' you can mitigate any inconvenience since this extension integrates directly with your Gmail account. It allows you to save emails and attachments to SharePoint folders with just a few clicks. This extension simplifies the process of transferring emails into the document management system, ensuring that the entire history of a project or conversation is kept intact and accessible.
Step-by-Step Guide
Setting up the cloudHQ extension is straightforward. First, install the extension from the Chrome Web Store. Once installed, a new button will appear in your Gmail inbox.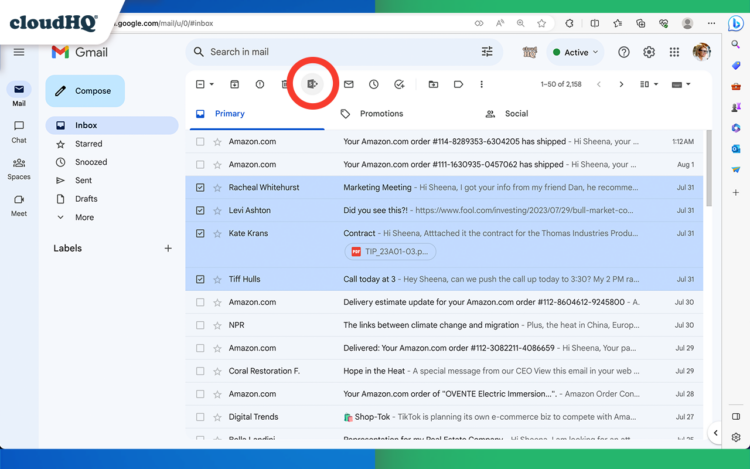 When you click this button, you'll have the option to save the selected email or thread directly to a SharePoint folder. You can even set up rules to automatically save certain types of emails to designated folders.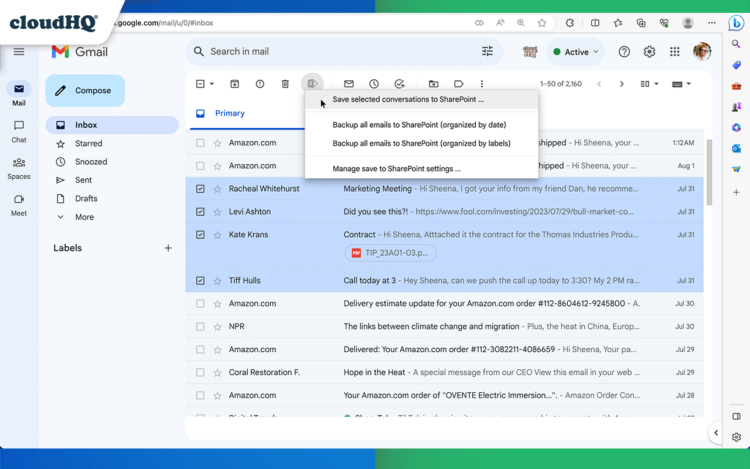 Tips for Organizing Your Emails Into a Sharepoint Document Library
Create a Filing System: Just like physical documents, emails should be filed systematically. Set up folders for different projects, clients, or types of communication.

Regular Maintenance: Schedule time each week to review your emails and ensure they are filed correctly. This prevents buildup and helps keep your system organized.

Use Tags and Metadata: SharePoint allows you to add metadata to documents and emails, making them easier to find through search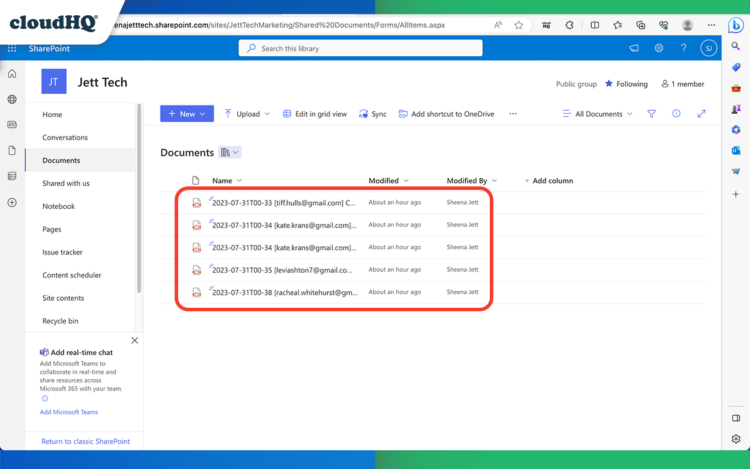 Key Benefits
Increased productivity by reducing time spent searching for emails.
Improved collaboration through centralized access to communication and documents.
Enhanced security and compliance with the ability to track and manage emails as official records.
Only save attachments.
Save emails with any attachments directly after the email body in a PDF format.
Conclusion
Integrating your Gmail email system with SharePoint via cloudHQ's 'Save emails to SharePoint' can significantly streamline your workflow. It not only simplifies the archiving process but also ensures that important communications are safeguarded within your company's document management system. Give it a try and see how much more productive your team can be with a cleaner inbox and a more organized document repository.