For all your important emails, there are 5 indisputable reasons why you should liberate your emails from Gmail, and file them away in Google Drive:
Organize Yourself by Filing Critical Emails – Who has time to search thousands of email for the one important message or attachment? Maintaining tidy records should not be a burden.

Example: If you have a project, you can include everything in a folder about that project, quotes, timelines, contracts, and a sub-folder of all your communication history. It's excellent to keep you organized so that you can do other things with your time.

Create Notes for Yourself on Emails – Saving emails to Google Drive allows you to highlight and write your comments. This helps you remember what to discuss next time that speak with the person who sent you that email.
Assign Comments to Colleagues – Once you've liberated your email into Google Drive, you can easily share them with colleagues, and assign your comments to a colleague. This works great for task management.
Security – The number one reason important emails are lost is due to a user error. People accidentally delete content that they need all the time.  Best practices are to have all of your emails saved in more than just Gmail.
Add an Email Conversation to Trello, Asana, or Slack – Being able to save your email in Google Drive gives you the ability to share out your email conversation as a link, where you can post it in a team organizer like Trello, Asana, or Slack.
Now that we know why we should do this, how can we make it painless and efficient? With Save Emails to Google Drive, brought to you by cloudHQ, you'll have the flexibility and efficiency to save emails to Google Drive in just 1 click.
Add the Chrome Extension from the Google Chrome Store
First, add the cloudHQ Chrome Extension called Save Emails to Google Drive by clicking on the "Add to Chrome" button. There are no techie
steps or set up configurations to get started. Just this one step.
Quick Save Email to Google Drive
From there, you are ready to start saving! Visit your Gmail inbox. I'll start by showing you how to save one email and then move on to show you great ways to save a cluster of emails all at once.
Let's open an email that you want to save. You'll see a new icon in then menu header. This is your one-click to save-the-day tool! Click it and your email, and its attachments, are saved to Google Drive. It's that simple.
And you're done!
You can click on the link which will take you to your Google Drive folder, or just copy the link to share it out immediately with anyone.
When I open my Google Drive, I'll clearly see it under my new folder called "Emails," and its title will be the sender's email address.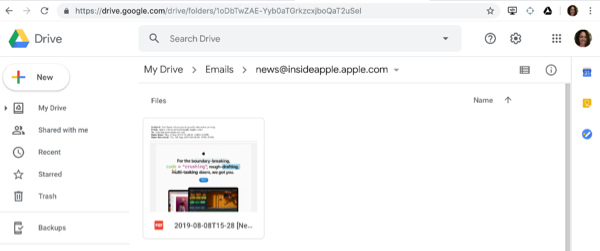 Saving Selected Conversations to Google Drive
Now that you know how to save one email – let's get fancy and save a bunch of emails. What I love about the cloudHQ tool is its intuitive nature. The more I use it, the easier it is to organize my emails quickly. Let me show you how.
Going back to your inbox, search for a group of emails you want to save. Maybe a specific client or related to a project you are working on. Got them? Great! Use the Gmail Select All button on your filtered search results. As you can see, I searched for "Naomi and the dev team," and next, I'll click on the "Select all" box.
Now, in order to get these emails into my Google Drive, I'll just select the new Google Drive icon now available on your menu header. This will open a dialog box where you can choose "Save selected conversation to Google Drive".
From there, just follow the prompts! And feel free to take a look at our support page for step-by-step instructions if you need them.
Let's Get Organized!
Now, we wouldn't want your Google Drive to start looking like your inbox, so let's organize these emails in your Google Drive. When you click on the Save to Google Drive button [ ] a dialog box will appear allows you go to the email (and attachment) where you can add it to a particular folder. This dialog box also makes it easy to share the email with collaborators or to copy the new email to your clipboard.
It's fantastic that the free plan includes 50 emails/month, but the Premium Plan allows the added value of unlimited email saves and backup. This I love.
All in all, backing up Gmail email should be as easy as a click. It should help you feel more secure, knowing your content is safe. It should also keep you organized, increasing your productivity. To accomplish all of that, click the button below to get started.