Of the many productivity tools we've released at cloudHQ, Free Screencast Recording for Gmail is one of the ones I use the most in my work.
They're way faster (and more effective) than reading long emails trying to describe what's happening. It probably saves both the email sender and recipient at least 10-15 minutes each.
As a bonus, we recently added four new branding options for your screencast video landing page. They are:
Add a photo or logo
Custom header message
Change background and text colors
All three changes are designed to help you make a professional, authoritative impression the next time you send someone a video screencast.
Here's a screencast video that I just created to show you how to set up your own custom branding, on your own screencast:
Here it is in 3 steps:
1. Add a Photo or Logo
Download Free Screencast Recording for Gmail.
Go to the cloudHQ logo that now appears on the top right hand corner of your Gmail.
Click on "My Dashboard":

Then click on the icon that says "Free Screencast Recording for Gmail":

Then simply click the "Choose File" button. You can upload either an image or a logo of your company.
Here we've added a personal image as an example:
2. Custom Header Message
Next, you can add a custom header message to your screencast. Here I've added a message that summarizes what the screencast is about:
3. Change Background and Text Colors
Finally, you can also change the header background and text color. Use your brand colors for consistency, or any color you prefer.
Et voila! Here's a look at a customized page with all three changes (logo, header message, and custom colors) applied: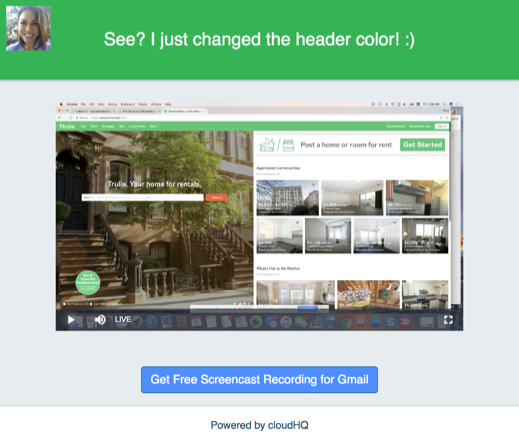 How to Remove the cloudHQ Link and Branding
By default, a "Powered by cloudHQ" link will appear on the screencast page for all your screencasts.
If you prefer to remove all cloudHQ branding, the premium version of Screencast Recording for Gmail is available for just under $5/month.
If it doesn't bother you, then just continue using it for free.
Start Screen Recording in Minutes
Free Screencast Recording for Gmail is free for anyone using Gmail.
Install the extension now and you can be recording screencast videos in just a few minutes.