Quick access to the invoices in your Gmail inbox
Having a small company means having to wear many hats. Invoicing and accounting is probably one of your biggest time sucks, unless of course, you enjoy crunching numbers. In this article, we're exploring how a one-click wizard can organize every single invoice in your Gmail account (received or sent), and organized into a spreadsheet report for you. The simple invoice manager further allows you to run this wizard on an on-going basis, so that every time a new invoice appears in your Gmail account, it'll get funneled into your ongoing Google Sheets invoice report.
The key is not just having all your invoices in a Google Sheet report, but rather having the information from your invoices divided up and organize it into your spreadsheet. That extraction of email data is called "email parsing."
When you can organize all of your invoices in just a few clicks so that you see everything in one spreadsheet, it helps you manage your business in less time. That's why cloudHQ spent time to focus on this service to help increase your productivity.
How to use an Email Parser for Invoice Management
Using an email parser is actually much easier with 1-click wizards, now available by cloudHQ.
Step 1. Run Collect and Parse Invoices
For the first step, all you need to do is go to this wizard page, and select the "Collect and Parse Emails" solution under "1-click solutions." Start the wizard.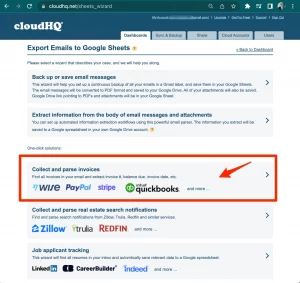 Step 2. Check on the Progress of Your Email Parser Job
Now, the email parser will go through your entire Gmail account. As its doing its job going through your emails, you'll see the status bar in your dashboard showing you that your emails to sheets export job is running.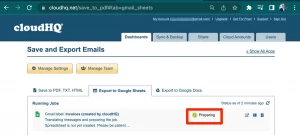 Step 3. View Your Simple Invoice manager Spreadsheet
You can keep visiting your dashboard to see when the job is done, or wait for cloudHQ to send you a confirmation email that the initial job has been completed. Once completed, any new invoice that lands in your Gmail will automatically get parsed into the Google Spreadsheet. Now, you have a beautifully organized spreadsheet with all your received and sent invoices.
Stay Organized
Now you can always have your information in an easily digestible format where you can make better decisions so that you can continue to grow your business based on data. Don't wait, gets started today and be sure to check out all the other wizards that this powerful email parser offers you.