Imagine you have an important email to send your boss, and you know that she always checks her email first thing every morning at 6am. You could get up early to send the email, or you could just use Schedule Email to send it by 5:50a tomorrow morning.
Announcing a new, free Chrome Extension, Schedule email.
This handy email productivity tool lets you schedule your email to send at a later time, which is excellent if you sometimes like to work late at night. Here's a quick video that explains exactly how it works:
Once you've installed the Chrome extension, you'll be able to schedule emails directly from within Gmail with only 2 little steps!
Step 1. Compose an Email in Gmail
Click "Compose" to start a new email. You can also reply to an existing message or forward an email from your inbox. When you've written your message, click the alarm clock icon next to the "Send" button:

Step 2. Pick a Date and Time to Send Your Email
A popup will let you choose a date and time for the email send. Click the "Send Later" button to finish the process: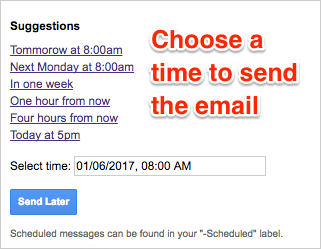 If You Need to Edit or Cancel the Message
Emails you've scheduled for later will be stored in the "Scheduled" label in the Gmail sidebar. If you need to edit or cancel the send, simply open the draft and make your changes.
At cloudHQ, we like to keep our work productivity tools very simple, so go ahead and experience how easy it is to use Schedule Email, and start looking more professional: