We're happy to announce two new free Chrome Extensions:
Once you've installed both Chrome extensions, you'll be able to snooze and schedule emails directly from within Gmail.
1. Schedule Email
You have an important email to send your boss.
You know she always checks her email first thing every morning. You could get up early to send the email.
Or… you could schedule the email to send tomorrow morning.
Here's how it works:
Step 1. Compose an Email in Gmail
Click "Compose" to start a new email. You can also reply to an existing message or forward an email from your inbox.
When you've written your message, click the alarm clock icon next to the "Send" button:

Step 2. Pick a Date and Time to Send the Email
A popup will let you choose a date and time for the email send. Click the "Send Later" button to finish the process: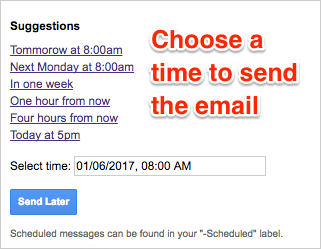 If You Need to Edit or Cancel the Message
Emails you've scheduled for later will be stored in the "Scheduled" label in the Gmail sidebar. If you need to edit or cancel the send, simply open the draft and make your changes.
2. Snooze Email
You get an important email.
You need to respond, but you can't right away.
You mean to respond later, but you forget. And the message gets lost in the overflowing river of your inbox.
Snooze keeps that from happening.
At the appointed time, they'll reappear in your inbox to remind you, just like a new unopened email.
Step 1: Select the important email
Select the box next to the message you want to snooze:
Step 2: Click the alarm clock icon
The alarm clock icon is located in the toolbar
Step 3: Select a time to have your email redelivered to you
Click one of the suggestions or set a custom send time.
The email will reappear as an unread message at whatever time you set.