Email signatures are more than just your contact information. They can also be an opportunity to connect with your audience and make a lasting impression. With Valentine's Day just around the corner, what better way to show your love than by incorporating a festive banner into your email signature?
Email signature banners are a small but impactful way to celebrate the holiday and connect with your colleagues, customers, and business partners. Here are a few ways you can use a Valentine's Day banner to enhance your online relationships:
1. Promote a Sale or Special Offer
If you're in the retail or food industry, a Valentine's Day banner is the perfect opportunity to promote a sale or special offer. For example, if you're a chocolate company, you can advertise a limited time discount on your products. Your recipients will appreciate the opportunity to save, and you'll get more business as a result.
2. Wish Everyone a Happy Valentine's Day
If you're not looking to promote a product or service, you can still show your love by wishing everyone a Happy Valentine's Day. This simple gesture will help you stand out and show your recipient that you're thinking of them.

3. Promote a Valentine's Day Event
If your company is hosting a Valentine's Day event, such as an office luncheon, you can use your email signature banner to promote it. This is a great way to build camaraderie and strengthen relationships with your colleagues.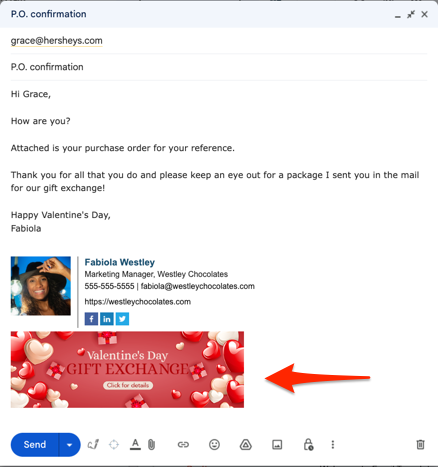 Incorporating a Valentine's Day banner into your email signature is an easy and effective way to enhance your online relationships. By showing your love and spreading joy, you'll make a lasting impression and leave your recipients feeling happy and appreciated.
So, don't hesitate to get creative and have fun with your Valentine's Day email signature banner. You never know what kind of impact it could have on your online relationships. Happy Valentine's Day!